The advent of the electric vehicle with 200+ miles of range and a purchase price of less than $35,000 is going to radically change the lithium ion battery industry, and with it the supply of lithium as a raw material. With Tesla (NASDAQ:TSLA) having pre-sold 400,000 of their Tesla IIIs, and the General Motors (NYSE:GM) Bolt scheduled to start selling in the next few months, we shall soon see the market for electric vehicles begin it's acceleration into the mainstream market.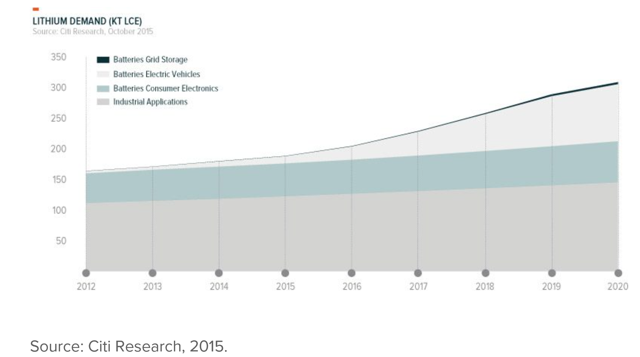 But by the time these market numbers are published, it will be too late to take advantage of the trends they foretell. With the price of lithium raising from $1,500/ton to over $5,000/ton from 2000 to 2016, and recent spot prices over $20,000/ton, it is clear that something is going on. What is it, and where will it lead us?
Technology Trends in Lithium Extraction
I recently did a review of the methods to get lithium out of the ground, seeking to understand if there were recent trends that could affect where the market would receive its lithium in the future. I found a few things very interesting.
By way of background, the world has plenty of lithium--like more than we could use in a thousand years. The trick is getting it out economically. Most lithium today comes from brine, (salt water), and most of that is in South America centralized in a few countries. This brine is pumped into huge evaporation lakes where the sun helps to increase the density of lithium by evaporating water. From there, it is purified.
Lithium can also be obtained from certain ores, mainly lepidolite and spodumene. To get the lithium from these ores, they must be roasted at 850 - 1000 C to change the lithium from a water-insoluble form to a water soluble variety. The lithium is then extracted by basically soaking in water, and then the process parallels the purification steps that would be taken with brine lithium.
But roasting at 850 - 1000 C requires a lot of energy, while the evaporation ponds only use sunlight, so the brine lithium in the end is cheaper to produce, though it does yield higher purity. However, some recent research into the production of lithium from ore may change that to some extent. Here are some of the innovations that I found:
Lithium from lepidolite, using lime milk leaching can give 99% lithium extraction and yield 99.9% purity. This purity would be very difficult from brine.
Microwave assisted roasting can use much less energy and far less time, greatly reducing costs.
Different fragmentation and automated optical sorting can eliminate grinding and reduce the energy required for roasting.
An alternative process to dissolve the minerals in a strong base can eliminate the roasting process entirely.
Using sulfuric acid leaching, eliminating the step of roasting.
Processing directly from unpurified leached material into lithium iron phosphate, eliminating purification steps. (This would work for brine as well.)
As I process this, it tells me very clearly that, there is a lot of upside to reducing the costs of extracting lithium from ore, and the larger volumes to come will drive the R&D to reduce these costs. Over time, it may be even more economical than brine, which requires lots of real estate and high capital to get good output.
Impact on Lithium Stocks
If you buy my assessment that there is a lot of upside to lithium from ore, then it leads you quickly to a few stocks that have exposure to this upside. Note, the time scale for this is likely a few years, so this is a 2-4 year buy-and-hold strategy, unless the market figures it out more quickly than that.
Here are some stocks to invest in to take advantage of the trends:
Albemarle (NYSE:ALB): Albemarle owns a 49% stake in the Greenbushes mines in Australia, a joint venture with Tianqi Lithium, gives it significant exposure to rock lithium. It also has the resources to drive innovation.
Tianqi Lithium (SHE: 002466): If you are comfortable investing in Chinese stocks, this is a good pure play in rock lithium.
Orocobre (OTCPK:OROCF) (ASX: ORE): Orocobre owns and operates a large lithium mine in Australia, and also has the resources to build out if necessary.
Galaxy Resources (OTCPK:GALXF) (ASX: GXY): Galaxy is another Australian lithium mine operator, who is merging with General Mining Corp. Together, they have about the same market cap as Orocobre, but only half of the annual losses.
I'll do a later post comparing these companies' reserves and financial performance and strength, but for now, these are four companies that all have a significant exposure to a very high market upside and technology trends in their favor.
Disclosure: I am/we are long TSLA.
I wrote this article myself, and it expresses my own opinions. I am not receiving compensation for it (other than from Seeking Alpha). I have no business relationship with any company whose stock is mentioned in this article.
Editor's Note: This article covers one or more stocks trading at less than $1 per share and/or with less than a $100 million market cap. Please be aware of the risks associated with these stocks.