Income investors often look to the Master Limited Partnership space, because MLPs as they are known typically sport high yields. This is very common among oil and gas MLPs, especially for the midstream companies. These are MLPs that operate transportation and processing assets like pipelines and terminals. However, the past year has been extremely painful. Due to the collapse in oil and gas prices, even solid midstream MLPs sold off, despite the fact that many well-run midstream MLPs maintained their distributions while so many energy stocks cut or suspended theirs.
Midstream MLPs like Enterprise Products Partners (NYSE:EPD) and Magellan Midstream Partners (NYSE:MMP) have continued to raise distributions, even during the huge downturn in the oil market. Enterprise Products recently raised its distribution yet again, which I wrote about in this article, and Magellan was not far behind. On July 21, it increased its own distribution by 11% year over year, which is a great number for an MLP. It is very rare for high-yield stocks like MLPs to provide double digit distribution growth, but Magellan did just that.
Such a strong increase speaks to the strength of Magellan's asset network and business model.
High-Quality Assets, Stable Cash Flow Fuel Distribution Growth
Magellan raised its quarterly distribution to $0.82, up 11% from the same distribution last year. The annualized rate goes to $3.28 per unit, which represents a 4.5% yield. Magellan has a long track record of steadily increasing its distribution; it has now come through with 57 hikes since its 2001 IPO. Magellan has increased distributable cash flow and distributions steadily over the past several years, and by high rates each year. It has achieved 13% compound annual distribution growth each year since 2001.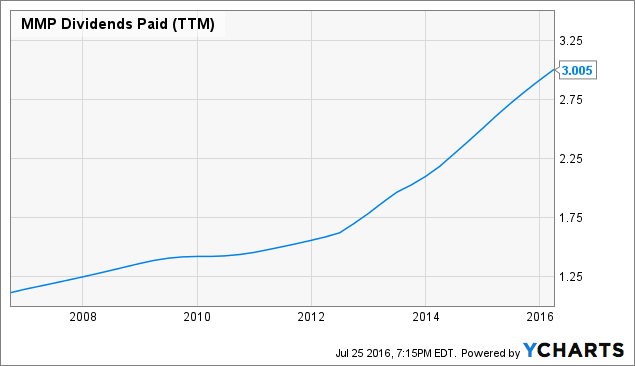 Even better, the company expects to continue growing the distribution at high rates going forward. Management has projected at least 8% distribution growth in 2017Magellan expects to hold a 1.2 coverage ratio next year, which supports its generous distribution growth plans. Such a strong distribution growth rate is thanks to Magellan's high-quality assets. Magellan owns the longest refined petroleum products pipeline system in the country, with access to almost half of refining capacity in the nation. Magellan has a 9,600-mile refined products pipeline system with 53 connected terminals, and an additional 27 non-connected terminals. It also owns approximately 1,700 miles of crude oil pipelines and storage facilities.
Magellan owes its success to its business model, which operates similarly to a roll road. Magellan gets paid fees based on the volumes of materials it processes and transports through its system. The price of the commodities themselves has a lesser impact on Magellan's cash flow. For example, the company has advised investors that its cash flow fluctuates $3 million for every $1 per-barrel change in the price of oil. Whereas the price of oil is influenced heavily by supply, the key driver for Magellan is demand. As long as demand remains steady, the company will continue to generate strong cash flow, suffering a much more modest decline when oil prices crumble, as they have in the past two years.
The relative stability of strong midstream MLPs is apparent in their distributable cash flow, or DCF, which is a non-GAAP number which states the amount of cash flow that an MLP generates, that can be returned as distributions. On this basis, Magellan's strength is clear. Even with commodity prices falling off a cliff last year, the company brought in record distributable cash flow of $943 million, a 7% increase from 2014. It also had a distribution coverage of 1.4 times last year. Pipeline operators like Magellan can still realize growth when oil prices decline, due to new projects in operation. Last year, Magellan realized the benefit of an increase in refined products pipeline fees, due to higher volumes through its Longhorn and BridgeTex crude oil pipeline systems.
So far this year, Magellan is off to a more mixed start. Its DCF fell by 12% last quarter, but some of this was due to timing of maintenance capital expenditures this year. And, despite the drop in DCF last quarter, 2016 should still be another good year. Magellan raised its forecast for the full year-it expects $910 million in distributable cash flow this year. More broadly, considering how bad things have been for most oil and gas stocks, Magellan has done well in the past year.
The other advantage for Magellan is its streamlined operating structure and low cost of capital. Magellan has no incentive distribution rights, and an investment grade credit rating. It has a debt-to-EBIDTA ratio below 4.0, and does not expect to require equity issuances to fund its growth projects.
Conclusion
Magellan is a strong company that rewards its investors with distribution growth like clockwork, year after year. This is even more impressive because the company has successfully grown its distribution during one of the worst downturns to hit the oil industry in years. Midstream MLPs are less volatile, and more of the slow-and-steady type investments than most other companies in the energy sector. Their relative stability and high distribution yields could be highly attractive for investors searching for income in this low-rate environment.
Disclaimer: This article represents the opinion of the author, who is not a licensed financial advisor. This article is intended for informational and educational purposes only, and should not be construed as investment advice to any particular individual. Readers should perform their own due diligence before making any investment decisions.
Disclosure: I/we have no positions in any stocks mentioned, and no plans to initiate any positions within the next 72 hours.
I wrote this article myself, and it expresses my own opinions. I am not receiving compensation for it (other than from Seeking Alpha). I have no business relationship with any company whose stock is mentioned in this article.