The recent headlines for many clothing retailers have been fairly dreadful. Macy's (NYSE:M) has announced numerous store closings; Nordstrom (NYSE:JWN) reported declining same store sales for Q1 2016; Kohl's (NYSE:KSS) has well documented issues with its business.
Amid this gloom and doom in clothing, off-price retailers are thriving. Off-price retailers purchase excess clothing from designers and offer it at deep discounts to customers.
In the article below I will show how off-price retailers have been outperforming their traditional peers and why they may continue to do so in the future.
For this analysis, I chose the following retailers as off-price. I left off Stein Mart (NASDAQ:SMRT) since the company is very small (~$390 million market cap):
These retailers are used for the traditional category:
Kohl's
JC Penney (NYSE:JCP)
Nordstrom
Macy's
Please note this is not a comprehensive list; I chose what I believe is a good sampling of traditional clothing retailers.
Profitability Performance
Numerous metrics can be used to gauge the operational performance of a retail business. Same store sales growth, changes in average ticket price and revenue per square foot are commonly used measures. My favorite metric is profit per square foot.
Physical retailers that generate more profit per square foot than their peers will likely be the better companies to own. The table below shows profit per square foot for the two off-price retailers (TJX and ROST) and the four traditional retailers.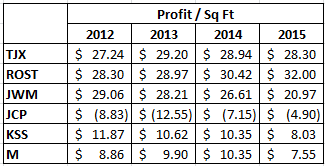 (sources JCP, JWN, KSS, M, ROST, TJX)
TJX and Ross Stores are both earning more profit per square foot in 2015 than they did in 2012.
Nordstrom, Kohl's and Macy's each earn considerably less profit per square foot in 2015 than they did in 2012.
JC Penney has significantly reduced its losses but is still not earning a profit.
TJX's recent profitability decline is partially caused by negative foreign currency headwinds. TJX operates numerous stores in Europe. Ross along with Kohl's, Macy's, JC Penney and only have US locations. Nordstrom has locations in Canada.
Even with forex headwinds, TJX has grown its profit per square foot versus 2012 whereas Kohl's and Macy's, which have no international operations, have reduced their profit per square foot.
Off price retailers TJX and Ross Stores, have easily outperformed their traditional peers by increasing their profit per square foot the past four years.
Free Cash Flow Per Share
Investopedia defines free cash flow as the cash a company can generate after paying the required money to maintain and expand its asset base. A company that is growing free cash flow has more opportunities to invest in its business. For clothing retailers this could be new stores, renovations of existing stores, additional e-commerce investments, share repurchases, etc.
Using data from Morningstar, we can see that the off-price retailers are outperforming their peers in free cash flow per share. With 2006 as the base year, a green background indicates a year where free cash flow per share was higher than it was in 2006 and a red background indicates a year when it was lower. The actual dollar amount is not important due to differences in share price for each company.

(sources JCP, JWN, KSS, M, ROST, TJX)
Over the past nine years, the off-price retailers have had the most years where free cash flow per share was higher than it was in 2006.
Nordstrom's jump in 2015 was due to proceeds from the sale of its credit card receivables. Without that sale, free cash flow per share would have been about the same as 2014 (less than 2006).
Off price retailers are undoubtedly winning in free cash flow per share versus their traditional peers. This strength will give them more flexibility to invest into their business, repurchase shares and pay dividends.
There are numerous other financial measures that show off-price retailers winning versus their traditional peers: increasing gross margins, same store sales growth, return on invested capital, declining SG&A, etc.
Ability To Withstand e-Commerce Challenges
Unlike the two paragraphs above which showed quantitative measures on how off-price retailers are already outperforming their peers, this paragraph will discuss why off-price retailers are likely to continue outperforming their peers.
The continued growth of e-commerce is a threat to all retailers including clothing. Off price retailers are better suited to withstand the rise of e-commerce than traditional clothing stores.
As mentioned in the introduction, off-price retailers purchase clothing from designers at deep discounts that cannot be sold through normal stores. This clothing is available by a mismatch in supply and demand or changing fashion trends. Due to the variability of their supply, shoppers have to dig through their stores to find the right products. Clothing found at off-price retailers may not always be available in every size or fit.
This business model likely cannot be replicated online. Online clothing retailers typically offer every size for each piece clothing. They purchase the clothing directly from designers before it is off price. E-commerce shoppers don't typically "dig around" online; they find the clothing they like, choose the appropriate size and purchase it. This process is similar to that of Macy's, Kohl's, Nordstrom and JC Penney.
Additionally clothing at off-price retailers is already discounted 20%. E-commerce stores will have a lower, if any, price advantage versus off-price retailers than they do with Kohl's, JC Penney, Macy's, etc.
Conclusion
In conclusion, off-price retailers are outperforming their traditional peers and are likely to do so in the future. Ross and TJX are increasing their profit per square foot, while Macy's, Nordstrom and Kohl's are declining. Over the past 9 years, Ross and TJX have the most years where their free cash per share was higher than it was in 2006.
Most importantly, off-price retailers are best suited to withstand the continued rise of e-commerce. JC Penney may be the dark horse traditional retail investment as the company revamps itself. Besides this long shot, TJX and ROST look to be the best investments available in physical retail for clothing.
Contrarian
While off-price retailers have outperformed traditional clothing retailers in the past they may not do so in the future. An innovative startup may find a way to bring off-price retail online at even greater discounts.
Low prices offered at existing e-commerce stores may be draw existing off-price shoppers online.
Outlet stores may move closer to population centers and challenge the likes of TJ Maxx, Marshall's, Ross and Stein Mart.
Disclosure: I/we have no positions in any stocks mentioned, and no plans to initiate any positions within the next 72 hours.
I wrote this article myself, and it expresses my own opinions. I am not receiving compensation for it (other than from Seeking Alpha). I have no business relationship with any company whose stock is mentioned in this article.