Mixed Earnings
Gilead Sciences (NASDAQ:GILD) reported earnings, beating estimates with non-GAAP EPS of $3.08/share. However this number was down 2% year over year, although 2% isn't a horrible decline. GAAP EPS of $2.58 was markedly lower than the previous year by 11% however. Revenues of $7.8 billion were down nearly 6% as well. The company even lowered product sales guidance for the year, from $30-31 billion to $29.5-30.5 billion. Again, not a terribly large number, but the combination of these declines seemed to be enough for the stock to drop nearly 4% after hours. Although there were declines, GILD is still incredibly profitable, and added over $3 billion in cash and cash equivalents to bring its war chest up to $24.6 billion. All the same, these declines in revenues, earnings and guidance make it appear that Wall Street thinks GILD is little more than a leaky balloon, ready to pop and spill its investors far and wide.
Not Such a Beautiful Day in the Sky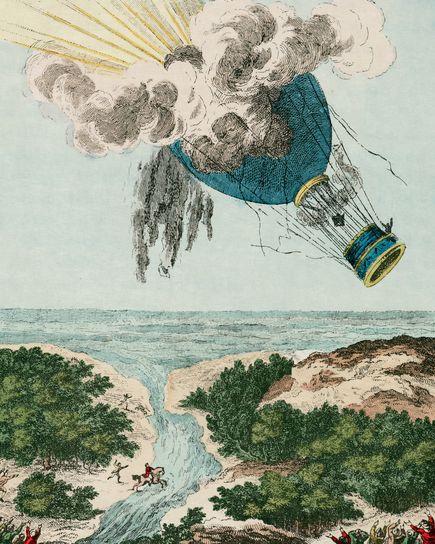 Source: National Geographic
Although GILD's earnings didn't show as much growth as might be hoped for, I'm in no way ready to abandon this company. If share prices continue to decline based on these numbers alone, I'd rather buy more shares.
Value on my Radar
The value metrics of GILD are often cited as great reasons to own the company. I wholeheartedly agree, since the company is trading at roughly 7.5 times trailing GAAP earnings. Not only does GILD trade at a visibly low multiple, it also trades at significant discounts to peers. GILD trades at deep discounts for both P/E and EV/EBITDA, making it look like a screaming bargain.
Benchmarks: EV/EBITDA and LTM P/E Multiples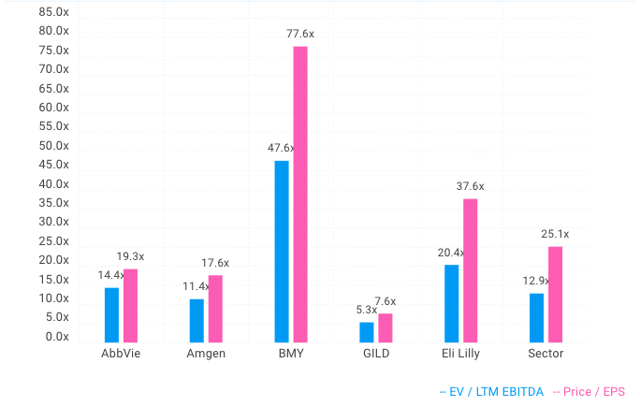 Source: finbox.io.
Although the company's revenues and earnings showed a decline, I feel that the market has overreacted to this decline and brought the stock further down into value territory.
Some Positive Trends
A trend of note is that GILD's R&D expenses have been steadily rising over the past several quarters.
GILD R&D Expenses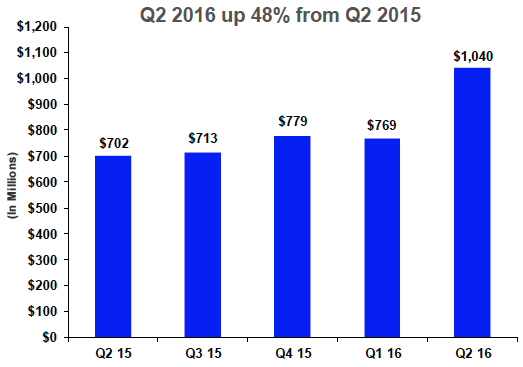 Source: GILD
These increases, notably from Q2 2015 to Q2 2016, were largely from the company's advancement of its pipeline and clinical studies. Advancement of the studies is crucial in bringing GILD's pipeline forward toward FDA approval. GILD's late-state pipeline has several promising candidates, with 7 treatments in Phase 3 trials and another well on its way through the U.S. and EU regulatory submission processes. The company will likely see positive results from these trials over the next couple of years.
Not only does the company spend well on its R&D, its spends generously on its investors. GILD bought back $1.0 billion worth of shares, roughly 10.5 million shares, over Q2 2016. Along with its repurchase program, the company declared another $0.47/share dividend payment. Although GILD's yield is only 2.2%, its large cash pile and low payout ratio under 20% of GAAP EPS indicate that should GILD ever decide to, it can increase its dividend payouts far further than it has.
Final Thoughts
GILD had some large year over year declines during Q2, but the company still has massive earning and cash generation power. Its cash pile increased by over $3 billion during that time, and the company again paid out decent dividends as well as continuing its repurchasing trend. While the company is still sheltered by its cash generation ability, it continues to make advances with its pipeline which will keep its earnings healthy. Although Wall Street seems to think otherwise after GILD reported Q2 earnings, I'm happy to buy if share prices keep declining, and consider below $85/share to be a terrific price.
Author's Note:
I am on the lookout for high yet sustainable dividends. If you're looking for the same, please hit the "Follow" button by my name at the top of the article, and hopefully you'll get some good ideas for value and income stocks.
Disclosure: I am/we are long GILD.
I wrote this article myself, and it expresses my own opinions. I am not receiving compensation for it (other than from Seeking Alpha). I have no business relationship with any company whose stock is mentioned in this article.
Additional disclosure: I am neither a certified investment advisor nor a certified tax professional, and do not claim to be either. The data presented here is for informational purposes only and is not meant to serve as a buy or sell recommendation. Investors and potential investors should do their own research and make their own decisions. In the event that an investor or potential investor does not feel qualified to make such a buy or sell decision on their own, they should consult a certified advisor that they trust or feel comfortable with. Investing may involve losses, including potential loss of principal. The author relies on external links for some information that may have appeared on this perspective. These external links, although believed to be accurate, have not been verified independently. Therefore the author is unable to guarantee their accuracy.