There have been numerous reports recently predicting windfall profits for Apple (NASDAQ:AAPL) and a boost to its market capitalization as a result of the success of Nintendo's (OTCPK:NTDOY) Pokémon Go. On July 20, 2016, Don Reisinger from Fortune magazine cited Needham & Company analyst Laura Martin in his article: "Here's How Apple Could Generate $3 Billion on Pokémon Go". Mr. Reisinger expanded:
According to Martin, in addition to the revenue gains, Pokémon Go alone could add $5.5 billion to Apple's market cap over the next two years, or about $1 per share of added value.
Given Apple's current market capitalization of about $533 billion, a $5.5 billion increase in market cap is merely a drop in the bucket, although a very nice one. For such reason, as outlined by Martin, the result is a mere $1 per share of added value to Apple.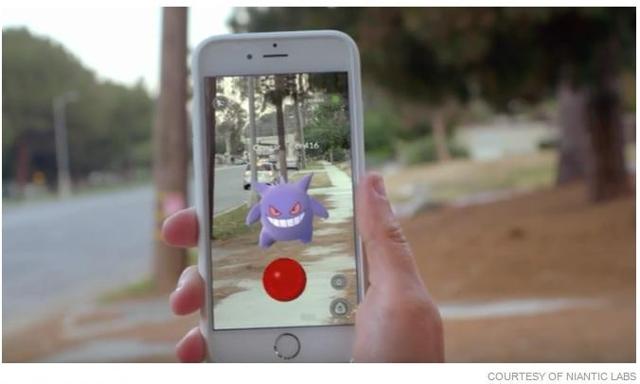 Image of Pokémon Go in action - Source: Variety courtesy of Niantic Lab
However, if a single game can generate over $3 billion in revenues for Apple, could such a windfall repeat for dozens of other games? Pokémon has been around for many years; the franchise was created by Japanese video game designer Satoshi Tajiri more than two decades ago in 1995. So what changed?
The latest version, Pokémon Go was just released in July 2016 and it differentiated itself from prior versions through the introduction of Augmented Reality into the game. As defined by Wikipedia:
Augmented Reality is a live direct or indirect view of a physical, real-world environment whose elements are augmented (or supplemented) by computer-generated sensory input such as sound, video, graphics or GPS data. It is related to a more general concept called mediated reality, in which a view of reality is modified (possibly even diminished rather than augmented) by a computer. As a result, the technology functions by enhancing one's current perception of reality. By contrast, virtual reality replaces the real world with a simulated one. Augmentation is conventionally in real-time and in semantic context with environmental elements
Could the introduction of Augmented Reality into other games, or other applications, result in a sizable boost to Apple's shares? Can the current success of Augmented Reality in its implementation in Pokémon Go, be equally successful in its implementation in other games?
In order to answer such question, we need to have a very good understanding not only of Augmented Reality, but also of Pokémon itself, in order to determine if there were Pokémon specific factors that have 'augmented' the implementation success of Augmented Reality in Pokémon Go. As we are not a Pokémon enthusiast, we enlisted the feedback of Tameem Samawi, a Senior majoring in computer science at Skidmore College in New York, who had been a Pokémon enthusiast in his childhood years:
In any successful video game franchise, the key to success is generating an immersive experience for the user. In multiple games (such as flight simulations, first person shooters and racing games), in order to create an immersive experience and feel like you're in a car, plane or battlefield, it is necessary to purchase several peripherals such as racing car seats, steering wheels, helicopter joysticks, or virtual reality headsets.

The Pokémon universe takes place in an environment incredibly similar to earth. Apart from the actual Pokémon and Pokémon centric life of the citizens of the Pokémon Universe, there isn't much else that differs between our world and the Pokémon Universe (apart from the fact that we don't have Pokémon).

If we did have Pokémon, the rest of the differences between the Pokémon Universe and ours would slowly cease to exist; PokéGyms, Poké Enthusiasts, and even organizations such as Team Rocket (Pokémon kidnappers) would inevitably follow suit.

Therefore, using Augmented Reality to simulate a Pikachu (the main star Pokémon) or Bulbasaur (another Pokémon figure) was the solution Nintendo needed in order to create an immersive experience. Augmented Reality was specific to Nintendo because of how similar the Pokémon universe is to ours, and so once it was in place, it didn't take a whole lot of imagination on the user's behalf to feel fully immersed in the experience.

You didn't have to spend thousands of dollars on a top-of-the-line gaming computer, wireless connection and other peripherals, and you also didn't have to sit indoors to feel connected to the game you were playing.

It was every kid's dream growing up who watched Pokémon and bought into the franchise to be able one day to become a PokéMaster (an ultimate Pokémon trainer). The protagonist was an incredibly relatable 10-year old boy, Ash Ketchum, who had two other friends; a scenario which could really mirror any 1990's kid and his pals. Their mishaps on adventures, struggles, and pleasures were all incredibly understandable, and the Pokémon animated series painted a picture that each young boy and girl wanted to become.

Although you knew you'd never see a real life Pokémon, you still had the video games, books, movies, series and even your friends to feel like you were a part of the experience. The franchise's concept also never changed. Even though there have been numerous renditions of Pokémon, the only difference in the stories is the Pokémon themselves. Apart from that, you were still trying to "Catch 'em all".

Nintendo understood that they had a recipe for success, and soon other video game developers came up with similar ideas such as Digimon and even Yu Gi Oh to some extent. However, Pokémon was the first and so always had a special place in every child's heart.

With the release of Pokémon Go, that deep seeded, likely forgotten, yearning to be a PokéMaster was awoken. Not only could you walk around with your smartphone and see the original 150 Pokémon, but you could also connect with the thousands of others who were looking to do the same.

The PokéGyms, PokéStops and other elements of the Pokémon universe were also translated over into the app which made it incredibly satisfying as a player. Nintendo had managed to keep the success of the franchise alive without possibly ruining it through change.
In essence, the takeaway is that Augmented Reality fit the story line perfectly well for Pokémon; for a user to feel connected to the whole storyline all he/she needs to do is go outside and see a Pokémon on his/her screen. In the case of Pokémon Go, Augmented Reality equals immersive experience. On the other hand, immersive experience is not always equal to Augmented Reality for other games; in such regard, Pokémon is one of a kind. Hence, we believe that the high level of success generated from the implementation of Augmented Reality in Pokémon Go will be hard to replicate for other games; simply speaking, too many factors culminated together for Pokémon Go which rendered Augmented Reality a natural extension of the story line that many have been dreaming about for years.
Augmented Reality Market Size
Although we believe that Pokémon Go's success will be hard to replicate through implementation of Augmented Reality for other games, there is no question that Apple will still benefit, but such benefit is likely to be limited in scope given Apple's scale. Similarly, Virtual Reality, which has been expected to make a solid penetration into our daily lives, is still far from doing so. The combination of Augmented Reality and Virtual Reality market size is expected to grow to $150 billion by 2020.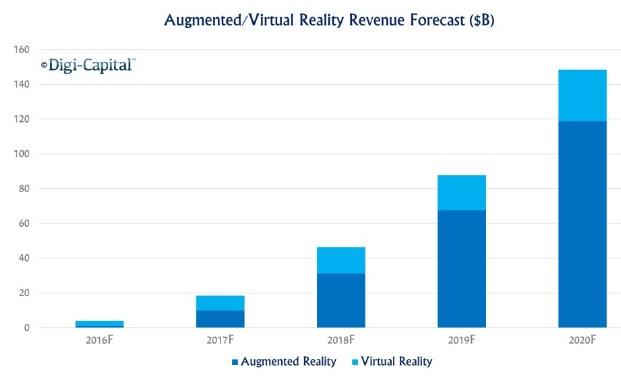 Market size for Augmented Reality and Virtual Reality - Source: Digi-Capital
Sub-sector market size for Augmented Reality and Virtual Reality - Source: Digi-Capital
Augmented Reality market size is expected to be about $120 billion, inclusive of all sub-sectors by 2020. As per above pie-chart, the Augmented Reality gaming portion of such market is expected to be quite minimal. Most interestingly, Nintendo, the owner of Pokémon Company, announced on 7/25/2016 that it does not expect its earnings to get much of a boost from Pokémon Go, causing its shares to drop limit down 18% on the Tokyo stock exchange.
Nintendo had actually partnered with Niantic Labs for the creation of Pokémon Go. Niantic is a spin-off of Google's parent company Alphabet (NASDAQ:GOOG) (NASDAQ:GOOGL), and Niantic is assumed to be generating over $1 million per day on Pokémon Go. Alphabet currently owns about 6% of Niantic. Niantic is privately owned, with both Nintendo and Pokémon company as early investors. Even Alphabet, the entity from which Niantic was spun off, and which still has a stake in Niantic, is unlikely to see much impact on its share price from the Augmented Reality sector, due to Alphabet's scales, which currently has a market capitalization of $508 billion (primarily driven by advertisement generated revenues).
Such forecasts for future market size for new frontier markets such as Augmented Reality, often turn out to be over-optimistic. In addition, as another example of the perils of over-optimistic forecasts, one year ago, analysts were forecasting that by 2020, global smartphone sales would grow at a compounded annual rate of 16% to reach 3.4 billion units shipped in 2020. Such forecasts have been tempered most recently, with current estimates of 1.92 billion units shipped in 2020. Meanwhile, Apple's iOS market share of the smartphone market is estimated to drop from 15.2% in 2016, to 14% in 2020. We are merely providing such data to illustrate how analysts often become too optimistic about potential market growth for new products and sectors.
Conclusion
The recent success of Pokémon Go and Augmented Reality will undoubtedly benefit Apple. However, such benefit is likely to have very little effect on Apple's stock price due to Apple's scale. Furthermore, Nintendo's incredible success in implementing Augmented Reality in Pokémon Go will be very hard to replicate for other games; Augmented Reality was merely an extension of the story line of Pokémon, and consistent with the game's experience as imagined by players for the past two decades.
As a matter of a fact, Pokémon's inventor, Mr. Satoshi Tajiri, was inspired to create Pokémon as an extension to his childhood hobby of collecting bugs and insects. In other words, we have come full circle, as the outdoors inspired digital Pokémon, and ultimately we returned to the outdoors via Pokémon Go.
As a result, we do not expect Apple's stock to get any meaningful boost from Pokémon Go or from Augmented Reality. Any positive effect from Augmented Reality is simply secondary to other pressing issues such as a challenging macro environment. Recently we have been bearish on Apple's stock for the next several months, as per the article we published on 7/25/2016: "Apple shares set for a major move", and we do not believe that Pokémon Go and Augmented Reality changes our thesis for the next several months.
Disclosure: I/we have no positions in any stocks mentioned, but may initiate a short position in AAPL over the next 72 hours.
I wrote this article myself, and it expresses my own opinions. I am not receiving compensation for it (other than from Seeking Alpha). I have no business relationship with any company whose stock is mentioned in this article.
Editor's Note: This article discusses one or more securities that do not trade on a major U.S. exchange. Please be aware of the risks associated with these stocks.