Please take note this is only one aspect in weighing the attractiveness or non-attractiveness of the companies mentioned in the article as an investment and should not be used independent of other factors such as valuation which are not addressed.
China is the No.1 contributor to global outbound travel. Similar to Japan's outbound tourist boom in the 1980s, rising disposable incomes and an appreciating currency have served as contributors to the rapid growth of Chinese outbound tourism.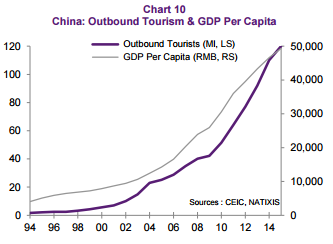 Source: Natixis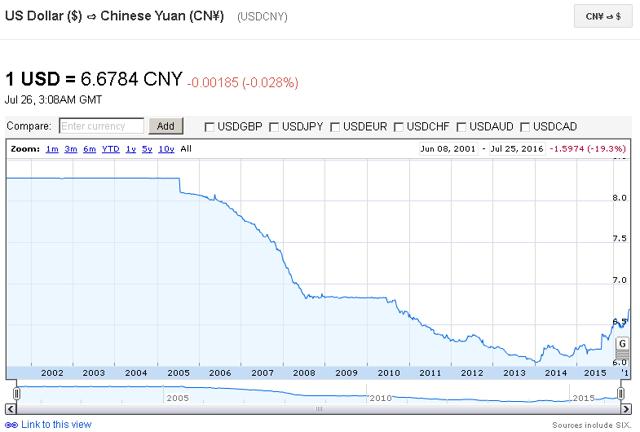 Source: Google Finance
China overtook the U.S. in 2014 to emerge as the world's largest outbound tourism market. Chinese overseas spending has increased almost 10-fold since 2000, and China now accounts for over 11% of global tourism expenditures; since 2012, China has been the world's top spender on international travel and tourism.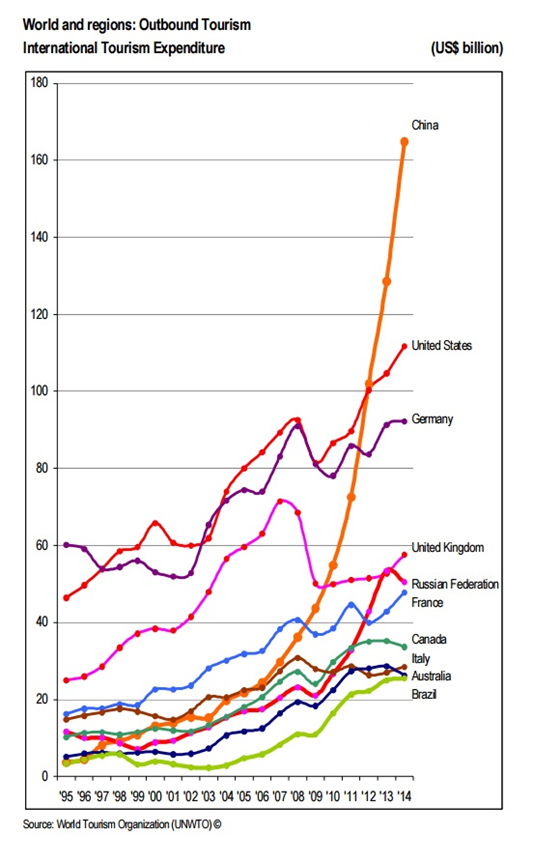 Source: World Tourism Organization
Chinese outbound tourism has shown strong growth in recent years, and last year, growth accelerated significantly.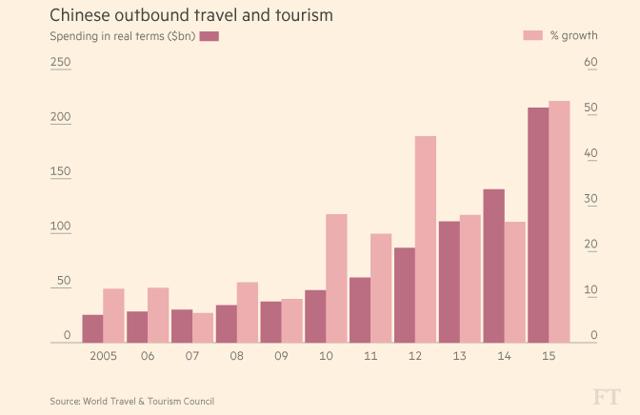 Source: FT.com
This is despite China recording a 7% growth rate in 2015 (its weakest in 25 years), experiencing economic shocks such as the stock market turbulence in mid-2015 and the currency depreciation.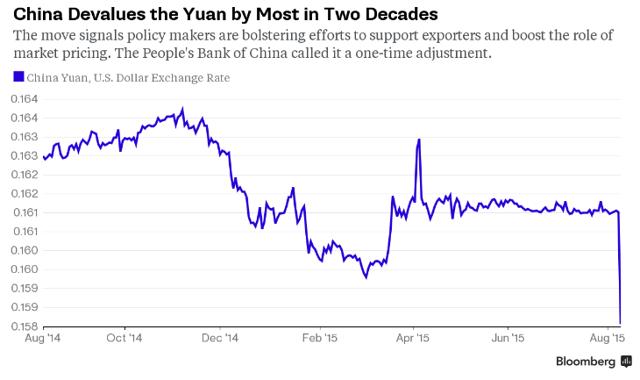 Source: Bloomberg
Research from the World Travel & Tourism Council (WTTC) shows that Chinese tourists' expenditure on outbound travel grew by a "stellar" 53% in 2015.
China's outbound tourism still has potential for growth; less than 6% of China's 1.36 billion population have passports compared to 35% in the U.S. and 25% in Japan.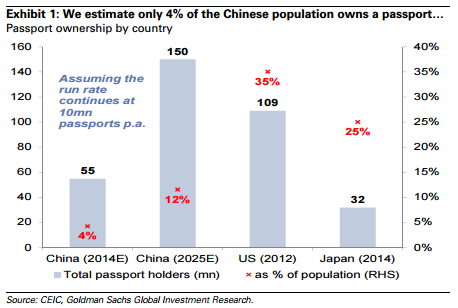 Source: Goldman Sachs
Goldman Sachs expects this figure to rise to 12% by 2025, adding 100 million Chinese passport holders, which is almost 1.5 times all U.S. outbound tourists today.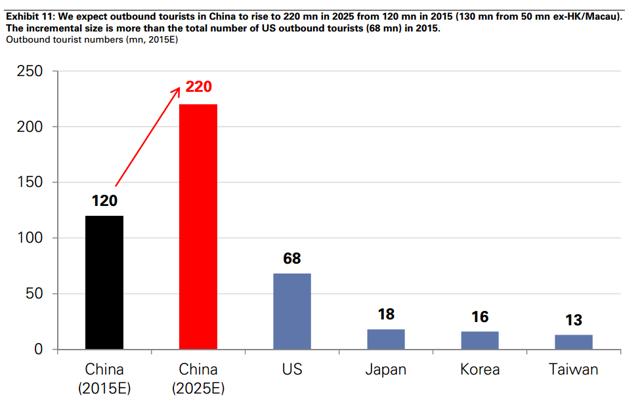 Source: Goldman Sachs
Oxford Economics predicts that 61 million more Chinese households will be able to afford international travel by 2023. CLSA says that the inflection point after which travel takes off is connected to GDP growth beyond $8,000 per person.
By 2020, the share of Chinese provinces with a per-capita GDP of US$8,000 or higher is projected to increase from 10 to 27, and the population of these provinces is expected to increase over 100% from 500 million to 1.2 billion.
With several Chinese cities set to overtake notable Western cities in terms of GDP size in the coming years - Shanghai and Beijing will soon surpass Boston, Philadelphia and San Francisco - a report by Resonance Consultancy Ltd. sees rising Chinese cities as likely to become some of the most important new source markets of international travelers in the years ahead.
Growing outbound tourist numbers from Mainland China should have a significant impact on tourism and tourism-related companies.
Online travel platforms should benefit from Chinese tourists' increasing travel experience; rising numbers of experienced Chinese international travelers are shunning group tours and instead travelling independently, often booking their individual travel packages through online travel agents or online platforms such as Ctrip (NASDAQ:CTRP), Qunar (NASDAQ:QUNR), eLong (NASDAQ:LONG) and Alitrip, which is owned by Alibaba (NYSE:BABA).
Global hotel chains such as Hilton (NYSE:HLT), Marriott (NYSE:MAR), InterContinental Hotels Group (NYSE:IHG), Starwood (HOT) and Accor (OTCPK:ACRFY) have subscribed to the "Welcome Chinese" standard (Welcome Chinese is the only industry standard recognized by the state-run China Tourism Academy) and have established programs tailored to woo Chinese international travelers. For instance, Hilton offers "Hilton Huanying", the Intercontinental Group has its Zhou Dao global service initiative, Marriott International created its Li Yu program, Starwood offers its Starwood Personalized Travel Program, and Accor Hotels has established its Chinese Optimum Service Standards.
China's outbound tourism has largely been concentrated on short-haul destinations with short-haul trips accounting for over 70% of China's outbound tourist trips; Chinese travelers have so far tended to travel to countries closer to home, particularly Hong Kong and Macau, which account for two-thirds of China's outbound tourist volume.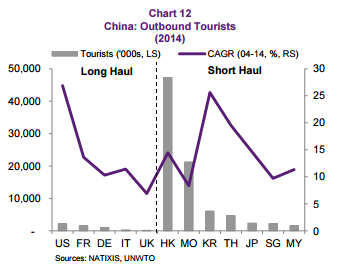 Source: Natixis
With rising incomes and loosening visa restrictions for Chinese nationals (for instance Australia, United States, United Kingdom, Japan, South Korea, and Malaysia are some destinations that have relaxed visa restrictions) Chinese travelers are increasingly traveling further away from their traditional regional destinations (primarily Hong Kong and Macao).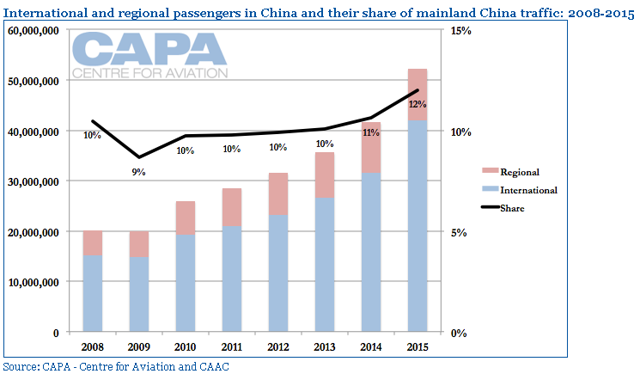 Source: CAPA - Centre for Aviation and CAAC
Signs of this changing trend are emerging - Chinese tourists are increasingly including more long-haul travel destinations. Latest research by China Outbound Tourism Research institute (COTRI) shows that Hong Kong and Macau saw their first drop in Chinese arrivals in 2015.
A report by the World Travel & Tourism Council (WTTC) reported "severe declines" in tourism revenues in 2015 in Macau (down 32%), South Korea (down 10.2%) and Hong Kong (down 8.4%).
All three countries are heavily reliant on mainland Chinese tourists (mainland China accounts for 70% of Hong Kong's inbound tourists, over 60% of Macau's and over 40% of South Korea's).
In 2014, Hong Kong accounted for nearly 60% of all Chinese outbound trips in 2014. However, changing travel habits and a more restrictive visa policy (the freeze of the number of pilot cities for the Individual Visit Scheme in 2014 and the tightening of the multi-entry IVS for Shenzhen citizens to one entry per week in 2015) have seen mainland Chinese tourists venture further away in search of new experiences.
While Hong Kong has been tightening visas for mainlanders, Japan has been loosening visa requirements for mainland Chinese tourists.
This favorable visa policy coupled with a weaker Japanese yen helped Japan see strong Chinese tourist arrivals in 2015; the number of Chinese visiting Japan soared 90% compared to 2014, to 4.65 million, according to the Japan National Tourism Organization.
Around 3 million mainland Chinese tourists visited the United States in 2015, a 16% YoY increase according to figures from the U.S. Travel Association.
The propensity to travel increases as incomes increase, and according to a report by Intercontinental Hotels Group and Oxford Economics, a household income above US$35,000 per annum is a key income level at which international travel becomes accessible.
In China, the number of households earning above $35,000 per annum rose by 21 million from 2003 to 2013, with an additional 61 million households expected to pass this threshold by 2023.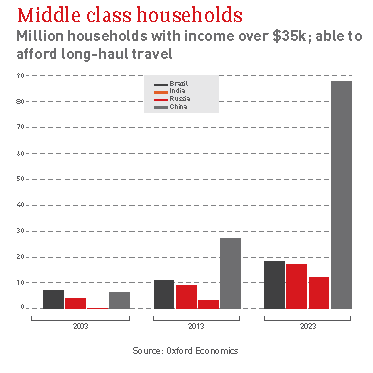 Source: InterContinental Hotels Group
Going forward, while Hong Kong and Macau will still remain important to Chinese outbound tourists, countries further away are poised to show better growth prospects. Between 2015 and 2025, Goldman Sachs projects Chinese tourist volume to Hong Kong and Macau to grow 1.3x (amounting to a 2.5% CAGR) compared to 2.6x growth (amounting to 10% CAGR) to other regions excluding Hong Kong and Macau.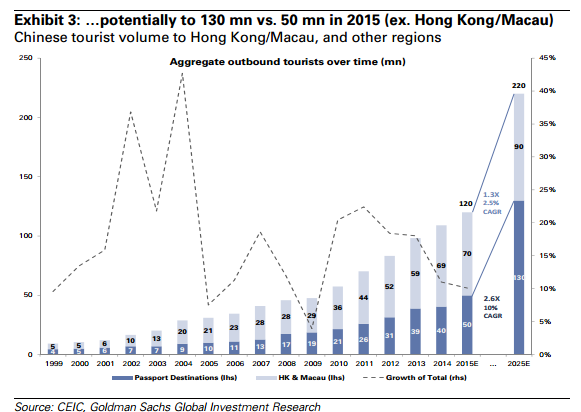 Source: Goldman Sachs
A report produced by IHG (InterContinental Hotels Group) together with Oxford Economics expects China to overtake the U.S., U.K. and Germany to become the world's largest source market for long-haul travelers by 2020.
The countries with the greatest opportunities for long-term growth are those that currently represent smaller shares of outbound Chinese travel.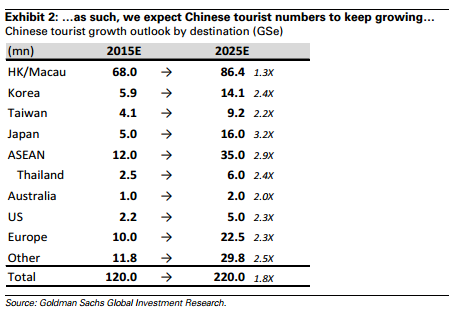 A report by IHG cites the United States (which receives a relatively low share of Chinese outbound travel at about 3% in 2013) as one such example. While the number of Chinese visitors to regions such as Western Europe and the Middle East is expected to multiply, the number of annual Chinese visitors to the U.S. will jump by more than 3.4 million between 2013 and 2023, making the U.S. the country that will see the biggest jump by far in China tourists.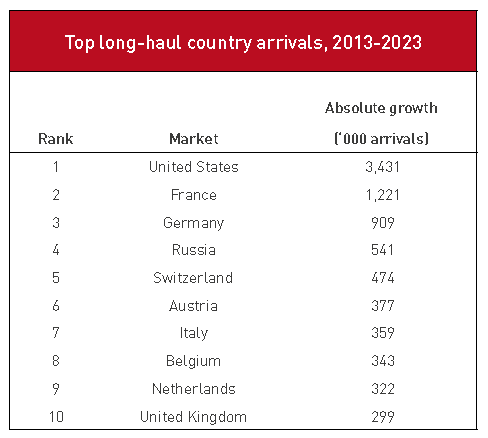 Source: InterContinental Hotels Group
China is currently the sixth largest tourist market for the United States. Brand USA projects that within three years China could become the largest long-haul tourist source market for the U.S.
A report by Boeing (NYSE:BA) projects that by 2021, passenger travel between China and the United States will triple. Boeing projects that this growth will drive a need for at least 1,500 new widebody airplanes, valued at US$450 billion. By 2021, the US expects the number of Chinese tourist arrivals to more than double to 7 million, contributing more than US$85 billion per year to the economy, says the White House.
According to a report by the InterContinental Hotels Group, annual Chinese tourism spending in the United States (which in 2013 was less than half that of Macau) will almost catch up with the Asian gaming destination by 2023.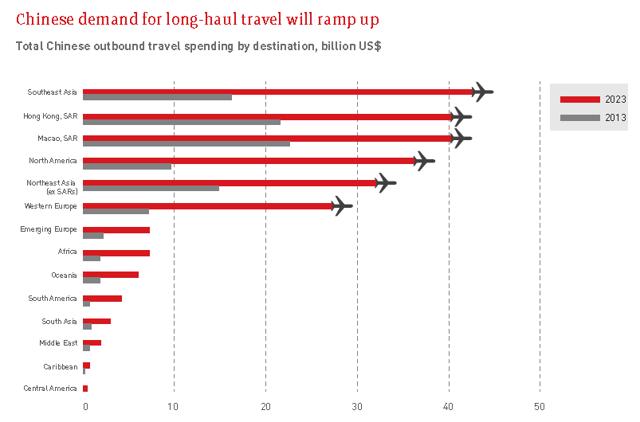 Source: InterContinental Hotels Group
Accordingly, Chinese carriers (including China's "Big Three" airlines, Air China (OTCPK:AIRYY), China Southern Airlines (NYSE:ZNH) and China Eastern Airlines Corp. Ltd (NYSE:CEA)) are rapidly expanding long-haul flight supply volume in anticipation of strong demand.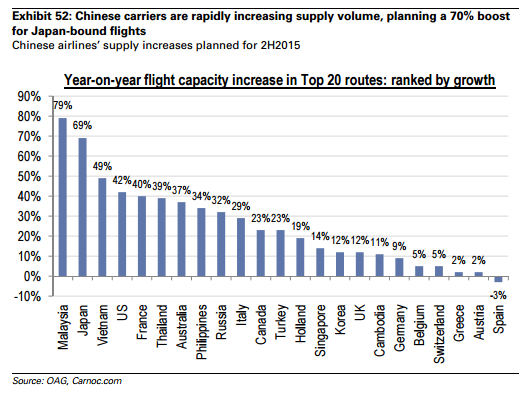 Source: Goldman Sachs
Conclusion
Over the past few years, rising incomes have helped boost Chinese outbound tourism, and the year 2015 witnessed strong growth despite feeble economic growth, stock market turbulence and the currency depreciation; however, there is still growth potential in the future, considering just about 4% of China's 1.3 billion population hold passports.
China's outbound tourism has largely concentrated on short-haul trips with Hong Kong and Macau accounting for over two-thirds of China's outbound tourist volume. As Chinese households rise up the income ladder towards the middle and upper classes and countries loosen visa restrictions for Chinese tourists, the demand for long-haul leisure trips should increase as well. The number of Chinese households earning over US$35,000 per annum (a key income figure at which international travel takes off) is expected to increase by 61 million households by 2023. This suggests a potential growth opportunity for long-haul travel from Chinese tourists. Long-haul destinations that currently receive a smaller proportion of international Chinese tourists such as the United States are poised to benefit.
Disclosure: I/we have no positions in any stocks mentioned, and no plans to initiate any positions within the next 72 hours.
I wrote this article myself, and it expresses my own opinions. I am not receiving compensation for it (other than from Seeking Alpha). I have no business relationship with any company whose stock is mentioned in this article.
Editor's Note: This article discusses one or more securities that do not trade on a major U.S. exchange. Please be aware of the risks associated with these stocks.