A month ago, I wrote about the unintended consequences of current monetary policies. The effects are persisting and in some cases widening. After the recent financial crisis, we experienced a race to the bottom in relation to interest rates set by central banks around the world. Despite a reasonable pickup in growth and employment, especially in the U.S., the majority of central banks have near zero (or negative) interest rates.
These policies, coupled with massive quantitative easing programs, have led to depressed yields for government and corporate bonds. Bloomberg recently reported that $10 trillion of government bonds offer negative yields (see picture). More recent statistics from CNN report that the sum went up to $11.7 trillion. This represents approximately half (!) of the government bonds available. Personally, I find this staggering.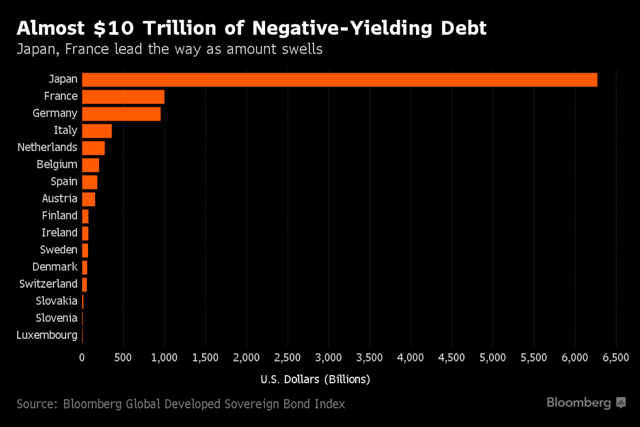 Why would someone pay to lend capital to someone else? Apparently, there are two perverse reasons for this trend. First, central banks literally buy anything available. For example, the ECB recently announced that they will be buying not only government bonds, but also corporate bonds. These open market purchases push prices up and yields down. Second, private investors expect low inflation rates, even lower interest rates and high central bank intervention for a long period of time - therefore they bet on higher bond prices.
Oddly enough, it looks like investors are buying stocks to get dividend yields and bonds to get capital gains. The investing world is upside down. However, the expectation of a capital gain from a bond, and the consequent acceptance of a negative yield, in my opinion, resembles a pyramid scheme. Investors don't really want to hold their bonds for 20 or 30 years, but rather they plan to sell the bond to someone else at a higher price.
These expectations are extreme and could lead to nasty consequences for two reasons. First, although it is difficult to forecast inflation in this world, to expect inflation to be so low for so long is, at the very least, a stretch. For example, considering that Swiss government bonds offer negative yields for 30-year maturities, either inflation will stay negative for a lifetime, or investors will get a negative return both in real and nominal terms.
Macroeconomic books tell us that if monetary supply increases, prices will rise. In the last few years, this link has broken. Yet so far, no one has come up with a better theory. So it is reasonable to expect that inflation will grow again soon, and considering the amount of capital available worldwide, no one can exclude a rapid and steep increase. Should this happen, central banks will need to react quickly and bond prices will fall.
Second, despite the fact that macroeconomic theories are failing us, so far, the central banks have decided to stick to the old strategies inspired by the same theories. These strategies did not work, so they just did more of the same. The current interest rates and central bank balance sheets have never been experienced before. Of course, we do not know what would have happened without such a massive intervention (central bankers argue that we would be in much deeper trouble, but in reality, nobody really knows), but if these strategies keep failing for longer, central banks will have to reduce their intervention (sooner or later). Should this happen, bonds prices will fall.
The curious story of junk bonds
In my previous article about the unintended consequences of monetary policies, I also mentioned that investors are taking on extreme risks to obtain returns. Now that most government bonds offer negative yields, investors are desperate for returns and are literally looking everywhere. Stanford researchers studied banks' risk exposure and divided this exposure according to the levels of risk. The picture below illustrates the incredible increase in high-risk exposure. Unfortunately, more recent statistics are unavailable, but exposure levels are similar to 2009.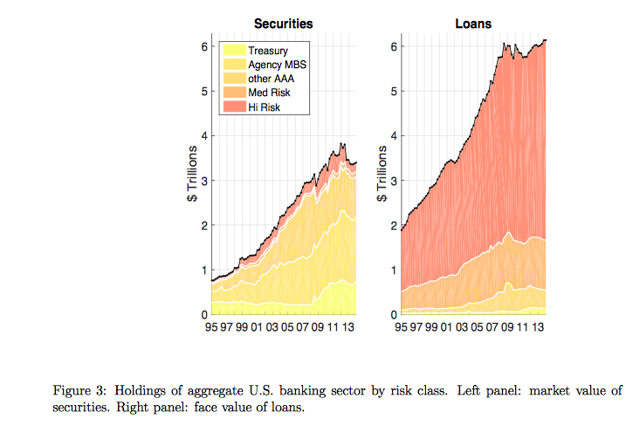 One of the high-risk asset classes that recently performed well is junk (high yield) bonds. These bonds climbed 10% in the last six months (but lost 2/4% compared to a year ago).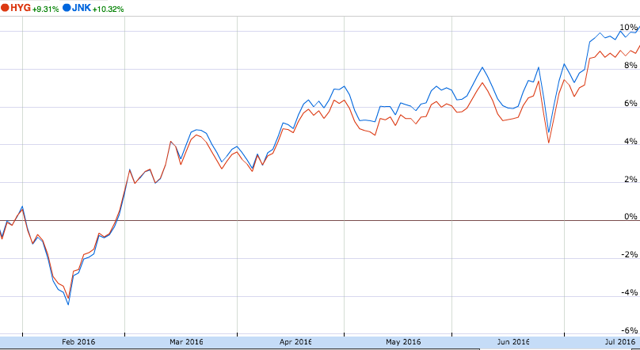 (Source: Google Finance)
Considering that junk bond prices are growing, you could expect that credit markets are improving and high-yield companies are in a better shape. Surprisingly, the opposite is happening. A recent study by S&P Global Fixed Income Research shows that global corporate defaults are climbing very rapidly.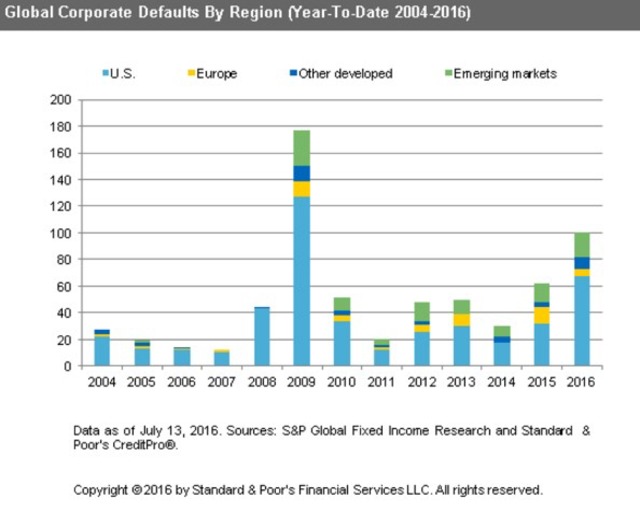 This year, markets have already experienced 100 defaults, an extremely worrying number. It compares with just above 60 for 2015 and approximately 30 for 2014. In the last 12 years, the only time we have seen more defaults was in the middle of the financial crisis. Some may argue that these numbers are skewed due to oil-related bankruptcies, and that higher oil prices will reduce the problems in the second half of the year. However, oil-related failures represent only 20% of the total.
In fact, S&P is forecasting an increase in the U.S. default rate to 5.3% by March 2017, up from 3.8% in March of this year and 1.8% last year. The trend is not reassuring and in fact, these forecasts might even be optimistic. A report from Moody's explains that the refunding needs of U.S. speculative-grade companies will hit a six-year high during 2015-2019 as $791 billion of debt is scheduled to mature (only $18B was due in 2015, so the majority is still out there).
"In late 2016 and 2017, Moody's predicts a wave of new issuance as the largest portion of the refinancing needs is due in 2018-19. These maturities amount to $585 billion, or 74% of the five year total."
Extending the reasoning about government bond prices, junk bonds will react abruptly to changes in monetary policies for a number of reasons. First, if the U.S. raises interest rates, the cost of borrowing will increase and bankruptcies will rise significantly. Today, investment grade bonds pay yields of approximately 3%, compared to 6/7% in 2009. Second, with higher interest rates, the US dollar will strengthen. Non-U.S. companies indebted in dollars will face serious trouble due to both higher interest rates and the higher local currency value of their liabilities.
On the other hand, U.S. companies operating overseas will see their profits in foreign currency worth less in their home country. Further, a stronger dollar means lower commodity prices and therefore problems for companies in these sectors (e.g. oil). Third, when the balance sheets of central banks reduce, junk bonds will be the first to experience capital outflows.
If this happens, only a few companies will manage to refinance the incoming maturities mentioned above, and a spiral mechanism will be triggered. In fact, Deutsche Bank expects the default cycle to worsen in 2017. In this situation, junk bonds look pricey since the risk/reward does not justify current valuations.
How to profit from this situation?
I believe that hedging against junk bonds is an efficient strategy. In fact, this will not only protect against worsening credit markets, but also falling commodity prices or tighter monetary policies (and therefore potentially lower equity valuations). A number of strategies exist. First, the easiest move is to short junk bond ETFs. For example, JNK and HYG. The former is the SPDR Barclays Capital High Yield Bnd ETF, while the latter is the iShares iBoxx $ High Yld Corp Bond. Here is a longer list of ETFs in this space.
Second, an even more aggressive way of betting against these ETFs is to buy PUT options. For example, to bet against the JNK ETF (current price 36.16$), an investor can buy a 16 Sep 2016 PUT at $33 for $10/15, while the December PUT costs approximately $30.
A third strategy might be to bet against banks and financial institutions exposed to junk bonds. Unfortunately, it's not easy to find statistics about this type of exposure. In this recent Bloomberg article, it's possible to see that companies with such an exposure are JPMorgan (NYSE:JPM), Capital One (NYSE:COF), Regions (NYSE:RF) and Bank of America (NYSE:BAC).
However, these companies would need a significant default rate to experience a meaningful impact on their balance sheet. Other research argues that Macquarie Group (OTCPK:MQBKY) is highly exposed to junk bonds (source 1, source 2). Another bank that I personally dislike due to its enormous derivative positions is Deutsche Bank (NYSE:DB).
Finally, investors might want to short the stocks and debt of individual companies. A search strategy would involve a stretched balance sheet, exposure to volatile markets such as commodities and a significant portion of debts to be refinanced in the coming quarters.
As always, thank you for reading. If you wish to follow my future articles, just click the "Follow" button next to my name at the top. I would also be interested to know what you think about junk bonds and if you find further investing ideas on how to short junk bonds, please do share them with us. Thank you!
Disclosure: I am/we are short DB.
I wrote this article myself, and it expresses my own opinions. I am not receiving compensation for it (other than from Seeking Alpha). I have no business relationship with any company whose stock is mentioned in this article.
Additional disclosure: I might short the ETFs mentioned in this article within the next 72 hours.