Being a Canadian, I was always proud to know that my country was one of the leaders in potash production. As a dividend growth investor, I was also very happy to have two very strong companies Potash (POT) and Agrium (AGU) showing great dividend fundamentals. Unfortunately, this was before 2013 when Uralkali (Russia) and Belaruskali (Belarus) decided to break the oligopoly market around potash and produce at whatever price the market will command for this fertilizer.
This changed the game once and for all. At that time, I had both companies in my portfolios and I followed both companies closely. Potash's price fell faster than a hawk diving on its prey. It hurt both companies' financials, but Potash was hurt more. Sometime in 2015, Potash had to cut its dividend as the business wasn't getting any better. At the same time, Agrium continued raising its payouts. At that time, it had become clear to sell Potash and keep Agrium.
Things are changing rapidly in the economy. Only three years later, we now learn that Uralkali and Belaruskali will make amends and most likely will go back to the oligopoly surrounding potash prices. Potash producers had the habit of slowing down production during low demand periods, making sure to get a high price for the fertilizer. With this major announcement, is it time to buy back Potash in my portfolio? Which is best for you to keep - Potash or Agrium? This is the question I will answer in this article.
In order to achieve this task, I must first compare both companies to see where we start.
Business Model
Potash is the world's largest producer of this fertilizer. The company owns roughly 20% of the world market share and benefits from low cost production, thanks to its Canadian mines. If this wasn't enough for the competitive advantages, the company expects its mine life expectancy to be between 65 and 85 years. As fertilizer demand keeps increasing, POT benefits from a very strong position to show additional growth. Countries like China and India are counting on fertilizers to boost their production. Finally, it will take several years for any competitors to developed mines that can show Potash's level of benefits.
On Agrium's side, the company's business model is not solely limited to potash production. While being the third largest potash producer in North America, Agrium is also the largest agricultural retail operator in the USA with more than 750 farm stores across the country. In addition to potash, the company sells other fertilizers such as nitrogen and offers farms a wide variety of solutions to improve their crops (chemicals, seeds plus weather, soil and pest information). Agrium also benefits from a highly fragmented market to make acquisitions and grow from both internal and external sources.
As you can see, both companies show significant business advantages and can't really be set apart at this point. Let's dig deeper into their financials to see if we can determine a winner.
Revenue & Earnings Trends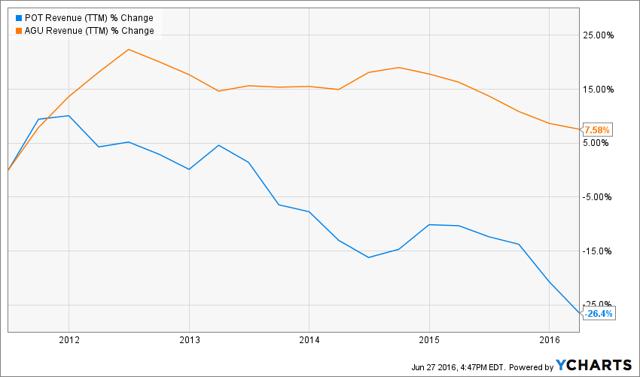 Source: Ycharts
As the above chart shows, POT revenues have kept decreasing since 2012. This is directly in line with Uralkali's decision to break the oligopoly and produce more potash regardless of what the price would be. You can see how POT performance is dependent on potash prices. While the company enjoys a low cost margin, overall lower potash prices still hurt its revenue.
As for Agrium, it has enjoyed a nice ride on nitrogen during the same time. The fact that natural gas cost a lot lower during this period (natural gas price is linked to nitrogen production) enables AGU to compensate for the loss in the potash industry and increase its overall profits.
Now that the Russia-Belarus deal is broken, we can expect both companies to show stronger revenues in 2017. AGU has maintained a positive revenue growth compared to POT, but we all know Potash will be a bigger winner if the oligopoly comes back to full strengths in the potash industry. When we look at the upcoming future, Potash may be able to show more revenue growth than AGU, but it has to compensate for a -26.4% loss already.
Both companies suffered greatly in terms of earnings too: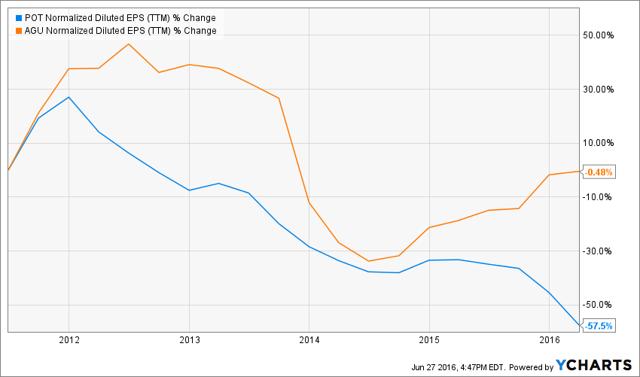 Source: ycharts
While revenues were up for Agrium over the past 5 years, we can see that its margin on potash has played a major role in its earnings. More recently, AGU was able to benefit from a lower price of natural gas to improve its margin on nitrogen and start an earnings up trend. As for Potash, it seems obvious that the business will only be able to show better earnings. In the meantime, the company has struggled a great deal to find a way to get back on track. This is quite disappointing considering POT is a leader in its industry.
Because Agrium was able to go through the recent potash price crisis and actually shows better numbers than Potash, I think AGU is a winner for the revenue & earnings trend.
Dividend Growth Perspective
I've personally based the backbone of my investing strategy on dividend growth. In fact, dividend growth investing brings very strong results and this is why it is at the center of my 7 investing principles. Let's see how AGU & POT managed their dividend payout through this difficult cycle: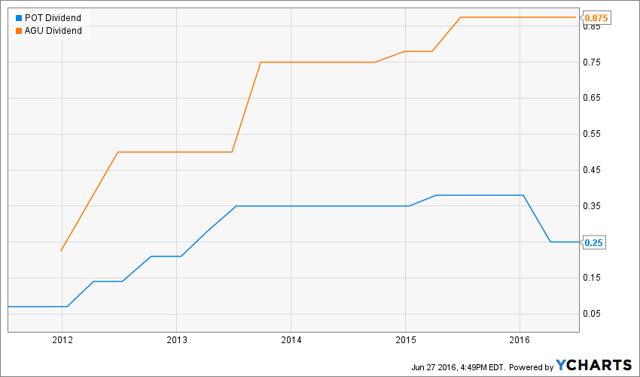 Source: ycharts
Agrium continued to increase its dividend payout since 2012. In fact, I guess management decided to start paying dividend back in 2012 to keep investors interested in the stock as the potash market was collapsing. On POT's side, things have been under control until recently. The company announced a dividend cut which is an immediate sell trigger in my portfolios. This is why we sold POT at that time as we weren't satisfied with the dividend growth potential.
Now that the wind may change, let's look at both companies' dividend sustainability: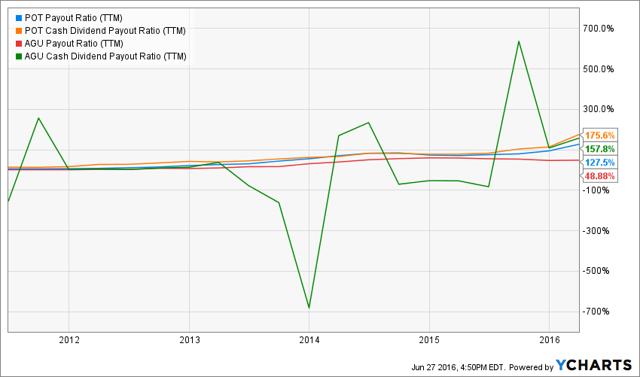 Source: Ycharts
I always look at both dividend payout ratio and the cash payout ratio to see if the payment is sustained by accounting principle or by real cash in the business bank account. It appears that both companies fail the cash payout ratio. This is not surprising as basic materials companies always evolve in cyclical businesses and we are not in a growing trend at the moment. However, Agrium shows a solid payout ratio. AGU has done a lot to maintain a better stability with its cash payout ratio though.
I must say that both companies don't exactly show the dividend growth profile I expect. However, because AGU didn't cut its dividend and shows a payout increase possibility, I think Agrium is better than Potash in term of dividend growth perspective.
Valuation
Another interesting point of comparison is the stock valuation. At this point, I can say that AGU seems like a better investment than POT. However, it won't mean much if AGU shares are overvalued. I use two techniques to determine a stock valuation. The first one is to look at the past 10 years P/E ratio in order to have an idea of how the market values both companies: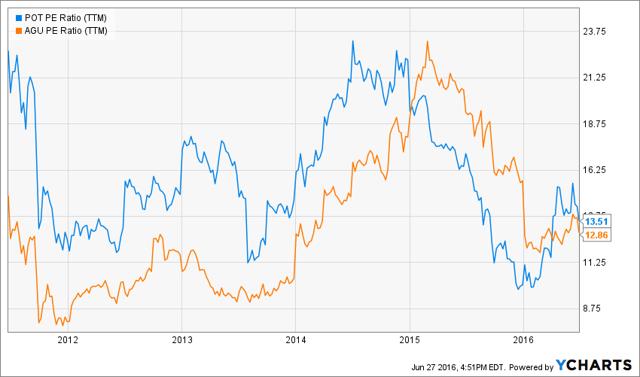 Source: Ycharts
As you can see, both stocks show highly volatile earnings multiplier. Since the beginning of 2016, they both grew a little bit in valuation but not by much. Both companies seem to be fairly valued at this time.
In order to have a more specific idea of both companies' valuation, I also use a double stage dividend discount model. I use a first dividend growth for a 10-year period in order to reflect the company's current situation and another dividend growth rate for the years after.
Due to its highly volatile situation and recent dividend cut, I've given a discount rate of 12 for Potash and a first 10-years dividend growth rate of 3%. Then, I think the company can manage to improve its situation and offer a 4% dividend growth rate.
| | |
| --- | --- |
| Input Descriptions for 15-Cell Matrix | INPUTS |
| Enter Recent Annual Dividend Payment: | $1.00 |
| Enter Expected Dividend Growth Rate Years 1-10: | 3.00% |
| Enter Expected Terminal Dividend Growth Rate: | 4.00% |
| Enter Discount Rate: | 12.00% |
Here are the results of my calculations:
Calculated Intrinsic Value OUTPUT 15-Cell Matrix

Discount Rate (Horizontal)

Margin of Safety

11.00%

12.00%

13.00%

20% Premium

$16.58

$14.54

$12.96

10% Premium

$15.19

$13.33

$11.88

Intrinsic Value

$13.81

$12.12

$10.80

10% Discount

$12.43

$10.91

$9.72

20% Discount

$11.05

$9.69

$8.64
Source: Dividend Toolkit excel spreadsheet
As for Agrium, I will use a two-stage calculation to start with a dividend growth of 8% and then reduce it to 7%. Since there is a lot of volatility around fertilizer prices, I will also use a conservative number for my discount rate. I usually use a rate between 9% and 11%. For AGU, I will use 11% as a discount rate as I don't want to become too complacent. I did the calculation in USD (considering AGU is trading on both U.S. and CDN markets.
| | |
| --- | --- |
| Input Descriptions for 15-Cell Matrix | INPUTS |
| Enter Recent Annual Dividend Payment: | $3.50 |
| Enter Expected Dividend Growth Rate Years 1-10: | 8.00% |
| Enter Expected Terminal Dividend Growth Rate: | 7.00% |
| Enter Discount Rate: | 11.00% |
Results:
Calculated Intrinsic Value OUTPUT 15-Cell Matrix

Discount Rate (Horizontal)

Margin of Safety

10.00%

11.00%

12.00%

20% Premium

$162.71

$121.66

$97.05

10% Premium

$149.15

$111.52

$88.96

Intrinsic Value

$135.59

$101.38

$80.88

10% Discount

$122.03

$91.25

$72.79

20% Discount

$108.47

$81.11

$64.70
Source: Dividend Toolkit excel spreadsheet
Agrium seems undervalued by roughly 10% as Potash seems overvalued by roughly 30%. AGU shows a better investment opportunity than POT at this point.
Final Thoughts
Overall, I think AGU will outperform POT over the long haul. Another reason why I think AGU is in a better position is the fact that I'm not giving too much importance to where Uralkali and Belaruskali agreement will stand. They are already known to sell their potash under the market price and this will continue to apply additional pressure on Potash's margin. In addition to that, there is also the threat that BHP Billiton (NYSE:BHP) puts its Jansen mine into operation. If this happens, the oligopoly would break again since the offer would be definitely higher than the demand. In all cases, I think supporting farmers with various solutions is a better alternative than simply selling low cost extraction potash as POT does. This is the reason why we kept AGU in our portfolios and sold Potash.
Disclaimer: I hold AGU in my DividendStocksRock portfolios.
Disclaimer: The opinions and the strategies of the author are not intended to ever be a recommendation to buy or sell a security. The strategy the author uses has worked for him and it is for you to decide if it could benefit your financial future. Please remember to do your own research and know your risk tolerance.
Disclosure: I am/we are long AGU.
I wrote this article myself, and it expresses my own opinions. I am not receiving compensation for it (other than from Seeking Alpha). I have no business relationship with any company whose stock is mentioned in this article.