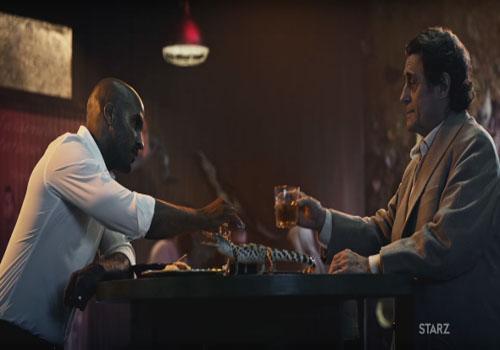 With the 2016 edition of San Diego Comic-Con in the books, a number of analysts are beginning to sift through the data to mine for trends. Some are easy to spot - super-heroes still rule the day, nostalgia isn't going anywhere and most importantly everybody wants to know what the next big thing is - and soon.
One of the series vying for the title is American Gods, a new drama coming in early 2017 to Starz. Yes, Starz. Not HBO, not AMC, not FX…Starz (NASDAQ: STRZA). And that double-take you did is exactly why it could be a big deal. Simply put, Starz wants, scratch that, needs American Gods to be its Game of Thrones. Outlander, Power and Ash vs. Evil Dead will help stabilize its roster, but it needs that marquee, flagship series.
Now yes, you could argue Outlander serves that role, but it really doesn't. The show pulls good enough ratings for the network it's on and yes it has the support of entertainment writers and critics, but its missing that water cooler buzz.
Starz needs that show and moreover new parent company Lions Gate (NYSE: LGF) needs that show. To be honest above all else investors need to see that show. All involved need that mega-watt, sci-fi driven, Hall H, social media sensation that each of those networks I mentioned above has in spades.
American Gods may be the network's last best chance.
Now I'm not saying unequivocally it will be, but it is in the realm of possibility.
So what is Gods and why should investors care? Gods is a novel by acclaimed author Neil Gaiman that looks at the brewing war between the old gods and new gods with an unlikely hero at the center. First published in 2001, it eventually got optioned to HBO over a decade later. Yet the series was eventually abandoned as HBO felt they couldn't quite get the script right.
Enter Fremantle Media and eventually Starz which aligned to produce the series with a massive ensemble headlined by the incomparable Ian McShane and overseen by fan favorite producer Bryan Fuller.
On a total side-note if you've never seen Ian McShane act before, go watch the under-rated HBO drama Deadwood…you won't be disappointed. Fans who have read Gods can easily see McShane in the role of Mr. Wednesday, a charismatic leader of the old regime of gods.
It is perfect casting.
Yet it's the casting in the general that could make this show the right series at the right time. Gods, while a fantasy book, is firmly about the immigrant experience and that means an eclectic range of diverse characters. Gaiman has made it a point to assuage any fears that Hollywood will "white-wash" his work. In a time where diversity on screen (big and small) is a hot button issue, Gods is trying to be the standard-bearer.
For Starz and its investors that's a big deal. Networks and studios are getting raked over the coals for not being diverse enough. The Oscars notably ran into problems this year when not one of its 20 acting nominees were a person of color.
Conversely the Emmys and Tonys were praised for its well-rounded roster of contenders. And to be clear, the actors/actresses nominated for the Emmys and Tonys completely deserved their spots, they weren't just nominated to fill a quota. It's all about ensuring voters are exposed to the full range of nomination possibilities.
Although if you aren't on a main network, you don't have as good of odds. And again that goes back to Starz's problem as while they are a top tier network, they don't have top tier names associated with the majority of their shows. Gods will have rising star Ricky Whittle and established celebs such as Kristin Chenoweth, Orlando Jones, Pablo Schreiber, Crispin Glover and Gillian Anderson (with more likely to come as the show moves along).
Plus there also is the matter of timing with regard to ratings. Earlier this year Starz announced it was (finally) shifting its original programming to Sunday nights. No longer would its series be banished to Friday/Saturday nights where nobody is watching TV. If Starz wants to be seen as a premium giant, it needed to compete with them.
See how many of the above boxes that Gods checks? That should show you the level of confidence.
The network also knows full well that anything it puts up against Game of Thrones or The Walking Dead will get thrashed in a live head-to-head, but could it really be that much worse than it is now?
A lot of Starz's success comes from online/streaming/mobile viewings which boost its ratings up to very respectable levels, but those could always use the L+SD (live+ same day) bump.
Early returns from the Sunday shift are positive. The network's drama Power drew 2.26 million viewers for its third season premiere, a 58% season-to-season increase. That number also is record for any Starz season premiere, which was previously held by Outlander. Add in those encores and the show reached just over 3.3 million viewers which by comparison to other rivals is solid.
And all of this is going on for a show on a network with just over 23.5 million subscribers and just overtook Showtime to become the second-most watched of the pay-cablers. So to say Starz has momentum is not exactly an over-statement.
Then again we've been down this road before in terms of thinking Starz was on the cusp of a breakout…most recently with Outlander. Personally I think Outlander didn't completely break the barriers because at its heart it's a romance drama which turns off many male viewers. It also doesn't have any big names to get award voters hooked.
That's not to say it's not a good show and it isn't a strong tentpole for the network, because it is on both counts. This is just a situation where the sum of the pieces isn't as big as having all the pieces.
If Gods launches earlier in 2017 than later it will present Starz with a great opportunity. Of the major Sunday players, only Showtime consistently programs its schedule year-round. The major networks have really lost their grasp on Sundays (NBC's Sunday Night Football aside) while AMC traditionally byes until February and HBO doesn't really hit its stride until April (though that could change next year).
That gives Starz a big opportunity and it's one its investors have been waiting for.
Disclosure: I/we have no positions in any stocks mentioned, and no plans to initiate any positions within the next 72 hours.
I wrote this article myself, and it expresses my own opinions. I am not receiving compensation for it (other than from Seeking Alpha). I have no business relationship with any company whose stock is mentioned in this article.