By Kevin Hincks, Sr. Specialist, Trader Education Host, and Swim Lessons host.
The markets hugged the flat line in the early going today as traders took on a guarded tone ahead of the Federal Reserve meeting, a flood of earnings reports, including those from seven Dow Jones Industrials components, and a packed week of economic reports. Why jump in when there's uncertainty of what's ahead?
The markets took a prudent turn Monday with an opening that was soft at the bell and drifted lower by the session's end but still managed to close above intraday troughs. All three benchmarks wandered into negative territory after last week's string of record highs. The Dow Jones Industrials (DJIA) settled at 18,493.06, off 77.79 points, or 0.4% while the S&P 500 (SPX) gave back 6.55 points, or 0.3%, to land at 2,168.48. The consumer discretionary sector was the only one to avoid sinking. A drop below $43 a barrel in oil prices stoked market sentiment and sucked 2% out of the energy, the SPX's biggest decliner.
The technology-heavy Nasdaq Composite Index (COMP6) pared significantly deeper losses to close at 5097.63, off 2.53 points, or a slim 0.1%.
The VIX, which also has hit historical points, though these have been lows in recent weeks, took a turn higher Monday. Considered the market's fear index, the VIX advanced to an intraday peak of 13.72 before pulling back to seal the day at 12.87, up 0.85, or 7.07%.
Given the low volume on the markets and little impetus to drive them forward, analysts say the doldrums of summer might be hitting. And then there's the start of the Democratic National Convention, which may be a distraction for some trading. But remember that thin markets like this tend to be more volatile because it's a heck of a lot easier to log a bigger rise or fall when volume is low than it is when trading activity picks up.
That said, there's the two-day meeting of the Federal Reserve that starts today, coupled with that boatload of earnings-1,266 reporting this week with 497 of them on Thursday alone-and that bevy of reports that may, or may not, lift the lethargy out of these long, hot summer days.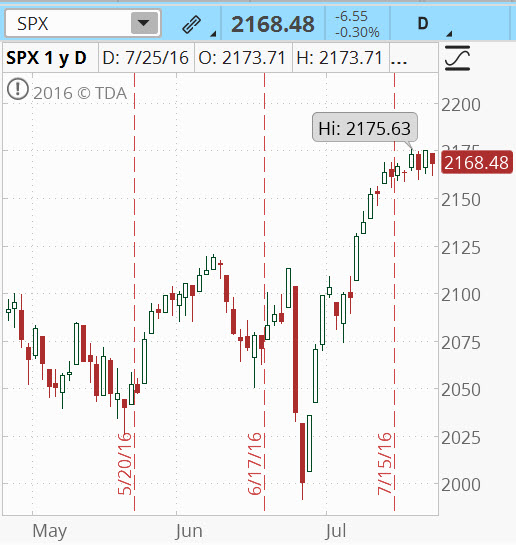 Figure 1: PRICING PULLBACK. As it has 78% of the time, the S&P 500 (SPX), plotted through Monday's close on the TD Ameritrade thinkorswim platform, rose last week during the Republican National Convention, held ahead of the Democratic National Convention. If history is on track, it will slide this week before a renewed advance next week, according to S&P Global. Data source: Standard & Poor's. For illustrative purposes only. Past performance does not guarantee future results.
Conventional Wisdom. That's what S&P Global is calling its recap of historical market performance amid these once-every-four-years political conventions that choose a candidate for president. "History says (but does not guarantee) that this…week has a good chance of sliding in price, before a renewed advance during the first week of August," according to S&P Global. Since 1948, the SPX has risen some 67% of the time during a Republic National Convention (RNC). It gets better, at 78%, if the RNC is held before the Democratic National Convention (DNC), as it was this year. The Democratic effect during its national convention isn't nearly as robust for the markets, according to S&P Global. "During their conventions since 1948, the S&P 500 rose in price 47% of the time, but recorded a median price decline of 0.20%," S&P Global says. "The odds of a rise in share prices increased only marginally to 50% when the Democrats held their convention after the Republicans."
But the after-effect is better. In the five days after a DNC followed an RNC, the SPX jumped in price an average of 0.89% and rose in price seven of eight times, or a healthy 88%. "As a result, even though investors will likely be holding their breath as they witness the (DNC), they may then breathe a sigh of relief once it's over," says G&P Global's Managing Director Sam Stovall. Stay tuned.
Fed's Tick, Tick, Tick. Today starts the two-day Federal Reserve confab when all the members of the Federal Open Markets Committee meet to decide whether the economy is strong enough and possibly headed toward too much inflation to withstand a hike in interest rates. Analysts all purport to know the answer already is a no, given the Fed Fund futures prices have barely budged off the absolutely-no line, sitting comfortably at 97.6 today. The CME Group FedWatch tool doesn't even see more than a 50% probability of a rise in rates until-ready for this?-February.
Of course, that could all change after 2 p.m. ET tomorrow when The Decision on rates is announced. Many analysts say they expect to hear that the Fed is now taking a more hawkish view of the economy since that was the overwhelming tone many members took in the dozen-plus speeches they made earlier this month. Yes, stay tuned to this too.
Oil's New Lows. Crude oil prices (WTI) tumbled yesterday to a three-month low of $42.97 in intraday trading before closing at $43.13, off 1.39. Already this morning, we're seeing prices slide again amid an over-supply that has many analysts whispering about shifting refining from the lighter summer weight to winter weight earlier than usual. Why? Because, despite the higher summer-driving demand, we've still got too much supply-even after a series of refining disruptions this spring and earlier this summer worldwide. Last week's report by Baker Hughes that U.S. drillers added 15 more rigs to an already ample supply spooked traders. "Supply continues to return from disruptions, refined products are severely oversupplied, crude demand is falling well short of product demand, and key product demand is decelerating," Morgan Stanley analysts said in a note to clients. What's ahead? Inventory numbers are coming out later today and tomorrow's important reading by the U.S. Energy Information Administration will offer more direction.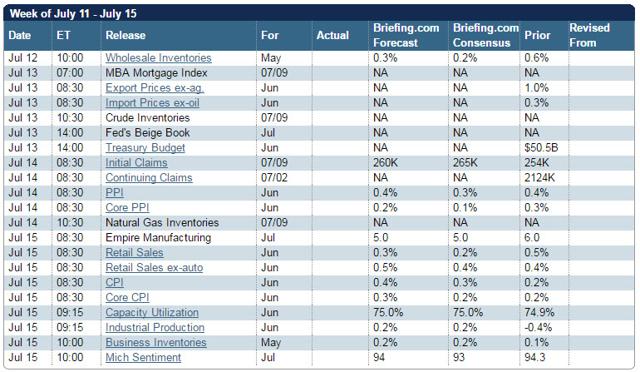 Figure 2: Economic Agenda. This week's U.S. economic report calendar. Source: Briefing.com.
Inclusion of specific security names in this commentary does not constitute a recommendation from TD Ameritrade to buy, sell, or hold. TD Ameritrade® commentary for educational purposes only. Member SIPC.
Disclosure: I/we have no positions in any stocks mentioned, and no plans to initiate any positions within the next 72 hours.
I wrote this article myself, and it expresses my own opinions. I am not receiving compensation for it. I have no business relationship with any company whose stock is mentioned in this article.