Oil (NYSEARCA:USO) has taken a sharp turn over the past couple of days, falling 6% from $46/bbl to $43/bbl. With bearish developments in seemingly every EIA report, it's difficult to see light at the end of the tunnel.
ConocoPhillips (NYSE:COP) fell alongside its peers. Obviously, size has provided no protection. Over the past month, the stock has underperformed the SPDR S&P Oil & Gas E&P ETF (NYSEARCA:XOP) by 260 bps. This reflects my sentiment that the company was overvalued relative to some of its peers, as I have discussed multiple times before.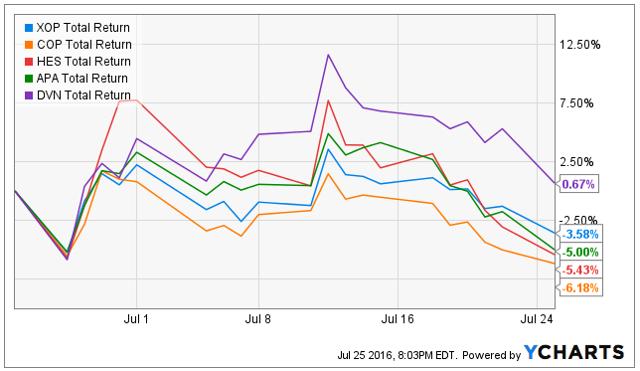 Hess (NYSE:HES), Apache (NYSE:APA), Devon Energy (NYSE:DVN)
While the outlook remains bleak for ConocoPhillips (for the entire industry I might add), Thursday will be a big day. Investors could salvage some of their losses if ConocoPhillips beat earnings. But on a fundamental level, I don't think that earnings matter too much in that much of ConocoPhillips' value is derived from the value of its reserves and the value of future production, which means that future oil prices matter a lot more than what happened from April to June. However, there are a couple of things that could significantly alter investors' existing view of the company, for better or for worse. Here's what I'll be watching for.
Busting The Idea Of "Cash Flow Machine"
Two months ago, a prominent sell-side analyst labeled ConocoPhillips as a "top free cash yield idea." This came as a surprise to me considering that the company had recently cut dividends, and oil wasn't that high (around $50/bbl). The analyst has set the expectation, and any negative deviation will certainly take its toll on the stock price.
In June, I looked at the possibility of the company achieving cash flow break-even in Q2 (never mind free cash flow); and it was slim (read Investing In ConocoPhillips Is Still A Bad Idea). Unless the company drastically cut capex (unlikely) or really shined at laying off workers, I believe that there will be a deficiency.
While my third quarter outlook was sunny, worsening outlook for the oil industry as a whole (read Futures Market Signals Turning Point) and deteriorating commodity prices are quashing this vision. I previously mentioned that cash flow break-even was a likely outcome in Q3; unfortunately, I may soon have to revisit that suggestion. Since oil has dropped from $48.47/bbl (previous assumption) to around $43/bbl, we have to remove more than $280 million of expected cash flow from the equation, which will jeopardize my prediction of achieving cash flow break-even in Q3. It'll certainly be interesting to hear what the management has to say about this goal.
Making Good On Promises
The price of oil isn't something that the management can control, but they can control cost. In June, the management reiterated the commitment to reduce cost by $1 billion in 2016.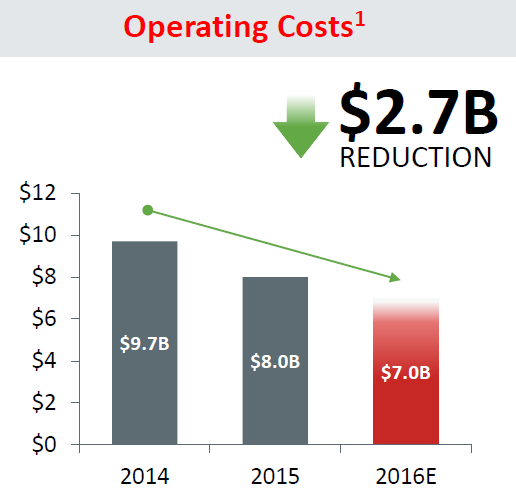 Source: Company presentation
The company had already cut operating costs from $1.96 billion to $1.54 billion in Q1. In just one quarter, the management has already achieved 42% of the goal. If the management can keep the momentum going in Q2, then we will be looking at another outstanding quarter in terms of cost cuts. Because operating expenses have remained stable quarter to quarter in the past, I believe that this is a big possibility.
You may have also heard that ConocoPhillips recently announced another round of layoffs. Although this won't help Q2 results, it does mean that the management is still actively searching for fat that could be trimmed. If the management can accelerate the pace of cost cuts (i.e. show even a bigger reduction in Q2), then the stock could benefit.
Click the "Follow" button beside my name on the top of the page to be updated with my latest insights. To learn more about the V20 Portfolio, whose goal is to compound capital at 20% over the long term, I encourage you to read the introduction to my investment process. Premium subscribers get full access to the V20 Portfolio.
Disclosure: I/we have no positions in any stocks mentioned, and no plans to initiate any positions within the next 72 hours.
I wrote this article myself, and it expresses my own opinions. I am not receiving compensation for it (other than from Seeking Alpha). I have no business relationship with any company whose stock is mentioned in this article.