Kadmon Holdings, LLC (NYSE: KDMN) expects to raise $89.9 million in its upcoming IPO. Based in New York City, New York, Kadmon Holdings is a biopharmaceutical company that identifies, develops and markets biologics and small molecules to address unmet medical conditions.
Kadmon Holdings will offer 5.5 million shares at an expected price range of $16 to $20.
KDMN filed for the IPO on June 10, 2016.
Lead Underwriters: Citigroup Global Markets and Jefferies LLC
Underwriters: H.C. Wainwright & Co. and JMP Securities
Business Summary: Biopharmaceutical Company Developing Biologics and Small Molecules to Treat Certain Diseases
According to its Prospectus Summary, Kadmon Holdings focuses on biologics and small molecules to treat unmet medical needs.
Kadmon sells and distributes a portfolio of branded generic ribavirin treatments for chronic hepatitis C virus infection; distributes treatments for cytomegalovirus retinitis, chorea, and for the prevention of CMV disease; and co-promotes a treatment for chronic weight management. It is also developing product candidates in fibrotic and autoimmune diseases, oncology and genetic diseases.
The company has its product candidate KD025 in the following clinical trials:
For Psoriasis Vulgaris in Mid-Phase II
For Idiopathic Pulmonary Fibrosis in Mid-Phase II
For Chronic Graft-Versus-Host Disease in Early-Phase II
For Psoriatic Arthritis in Early-Phase II
For Scleroderma in Early-Phase II
In addition, Kadmon Holdings has these product candidates in clinical trials:
Tesevatinib for Non-small Cell Lung Cancer in Mid-Phase II
Tesevatinib for Glioblastoma in Early-Phase II
Tesevatinib for Autosomal Dominant Polycystic Kidney Disease in Mid-Phase II
Tesevatinib for Autosomal Recessive Polycystic Kidney Disease in Mid-Phase I
KD034 for Wilson's Disease in Phase III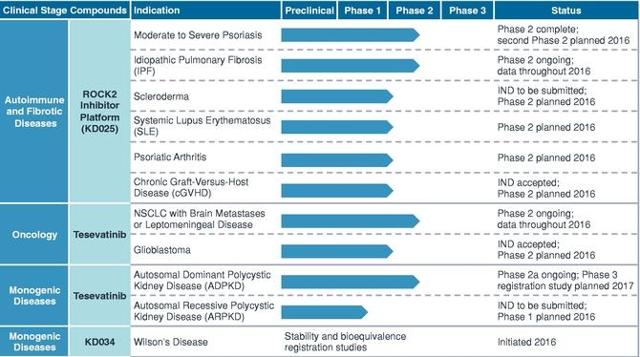 (Source)
Use of Proceeds To Fund Additional Trials, Other Corporate Purposes
Kadmon Holdings intends to use the net proceeds of the IPO for funding additional clinical trials; to fund clinical supply needs, process optimization and reformulation efforts; ongoing drug stability expenses; clinical infrastructure; in-house data management costs; and to repay an outstanding interest-free demand loan from Dr. Harlan Waksal.
Executive Management Highlights
CEO and President Dr. Harlan Waksal, M.D. has served in his position since September 2014. He was President and Sole Proprietor of Waksal Consulting since July 2003. His previous experience also includes positions at Acasti Pharma, ImClone Systems and Sevion Therapeutics. Dr. Waksal received his training in Internal Medicine from Tufts-New England Medical Center Hospital and in Pathology from Kings County Hospital in Brooklyn, New York. He received a Bachelor of Arts in Biology from Oberlin College. Dr. Waksal received his Medical Degree from Tufts University School of Medicine.
CFO and EVP Konstantin Poukalov has served in his position since 2014. Prior to joining Kadmon Holdings, he served at Jefferies LLC in various positions across M&A, equities and debt financing. Mr. Poukalov received his bachelor's degree in electrical engineering from Stony Brook University in New York.
Potential Competition: Gilead Sciences, Janssen Pharmaceuticals and Others
Kadmon Holdings faces competition from a variety of other pharmaceutical companies, including AbbVie Inc. (NYSE:ABBV), Gilead Sciences, Inc. (NASDAQ:GILD), Janssen Pharmaceuticals, and Merck & Co. (NYSE:MRK).
Financial Overview: Substantial Early Losses
Kadmon Holdings provided the following figures from its financial documents for the years ended December 31:
| | | |
| --- | --- | --- |
| | 2015 | 2014 |
| Total Revenue | $35,719,000 | $95,018,000 |
| Net Income (Loss) | ($147,082,000) | ($64,385,000) |
As of March 31, 2016:
| | |
| --- | --- |
| Assets | $61,967,000 |
| Total Liabilities | $303,734,000 |
| Stockholders' Equity | ($302,707,000) |
Conclusion: Consider Caution
A key risk for KDMN is the potential inability to advance product candidates to clinical development, or obtain regulatory approval. KDMN has incurred significant losses since inception and anticipates continued losses for the foreseeable future.
Given KDMN's high debt and uncertainty around the outcome and profitability of its product candidates, we remain cautious and are hesitant on investing.
Disclosure: I/we have no positions in any stocks mentioned, and no plans to initiate any positions within the next 72 hours.
I wrote this article myself, and it expresses my own opinions. I am not receiving compensation for it (other than from Seeking Alpha). I have no business relationship with any company whose stock is mentioned in this article.