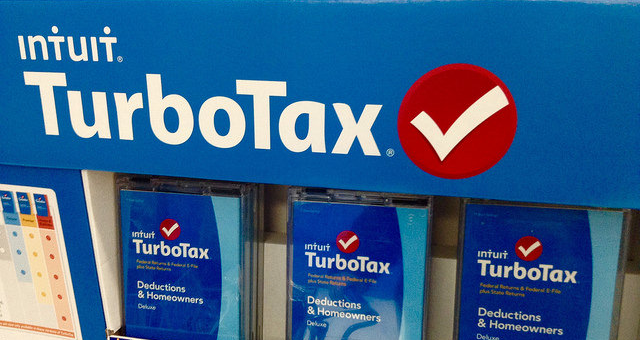 It has been a couple of months since my last "FCF 5" review. This has been mostly due to the fact that my attention has been heavily focused on companies with which I am largely already familiar. Yet recently a "new" company (at least from an analysis perspective) came into my view: Intuit (NASDAQ:INTU).
Intuit is no doubt familiar to many of you. As the producer of financial software like QuickBooks and TurboTax a large number of you may well be frequent users of its products. I am not a user at present. Yet I am for one of its main rivals: British-peer The Sage Group (OTCPK:SGPYY).
I have been watching Sage Group for many years now. Yet so far I have not found what I considered a good point to open a holding despite its clear quality. Nonetheless, Sage Group's attractions have focused my attention upon the potential appeals of Intuit. Here I will see whether Intuit is worthy of this attention by running my five FCF tests.
These five FCF tests form the first steps in my analysis of a company. Although far from exhaustive, they give me a good indication of its competitive advantages, its FCF health and efficiency as well as the debt and dividend position. Fair value based on FCF alone is also calculated. These tests merely mark the first step in what may develop into a more thorough analysis of the business in the future.
So how does Intuit do? Let's take a look.
A Little About Intuit
Let's start with a little more about the company. Intuit derives most of its revenue from three segments: small business (QuickBooks), consumer tax (TurboTax) and professional tax (ProSeries). Their small business and consumer tax segments headed by their QuickBooks and TurboTax software dominates their revenue streams: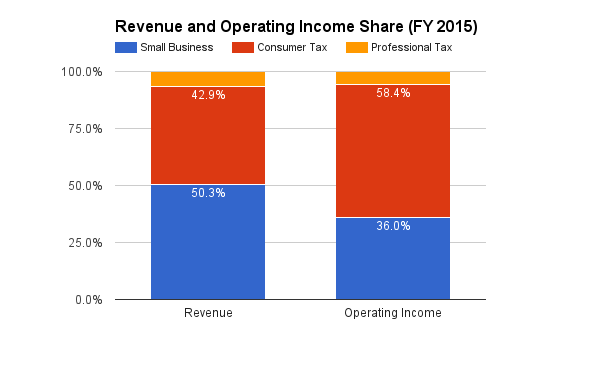 Unlike Sage Group, however, over 95% of Intuit's revenue is derived from the US market alone. International revenue in countries such as the UK, Singapore, Canada, Australia and India contribute only a little to top or bottom line performance.
Increasingly Intuit has shifted its business from selling its products as a one-off purchase of a product to a more service-based, online "cloud" subscription model: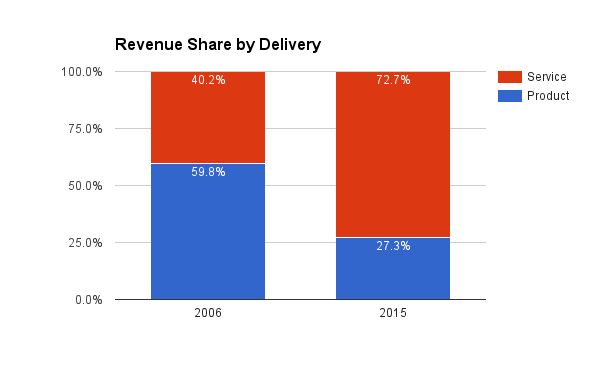 This has, importantly, resulted in revenues becoming even more transparent as now nearly three-quarters of revenues come from subscriptions. All told, this is an attractive long-term shift from the company. It operates a business which delivers software which simplifies people's lives, maintains loyalty through the modest learning curve required in their use and which encourages customers to pay to use their software on a rolling subscription basis. There is little not to like in that.
So how does it fare against our tests?
1: Positive Free Cash Flow
First off is a simple one. All I want to see is that Intuit has managed to generate positive FCF consistently over the last decade. So how does Intuit do? Very well indeed: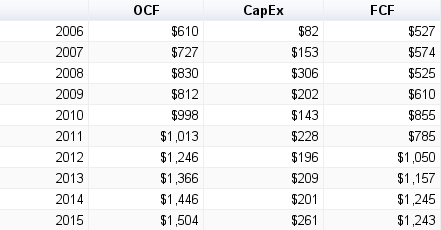 With strong OCF (operating cash flow) and low CapEx (capital expenditure) due to its capital light nature as a software company, it presents a compelling FCF record. Indeed, Intuit has seen its FCF grow at a CAGR of about 9.1% over the last decade. Very impressive. More encouragingly still, up to Q3 2016 it looked as though Intuit should easily generate FCF at least as good as in previous years.
A simple start, maybe, but an impressive PASS to get Intuit off the mark.
2: CROIC: Cash Return on Invested Capital
Next we get a little more in-depth. Here we turn to Intuit's CROIC-that is, cash return on invested capital. This we calculate by taking the FCF and dividing it by the sum of its invested capital (that is, total debt and shareholders' equity).
What we want to see is a CROIC above 10%. A CROIC of 10% would mean that for every $100 of invested capital, the company would generate $10 in FCF. This would represent an attractive return. In the case of Intuit, it easily surpasses this target: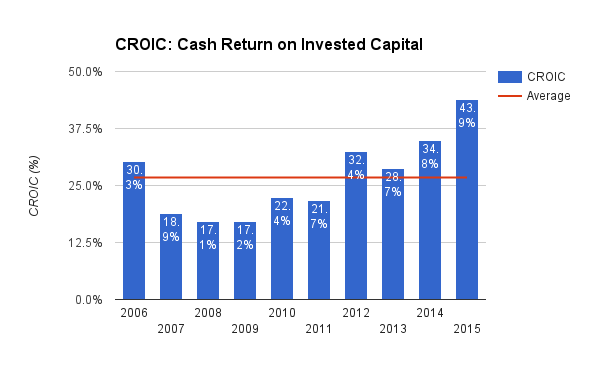 Indeed, the average over the last decade sits at 26.7%. What is more, as you can see, in the last few years it has been generating FCF even more efficiently than that and in coming years I'd expect to see that average lift higher into the 30%+ area. Indeed at Q3 time, their CROIC suggested that despite an increase in debt the FY2016 CROIC figure will be in-line with last years number.
Again, Intuit puts together a compelling PASS here.
3: FCF to Debt Ratio
Next it is time to give the debt levels a little more thought. Chiefly I want to see debt levels which are generously covered by FCF. I am, therefore, looking for a FCF/Debt ratio of 25% or more. What this would mean is that, theoretically, Intuit could repay its entire debt load in about four years using only FCF. In practice, this is unlikely as they have other demands on FCF such as dividends and interest repayments. Nonetheless, it gives us a nice indication of the strength of the balance sheet.
So how does Intuit do? Very well indeed: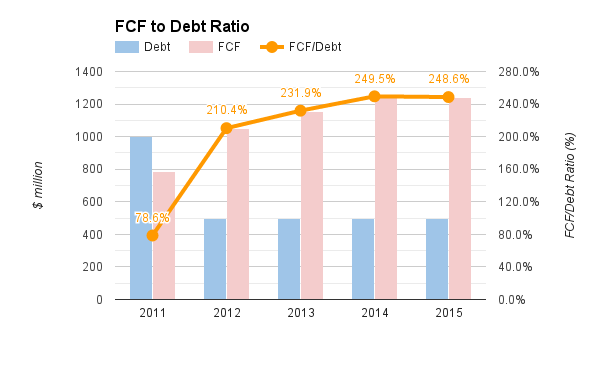 In 2015 their FCF covered their debt nearly 2.5 times. In other words, with a little under 5 months of FCF Intuit could pay off the entirety of its total debt. Very impressive.
Since FY2015, however, Intuit's debt has doubled to $1 billion. Clearly this impacts its FCF/Debt ratio. Assuming a similar FCF figure as 2015, this would still leave debt covered about 1.25 times by FCF. Less, certainly, but still meaning that it would take less than 10 months of FCF to pay off the debt load.
Intuit therefore puts together another comprehensive PASS.
4: FCF Yield
Intuit has never been a high-yielder. It only started to pay a dividend in 2012 and since then, the yield has hovered around the 1% mark despite growing at a rate of about 13.5% per year: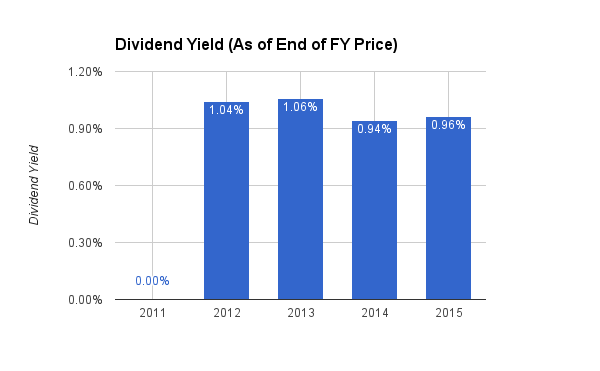 However, what concerns me most here is the health of the dividend and the potential for future growth. What I am looking for, therefore, is a FCF yield (that is, the dividend yield if they paid out their entire FCF) of 3.5% or more. Also, I would like to see the FCF payout ratio of 75% or less. Here Intuit again does very well: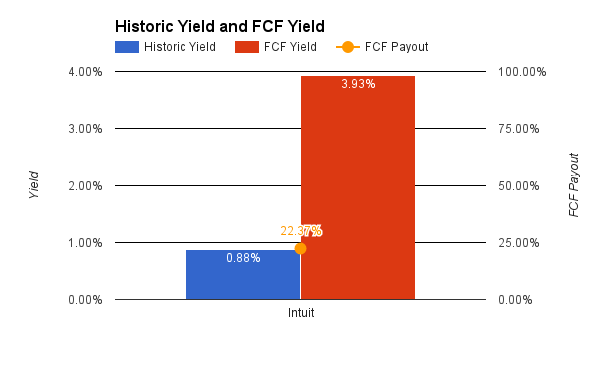 Again, it is hard to argue against Intuit. Sure its starting yield based on 2015's distribution is currently low at 0.88%. However, based on the likely $1.20 dividend for 2016 (three $0.30 dividends have already been paid) the yield remains around the 1.05% mark.
Yet with a very low payout ratio of less than 25% there is plenty of scope for rapid growth in the future.
Intuit leaves this test with a comfortable PASS once again.
5: FCF Valuation
Now we come to the all-important valuation point. Here I use the EV/FCF (enterprise value to FCF) ratio instead of the PE to ascertain fair value. All I ask is for the current share price to sit below the FCF fair value generated from this.
First off we need to ascertain what the EV/FCF average has been over the last decade: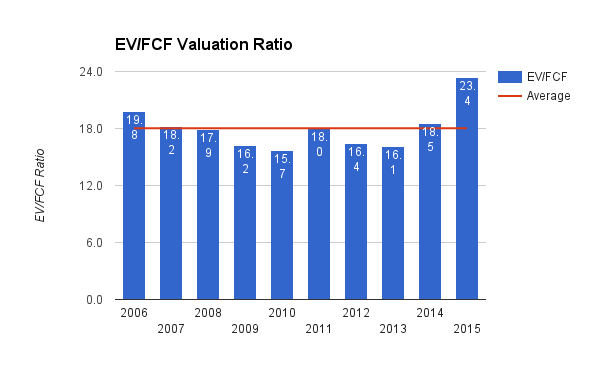 In this case it is running at 18. As there are no outliers (years either 1.5 times greater or 0.5 times lower than the average) this figure becomes our fair value EV/FCF ratio.
We now have to predict the FCF figure for the next two years. I have provided a more detailed explanation on how I work this out elsewhere. Using this method suggests FCF figures of $1.36 billion and $1.48 billion in FCF in 2016 and 2017, respectively. I then average these two FCF figures (making $1.42 billion) and feed this back into the EV/FCF calculation at the historic multiple of 18.
Doing so provides us with a EV/FCF fair value of around $92 per share. That is a quite remarkable 22% below the current share price of $113. As a result, on this basis Intuit FAILED the FCF value test.
Conclusion
Coming into this analysis I had expected good things from Intuit based on my experience following its peer Sage Group for so long. Intuit certainly did not disappoint. It is clearly a high-quality company with a strong cash-generation history. It passed all but the FCF valuation test comfortably revealing it to be a company that is well worth watching.
Even if the share price was at $92 the likely 2016 full year dividend of $1.20 would still only amount to a yield of 1.3%. Intuit has certainly earned a place on my watchlist. It is a compelling company with remarkable dividend growth potential as well as what seems to be significant potential for growth outside of its core, home market of the US.
The only sticking point for me is its valuation. Right now, in light of its quality and impressive ability to continue to produce robust growth in tough markets I would perhaps tentatively revise the fair value figure to ~20 suggesting that a price closer to $100 with a yield of 1.2% would be tempting. With the release of their FY2016 results shortly this may provide a catalyst for revising the fair value price higher still.
Right now, however, of the two Sage Group probably still tempts me more. Though also running ahead of its historic valuation it remains equally compelling from a fundamental basis as Intuit yet with a higher current yield and greater geographical diversification. After taking a first look at Intuit here, however, I'd find it hard to argue against looking to add both to my portfolio. Certainly Intuit has earned a place on my list for more in-depth analysis in the future.
Notes
Unless otherwise stated, all graphs an d the calculations contained within them were created by the author. Creative Commons image reproduced from Flickr user jeepersmedia.
Disclosure: I/we have no positions in any stocks mentioned, and no plans to initiate any positions within the next 72 hours.
I wrote this article myself, and it expresses my own opinions. I am not receiving compensation for it (other than from Seeking Alpha). I have no business relationship with any company whose stock is mentioned in this article.
Editor's Note: This article covers one or more stocks trading at less than $1 per share and/or with less than a $100 million market cap. Please be aware of the risks associated with these stocks.