Introduction
This article is my 24th installment in a segment called "Buy on the Drop?" where I choose a stock that recently experienced a large decrease in price and give a recommendation on whether investors should "Buy on the Drop" or not. This is a recurring segment, so if you enjoy the article, "Follow" me to see more. You can read about my previous installment discussing Southwest Airlines (NYSE:LUV) here.
Skeckers Runs Into A Wall
Skechers USA (NYSE:SKX) investors have had a rough few days recently as the stock has dropped 25% on the heels of second quarter earnings. Revenue and EPS missed consensus analyst estimates, though not too significantly, and management guided for net sales of between $950 million and $975 million, which was below the consensus estimate of $1.025 billion. Adding to the lackluster top and bottom line results, Skechers stated that wholesale net sales declined 5.4% in the second quarter and grew only 3.2% in the first half of 2016. Does all this warrant a sell-off? Let's find out.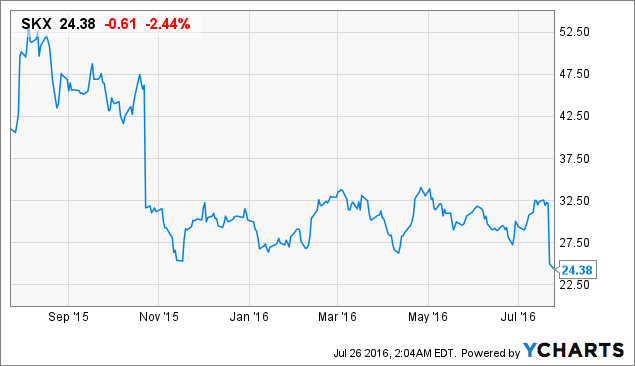 SKX data by YCharts
The reason for SKX dropping 25% was not simply the second quarter report, but what it means for the identity of the company. Investors have become accustomed to robust growth from Skechers and this quarterly report seemed to derail this narrative, perhaps permanently. Missing some analyst estimates doesn't sink a stock 25%, but losing the "growth stock" moniker very well could lead to a drop this precipitous. The next question obviously becomes: is Skechers' growth coming to an end?
Let's take a further look at the metrics in Q2. This is what CFO and COO David Weinberg had to stay on the conference call regarding the domestic net sales decline in the quarter:
Now, turning to our business in detail, our domestic wholesale net sales decreased 5.4% in the second quarter, which is attributable to the significant pull forward of orders into the first quarter this year as well as the challenging and promotional retail environment, which included closing of some account doors and a surplus of product in the marketplace. Net sales were down 25% in the month of April due to the shift, though we were up 6.5% in June and only down 5.4% in total for the quarter. For the first six months of 2016, our domestic wholesale business increased by 3.2%, a further indication of the strong first quarter from our domestic business.
When you consider the drop in net sales during April and the pull forward Weinberg mentions, the culprit for the decline in the second quarter appears to have been caused by an event that has no bearing on Skechers' fundamentals. Pull forward of orders only affects revenue recognition, which skews quarter-to-quarter results while the big picture remains unchanged.
Perhaps more worrisome than wholesale net sales was the flat change in comp store sales, though this too appears to be a temporary setback while the fundamentals of Skechers remain the same. Mr. Weinberg stated that the company believes comp store sales will rebound and increase between 4% and 5% in the third quarter, returning Skechers to its growing ways.
Going forward, Skechers will continue to face intense pressure domestically due to competition from athletic apparel giants Nike (NYSE:NKE), Under Armour (NYSE:UA), Adidas (OTCQX:ADDYY), and others. The U.S. market is becoming tougher to navigate as time goes on, which will make maintaining comp store growth and net sales growth fairly difficult.
However, SKX investors need not fear because international markets are here to fill the growth void that will be left after domestic growth slows. In contrast to domestic performance, Skechers' international business is booming with a 34.6% sales increase in the international subsidiary and joint venture business and a 41% increase in Skechers' international retail business. Those numbers are impressive, but even more impressive to me was the 9% increase in comp store sales in the quarter. Considering the international market is still very much up for grabs, which is in sharp contrast to the saturation of the U.S. market, Skechers' growth in this area is very likely sustainable at similar growth rates into the foreseeable future.
From a fundamental perspective, I really don't see any logic behind the selloff. Skechers had $629 million in cash at the end of the second quarter, reported record first half 2016 net sales, and expects to generate $100 million in free cash flow for full-year 2016. It seems to me that investors fled what they assumed was a burning building when in reality they were fleeing a few sparks and a bit of smoke. Nothing has changed at Skechers.
In terms of valuation, investors can pick up SKX now at a discount to its peers and with a modest expected growth rate as well. SKX currently trades at a forward P/E of 11.7, which compares extremely favorably to Nike's 23, Under Armour's 74, and Adidas' 32. There are two possible reasons to explain the discrepancy between the ratios: 1) SKX is undervalued or 2) The market does not believe Skechers' expected growth rate going forward demands the premium that its peers demand.
The reality is probably a combination of the two, but because I think Skechers' growth rate going forward will impress the market, SKX looks like a strong buy at current levels. Amidst intense competition in the U.S. market and unfavorable macro trends in the athletic apparel industry, Skechers has still managed to outperform by holding its own in the U.S. and by taking advantage of the huge market opportunities abroad. The second quarter presented what I believe to be a mild speed bump along the road to further success for Skechers, and the third quarter is shaping up to be get the company back on track. The stock should follow suit. I rate Skechers USA a Strong Buy on the drop.
If you want to stay up-to-date on my articles, you can Follow me by going to my author page or by clicking "Follow" at the top of this page.
Thanks for reading!
Disclosure: I/we have no positions in any stocks mentioned, and no plans to initiate any positions within the next 72 hours.
I wrote this article myself, and it expresses my own opinions. I am not receiving compensation for it (other than from Seeking Alpha). I have no business relationship with any company whose stock is mentioned in this article.
Editor's Note: This article discusses one or more securities that do not trade on a major U.S. exchange. Please be aware of the risks associated with these stocks.