By Parke Shall
There have been two parts to our Macy's (NYSE:M) thesis that those who have been reading us over the last few months understand. The first part is that the company is still a cash generating enterprise at a low price to earnings ratio that has been pulled down with other retail names, as online retailers continue to dominate.
The second part is a call option on the company's real estate, which activist investors are pushing the company to monetize.
Since the company's last earnings report, shares are up nearly 20%. Here's a chart showing the drop down to the $29 level after the company's last earnings report and the subsequent run back up to today's $36 level.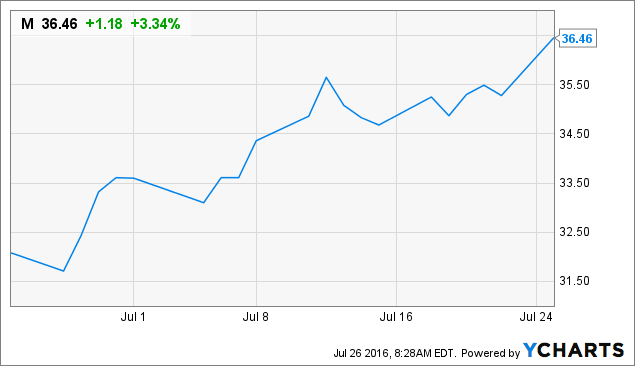 M data by YCharts
The stock fell on the company lowering its estimates for the full year, so there was no real multiple contraction going forward, there was simply the equity price adjusting for the lowered estimates.
You can see from this additional chart that while the stock has risen 20%, the multiple expansion has not been egregious and that Macy's still trades at a reasonable multiple of 11.2x forward earnings.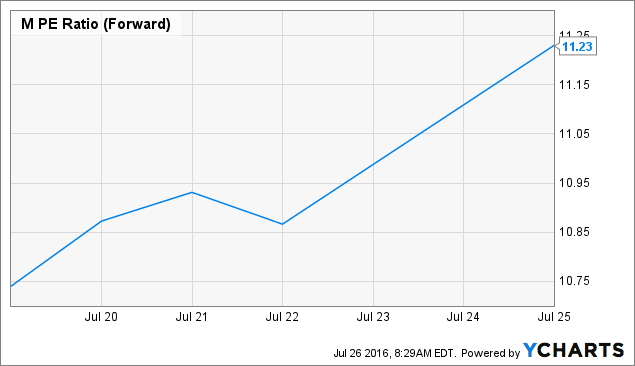 M PE Ratio (Forward) data by YCharts
Macy's is very different from any other retailers in the sense that it generates a lot of cash. This cash allows the company to continue to buy back shares, which we are going to assume it did a lot of at these low prices, and this allows us to forecast the future sum of the company's cash flows going forward.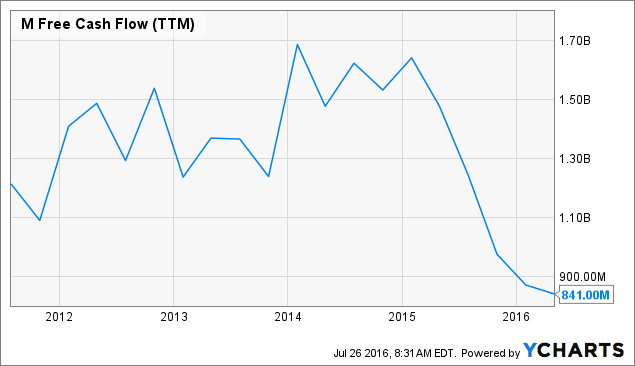 M Free Cash Flow (TTM) data by YCharts
Because Macy's has such a low multiple, we recommended it over Nordstrom (NYSE:JWN) on more than one occasion when Nordstrom had missed earnings and was dragging down the whole sector.
Macy's is now 20% off at lows as it has recently announced its succession plan for CEO Terry Lundgren. Investors are betting that a change in command at the company's executive level is going to help steady the traditional business, grow the online business, and perhaps even monetize the company's real estate.
While we advocated considering a long position in the company while it was at around $30, we would today suggest taking off 25% of our position and letting the other 75% ride. We wanted to run through our thought process on this.
Taking 25% of the position off here allows us to lock in some profits from a dip lower, and it also allows us to hedge against the future possibility of even lower estimates and even less impressive operating performance. We would like to think that both Macy's and the retail sector have bottomed at this point, but we can't try to call that bottom and lowered estimates would likely again result in Macy's moving back down to the $30 level, or perhaps even under $30.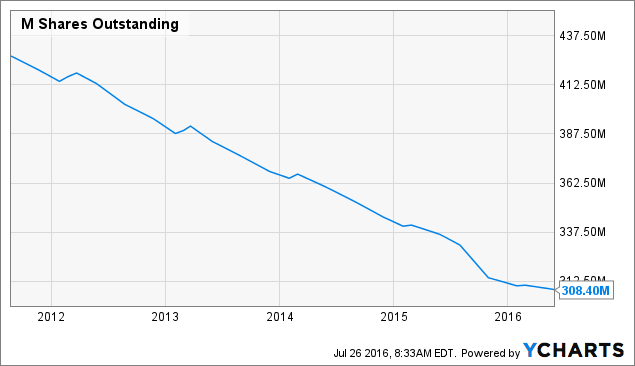 M Shares Outstanding data by YCharts
We know that we want to stay long the equity for its dividend, its continued buybacks, its cash generation, and of course the $10 billion-$20 billion in real estate that the company has, depending on who you ask. This assumption that the real estate could be worth around $15 million means that the core business is essentially trading for free at this point.
Macy's reports earnings on August 11. Our plan is to stay long for as long as it takes for the company to unlock some of this real estate value. We are going to consider taking 25% off here going into earnings, simply to be safe and to be disciplined about seeking some profits we bought shares that we bought about 20% lower.
We'll remain long with at least 75% of our position going forward.
Disclosure: I am/we are long M.
I wrote this article myself, and it expresses my own opinions. I am not receiving compensation for it (other than from Seeking Alpha). I have no business relationship with any company whose stock is mentioned in this article.