I've been watching Potash Corp. (NYSE: POT) closely in recent months.
I analyzed supply fundamentals (Part I, Part II) and arrived at the conclusion that they are favorable for the potash market in the long term.
I analyzed Potash Corp.'s strategy to put price over volume, and numbers showed that it was a wise move. I also discussed effects from Brexit, takeover rumors and the potential of Uralkali-Belaruskali reunion. Finally, my sentiment changed to a bullish one, and I explained the reason for the change in this article.
It's natural that after dedicating so much time to the topic, I'm searching for an entry position in Potash Corp. Second-quarter results release will be crucial in the endeavor. Here's what I think about the upcoming earnings report.
Let me start by saying that the current momentum is not great for Potash Corp.'s stock. Lower highs on each rebound paint a rather dull picture: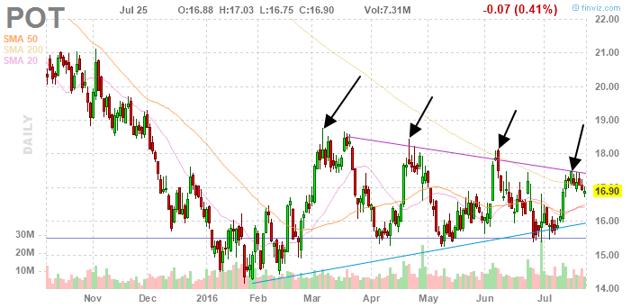 Agricultural markets are feeling weak. Take a look at grains (NYSE: JJG), for example: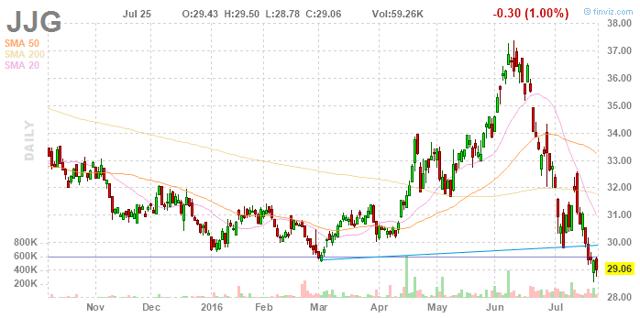 This does not bode well for the rebound in the potash market. By maintaining its dividend, Potash Corp. was clearly betting on the rebound in the second half of this year. I doubt that this rebound will actually happen.
In this case, I expect that Potash Corp. will be more or less forced to cut the dividend yield, which is already unsustainable given the company's own earnings outlook and the absence of cash cushion.
So, this is my prerequisite to initiating a long position in Potash Corp. shares - the dividend must be cut. The rebound might take longer than expected (unless Uralkali and Belaruskali re-unite) and the company must care about its financial health.
One can expect a wave of selling from income-oriented investors in case of additional dividend cut. That's where the buying opportunity must appear.
Current EPS estimate trends don't look good for Potash Corp.:

Source: Yahoo Finance
Note that next year estimates still imply rebound from the current bottom. Trading at 20 forward P/E, Potash Corp. shares have the potential for downside (if triggered by the dividend cut) as E is shrinking.
At the same time, the company surely deserves a premium due to its position in the industry and the quality of assets. A 15-18 forward P/E looks reasonable to me in current circumstances. This leads to a target price range of $12.50-$15.00, which could be easily achievable if investors get disappointed with a dividend cut.
And what if no dividend cut is announced? In this case, I'd probably stick to the sidelines and wait for the next quarter. At this point, I believe that the cut is almost inevitable and I don't want to have a position with a sword hanging above it. Perhaps, something in the second-quarter report will shake this stance, but, currently, I don't see it coming.
Catalysts that are positive for Potash Corp. are long term in nature, while catalysts that are bearish for the company are more short term.
For a great trade, short-term catalysts should push Potash Corp. shares low enough to pick them and enjoy the unwinding of positive longer-term catalysts.
So far this year, Potash Corp. shares have been trading in a range which is really not a problem for people with long-term investment timeframes, but for those actively seeking return on their capital Potash Corp. has been mostly frozen money in 2016. This trend might continue in the upcoming quarters, that's why catalysts are needed to trigger real action in the company's shares.
Disclosure: I/we have no positions in any stocks mentioned, but may initiate a long position in POT over the next 72 hours.
I wrote this article myself, and it expresses my own opinions. I am not receiving compensation for it (other than from Seeking Alpha). I have no business relationship with any company whose stock is mentioned in this article.