Sirius XM Holdings (NASDAQ:SIRI) reported earnings before the market opened and increased guidance in each category. The new guidance figures, along with the previous guidance figures, are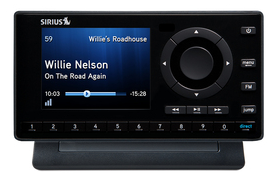 shown below:
Net self-pay subscriber additions of approximately 1.6 million (vs. 1.4 million)
Total net subscriber additions of approximately 1.7 million (vs. 1.6 million)
Revenue approaching $5 billion (vs. approximately $4.9 billion)
Adjusted EBITDA of approximately $1.8 billion (vs. approximately $1.78 billion)
Free cash flow approaching $1.5 billion (vs. approximately $1.4 billion).
The shares traded sharply higher in the pre-market and the reaction was maintained as the market opened. The shares immediately set a new post-merger high of $4.29, then quickly retreated to $4.20 before moving even higher as it touched $4.33. While more thorough analyses will be covered in future articles, I would like to focus quickly on one particular area.
The conference call ended on what can only be described as a bizarre exchange between Eric Pan of JPMorgan and Sirius executives, CFO David Frear and CEO Jim Meyer.
Pan: ... That's a great segue to the Connected Vehicle, that segment revenue appears to have declined sequentially. To what do you attribute the decline, and has your view of the segment changed much since when you bought Agero?

Frear: Sorry, what declined?

Pan: The Connected Vehicle segment.

Meyer: I'm confused by that.

Frear: I don't know where you get that from.

Meyer: Why don't we take that one

Frear: Why don't we take that one offline.
In prior articles about Connected Vehicle Services I have written about how the revenue growth in this area had been disappointing and had failed to meet the company's expectations. More recently, I wrote that it was one of the areas where positive results could help to boost the share price. It's why I follow the numbers closely.
Following CVS revenue is a somewhat difficult task because the company does not break out or report the revenue number separately. Instead, one has to refer to the definition about ARPU and the calculations for ARPU shown in the quarterly reports. Sirius notes that the ARPU excludes revenue from Connected Vehicle Services. Using the quarterly figures shows that the Q2 CVS subscriber revenue calculation is:
Total subscriber revenue of $1,033,284,000 less the ARPU subscriber revenue of $1,011,422,000 or $21,862,000.
This compares to a Q1 calculation of:
Total subscriber revenue of $1,009,682,000 less the ARPU subscriber revenue of $984,984,000 or $24,698,000.
For the past 10 quarters, these numbers are:
Quarterly CVS Subscriber Revenue (in 000's)

Q1 2014

Q2 2014

Q3 2014

Q4 2014

Current Quarter

$18,632

$22,314

$22,421

$24,884

YTD 2014

$40,947

$63,368

$88,252

Q1 2015

Q2 2015

Q3 2015

Q4 2015

$23,089

$24,766

$25,170

$25,428

YTD 2015

$47,855

$73,025

$98,453

Q1 2016

Q2 2016

$24,698

$21,862

YTD 2016

$46,560
I can understand why Pan would ask the question. It was the first figure I looked at in the financials. While the numbers have not always grown sequentially, the numbers had shown increases from the year-earlier period. This year there was not only a sequential decline, but also a decline from the year-earlier period. This time the magnitude of the sequential decline was 11.5%.
When Pan asked the question, I was looking forward to the answer. What I did not expect was Meyer's "I'm confused by that" and Frear's response, "I don't know where you get that from." I know where Pan got that from, and now the rest of you do as well.
Disclosure: I am/we are long SIRI, JPM.
I wrote this article myself, and it expresses my own opinions. I am not receiving compensation for it (other than from Seeking Alpha). I have no business relationship with any company whose stock is mentioned in this article.
Additional disclosure: In addition to my long position in SIRI, I have $4 covered calls written against a portion of my position and I regularly trade blocks of Sirius. I also may sell $4.50 covered calls against my uncovered position at any time. Otherwise, I have no plans to trade any of the other companies discussed in this article over the next 72 hours.