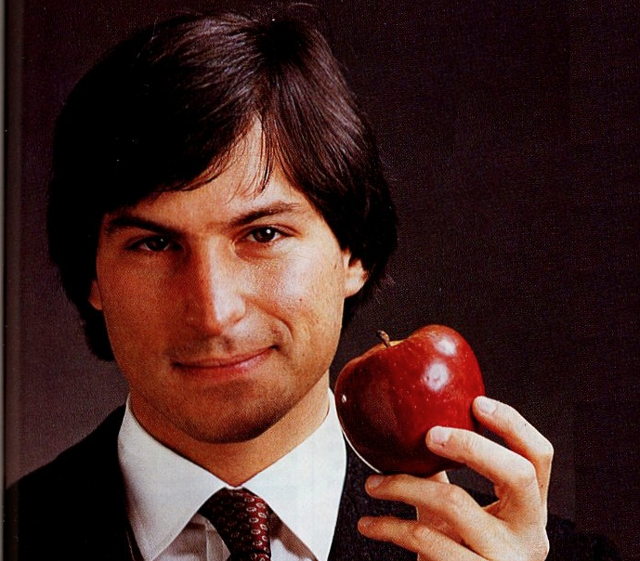 It has become clear,
That the muse that drove Apple,
Has gone somewhere else. —BGC Partners
Two More Apple Bears
Before Apple (NASDAQ:AAPL) released earnings in April, we noted that social data aggregator LikeFolio had put out a sell rating on the stock based on their analysis of social media data, and we presented a couple ways for concerned shareholders to hedge if they wanted to stay long (Hedging Apple Ahead Of Earnings). As LikeFolio co-founder Andy Swan summarized it at the time:
Everything just eroding slowly. Low consumer enthusiasm and confusion around product lines.
Apple's earnings, a disappointment across the board, as Seeking Alpha contributor Seth Golden put it, supported LikeFolio's bearish assessment, and, as we wrote near the end of April, hedged Apple investors who wanted to exit, were able to do so with less of a loss than they would have had otherwise. We'll post updated hedges for Apple below, but first, let's note the appearance of a new Apple bear, BGC Partners, which just downgraded the stock to a sell. CNBC's Dominic Chu shared BGC's sell rating via Twitter (NYSE:TWTR):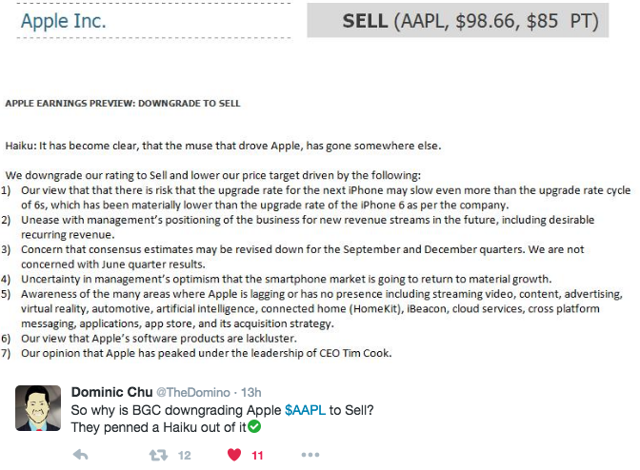 Regarding BGC's 5th point, about the areas where Apple is lagging, note that they include artificial intelligence. Recall Marco Arment's warning from our May article (Apple: The Next BlackBerry?), where he compared Apple invidiously to Amazon (NASDAQ:AMZN), Facebook (NASDAQ:FB), and Google (Alphabet) (GOOG, GOOGL):
Amazon, Facebook, and Google - especially Google - have all invested heavily in big-data web services and AI for many years, prioritizing them highly, iterating and advancing them constantly, accumulating relevant data, developing effective algorithms, and attracting, developing, and retaining tons of specialized talent. [...]

But if Google's right, there's no quick fix. It won't be enough to buy Siri's creators again or partner with Yelp for another few years. If Apple needs strong AI and big-data services in the next decade to remain competitive, they need to have already been developing that talent and those assets, in-house, extensively, for years. They need to be a big-data-services company. Their big-data AI services need to be far better, smarter, and more reliable than they are.

And I just don't see that happening. Becoming a major big-data AI services company doesn't happen completely in secret and suddenly get released to the world, completed, in a keynote. It's a massive undertaking, spanning many years, many people, and a lot of noticeable interaction with the world. It's easier to conceal the development of an entire car than a major presence in AI and services.
When we shared Marco Arment's warning in May, a number of commenters were skeptical (as they were when we presented Likefolio's warning in April). Perhaps seeing Arment's warning echoed by BGC Partners will cause some skeptical readers to reconsider.
Another Apple bear is hedge fund manager, market technician, and former Apple employee, Tim Knight. On his Slope Of Hope site Monday, Knight posted the chart below, arguing that the green highlighted line will act as a "wall" of resistance for the stock.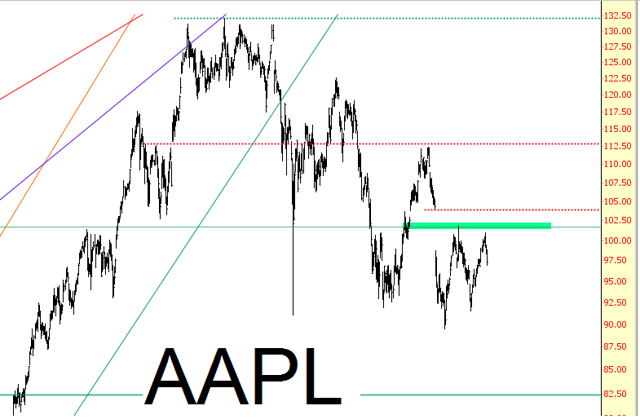 Updated Optimal Put Hedge For Apple
For Apple shareholders who want to stay long while limiting their downside risk over the next several months, but without capping their upside, these were the optimal puts, as of Monday's close, to hedge 400 shares against a greater-than-16% decline by late October (screen capture via the Portfolio Armor iOS app):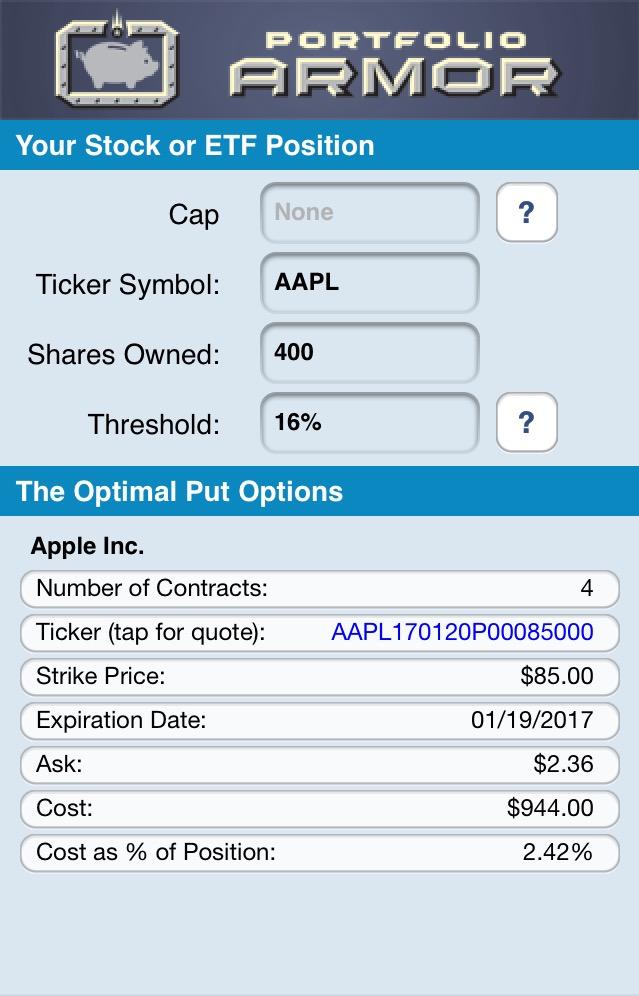 As you can see at the bottom of the screen capture above, the cost of this protection was $944, or 2.42% of position value. A few notes about this hedge:
To be conservative, the cost was calculated using the ask price of the puts. In practice, an investor can often by the puts for less (for some price between the bid and the ask).
If you are willing to risk a larger decline ("threshold", in the app's terminology), you can potentially lower the cost of hedging in this manner.
The "threshold" includes the hedging cost: in the worst case scenario, your AAPL position would be down 13.58%, not including the hedging cost.
The threshold is based on the intrinsic value of the puts, so they may provide more protection than promised if the underlying security declines in the near term, when the puts may still have significant time value.
Updated Optimal Collar Hedge For Apple
For Apple shareholders looking to hedge with the same 16% threshold, but willing to cap their potential upside to 7% by late January (the current potential return estimated by Portfolio Armor), this was the optimal collar to hedge 600 shares, as of Monday's close: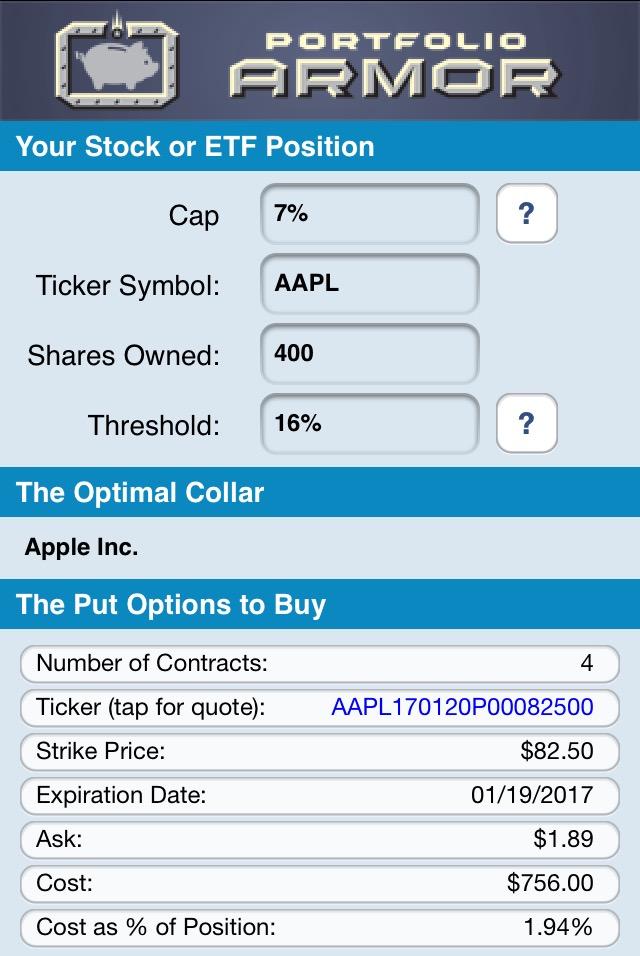 As you can see at the bottom of the first part of the collar above, the cost of the put leg was $756, or 1.94% of position value. But as you can see in the second part below, the income generated from the call leg was $1,128, or 2.9% of position value.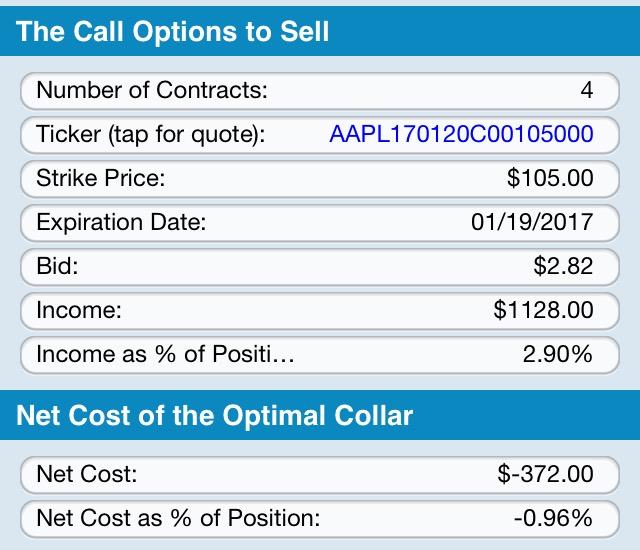 So the net cost here was negative, meaning the investor would collect an amount equal to $372, or 0.96% of position value when opening this hedge. Two notes about this hedge:
Similar to the situation with the optimal puts, to be conservative, the cost of the optimal collar was calculated using the ask price of the puts and the bid price of the calls. In practice, an investor can often buy puts for less and sell calls for more (again, at some price between the bid and the ask), so in reality, an investor would likely have collected more than $372 when opening this collar.
As with the optimal puts above, this hedge may provide more protection than promised if the underlying security declines in the near future due to time value (for an example of this, see our previous article on Apple). However, if the underlying security spikes in the near future, time value can have the opposite effect, making it costly to exit the position early (for an example of this, see this article on hedging Facebook - Facebook Rewards Cautious Investors Less).
Disclosure: I/we have no positions in any stocks mentioned, and no plans to initiate any positions within the next 72 hours.
I wrote this article myself, and it expresses my own opinions. I am not receiving compensation for it (other than from Seeking Alpha). I have no business relationship with any company whose stock is mentioned in this article.