July turned out to be a busy month but also a very good one in the IRA. Looking back, I could have hoped to have to do a little less thinking (and paying of commissions) but it turned out pretty darn good. So let's take a look at what happened:
July 5, 2016 - Verizon Communications, Inc. (NYSE:VZ) About to Go Ex-Dividend
Verizon has been on a hell of a run the last six weeks, rising from a low of $49.04 on May 23 to Friday's July 1 close of $56.23. Back on June 7, when the stock was around $51.00, I sold July $52.50 calls on my position for a cost basis of $52.60. Oops!
Calls that are deep in the money, like $3.73 in the money on a $56.00 stock, have virtually no time value in them - they're pretty much all intrinsic. So it's not very profitable to roll out, and rolling out and up is going to cost the difference in intrinsic value at least.
Now, I like VZ's dividend, and believe it or not, even at its current level the stock is somewhat undervalued historically.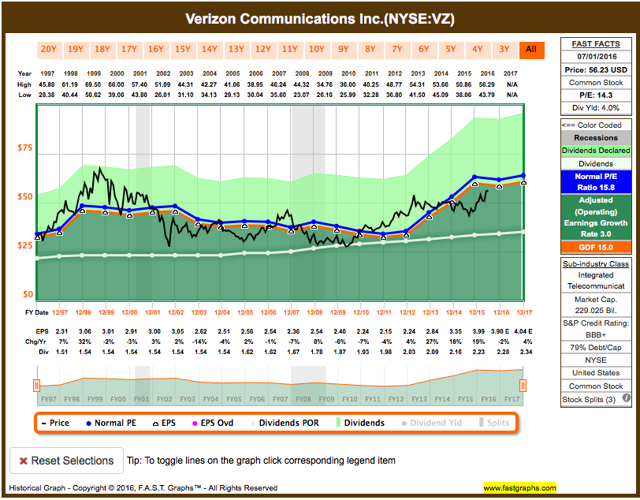 So what to do?
My usual approach is to roll out, that is, buy to close the short options and sell to open a new batch at a more distant strike in a single transaction. Normally, I prefer to roll out 3 months at the most but the first series has much premium in it is January 2017.
With the underlying at $56.57 (about 10:45 AM) I had the following quotes:
July 15:

August 19:

September 16:

October 21:

January 20:

Intrinsic value is $56.57 - $52.50 = $4.07
Splitting the July 15 bid/ask hits the intrinsic value more or less on the nose: $4.075. This lets me know that things have settled down, and unless there's a sudden move based on news (or rumor), the July calls will be trading within a few cents of intrinsic value for the rest of the day.
I figured I might be able to get a credit of $0.50 if I rolled out to the January 20 $52.50 calls. That would also get me the July and October dividends of $0.565 each. In January, I'd be looking at another roll out ahead of the ex-date should the calls still be in the money. My income stream would look like this:

Not that great, but not horrible in this environment either. What's more, the delta on those January 20 calls is about .670 in spite of being so deep in the money. There's about a 1 in 3 chance they'll be out of the money come January. With the Yahoo (YHOO) deal, election volatility, FOMC action/inaction, and who knows what else between now and then, rolling out to January doesn't look all that bad.
So I placed this optimistic order and decided to forget about it until 3:30 or so: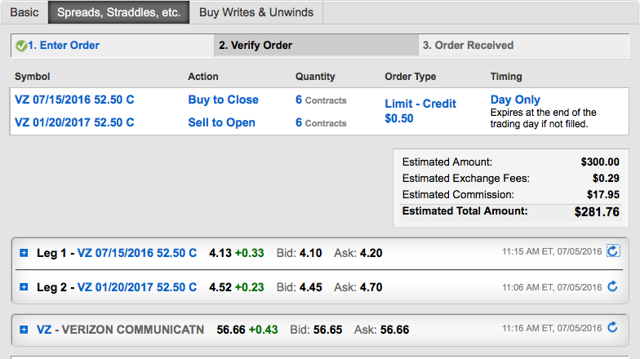 3:28 PM…
Yeah, that was optimistic.
About half past three I changed the credit to $0.45 and was filled in a couple minutes. So I ended up with a net gain on the roll out of $251.71 after commission and fees. That reduced my 6-month profit on the position to about 2.95%. Not wonderful by any stretch but my cost basis is now about $0.42 lower at $52.18, I'll get at least the next 2 dividend payments (DRIP'd), and if I end up assigned in January, I'll still have a small profit on the trade.
July 6, 2016 - General Mills Inc. (NYSE:GIS) About to Go Ex-Dividend
No drama today! My cost basis in General Mills was only $60.40 so it was easy to let the stock be assigned at $65.00. It's way, way out of any reasonable value zone - heck Fast Graphs shows the price line above the light green Declared Dividends area. GIS will stay on my watch list - prices have to get rational eventually, right?
July 7, 2016 - Taking a Shot at T. Rowe Price Group, Inc. (NASDAQ:TROW)
I've had TROW on my watch list for some time. Last month's break down was a tempting opportunity, but unfortunately I didn't have enough cash available to start even a half position. Coincidentally, Chuck Carnevale published an article here on SA this afternoon mentioning TROW as one of only 7 Dividend Aristocrats he'd consider buying now, confirming my own research.
Well, I couldn't let that pile of cash from the GIS assignment just sit around, so I decided to take a shot at TROW. The July 15 $70 puts looked like a good possibility at $0.50 so I placed an order to sell 6 contracts at that price. Not a lot of money there, but more than decent for an 8-day position.
If I end up being put the stock, I'll have a cost basis of about $69.50 and a yield on cost of a bit more than 3.1%. Although TROW has only old time monthlies at $5.00 strikes, the August $75 contracts look pretty appealing with the bid/ask at $0.70/$1.15 this afternoon. We'll see on the 15th how things work out.
July 15, 2016: Expiration!
Amazingly, although the CEO Lauralee Martin left the company rather unexpectedly, HCP, Inc.'s (NYSE:HCP) stock continued its gradual rise and my July $35 calls were $2.43 in the money. With all noise surrounding the upcoming spin off of the HCR ManorCare slice of the company, I decided to hang on and rolled out to October for a net gain of $338.64. As far as I'm aware, there is no set timeline for the spin off - just "second half of 2016". HCP will report earnings August 9.
And what do you know! All four of my CSEPs expired worthless! I'm really starting to love those things.
July 18, 2016: New Positions - Target Corporation (NYSE:TGT), Consolidated Edison (NYSE:ED), And General Motors (NYSE:GM)
As much as I love CSEPs, these days I really do want to get my dividend income up to something like $1,000.00 a month as soon as possible. That number plus my Social Security will cover our projected living expenses once we move into the city in about three years. (Meanwhile it will DRIP.) As a result, I decided to go ahead and initiate (or re-fill) several positions with buy-writes:

Target and ConEd are both August 19 calls ($75 and $80, respectively). But I noticed that General Motors offered $0.48 premium for the July 22 $31 call. Who was I to turn down a 1.55% return in 4 days? Of course, that premium was generated by the earnings announcement on the 21st. Those earnings turned out to be a big beat and the stock bounced nicely. On Friday, I rolled out to August 19 for $0.31 - the exact low end of the 1%-1.5% I'd normally like to see but perfectly fine after score on the weekly option.
July 19, 2016: Procter & Gamble (NYSE:PG) Assigned
Deep in the money, and with the stock going ex-dividend on the 20th, I decided to let the calls be exercised rather than trying to roll out to a distant strike.
Procter & Gamble has been a nice income generator for me. Since I opened the position in February at $81.22, I've written calls at $0.52, $0.81, $0.80, $0.95, $0.57, and $0.67 for $4.32 in premium, a 5.32% gain in 5 months. The stock was assigned at $81.50 so I had another $0.38 in capital gain and I received $334.75 in dividends back in May. At the current price of $85.72, I managed to squeeze out one thin dime over the stock's price increase. That doesn't look all that good, but to benefit from that increase I'd have to sell the stock anyway. Should the price move back toward the $80 range, I'll be looking to re-enter.
July 20, 2016: More New Positions
As a result of the PG assignment, I had a hefty pile of money available to re-invest. I'd been looking at T. Rowe Price Group for a few weeks and recognizing that I could gain a little additional diversity by adding a financial services company I started a half position with a buy-write at $73.92 selling the August $75 calls for $1.07.
Finally, I decided to start legging into a position in Flaherty & Crumrine/Claymore Preferred Securities Income Fund (NYSE:FFC). This CEF is well known here on Seeking Alpha for its strong distribution (currently 7.52%) and the fact that it seems to always sell at a significant premium. According to Schwab, the 1-year premium runs about 5.34% and the 1-month (as of 6/30) is a stunning 13.34%.
With interest rates in the "lower for longer" mode, FFC probably won't be coming in anytime soon. So acting on the maxim that "time in the market is beats timing the market", I started FFC with a quarter position (200 shares). I have money allocated to buy more opportunistically and of course the distribution is set to DRIP.
Wrap Up!
With assignments and reallocation of funds, I accomplished two important goals this month:
First, I freed up enough finds to provide more than a year's worth of living expenses: 13.41 months of current expenses and 16.98 month based on our expected expenses after we move into the city.
Second, although I've increased my cash position, I've gotten dividend income almost to the $1,000 per month mark. That number is important because (as I mentioned earlier) $1,000 in dividends plus my Social Security at age 66 will cover our basic living expenses in the city (assuming about a Federal 15% tax rate).
All my positions (except HCP) are set to DRIP so that will be gradually increasing over the next 3 years.
So how did I do this month?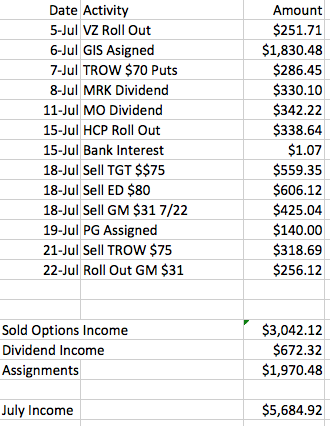 Pretty good! In fact, the options income at about $3,000.00 is pretty much exactly what I'd hoped to be able to generate. We'll see if I can keep it going.
If you've been following along, you'll notice a couple changes in the way I've recorded income. First, I've changed assignment income to show the profit (or loss) based on my cost basis in the stock. Second, I'm now showing the option premium from Buy/Write transactions. It had been a while since I took so many new positions and this seemed like a good time to make that change.
As always comments are welcome.
Disclosure: I am/we are long ED,HCP, VZ, GM, TGT, TROW, FFC.
I wrote this article myself, and it expresses my own opinions. I am not receiving compensation for it (other than from Seeking Alpha). I have no business relationship with any company whose stock is mentioned in this article.