I have been watching Skechers USA Inc (NYSE: SKX) for a few weeks. The drop in share price is unjustified and warrants further research. So let's not waste time — let's look at the Q2 earnings, compare them to historical data from the company, and see what valuations we come up with.
| | | | | |
| --- | --- | --- | --- | --- |
| Data In Thousands | Revenue | Net Income | Profit Margin | Diluted EPS |
| 2015 Q2 | $800,464 | $79,782 | 9.96% | $0.52 |
| 2016 Q2 | $877,810 | $74,107 | 8.44% | $0.48 |
| 2015 HY | $1,568,461 | $135,862 | 8.66% | $0.88 |
| 2016 HY | $1,856,604 | $171,719 | 9.24% | $1.11 |
Revenue grew by 9.66% for the quarter and 18.37% over the 6 months so the company is still growing at a fast pace. Analysts had expected EPS to remain the same for Q2, hence the punishment in the share price which I consider to be unfair and unjustly deserved.
Chief Financial Officer David Weinberg explained that shipments had been pulled forward from April into March, resulting in significantly reduced shipments in April, which contributed to the 5.4% sales decrease in Q2, but an increase of 3.2% for the 6-month period.
He also stated that, for Q3, they're predicting revenue to be between $950 million and $975 million. If we take a look at analyst estimates via Yahoo Finance, estimates for Q3 are significantly higher; the lowest estimate of $981 million is higher than Skechers' top.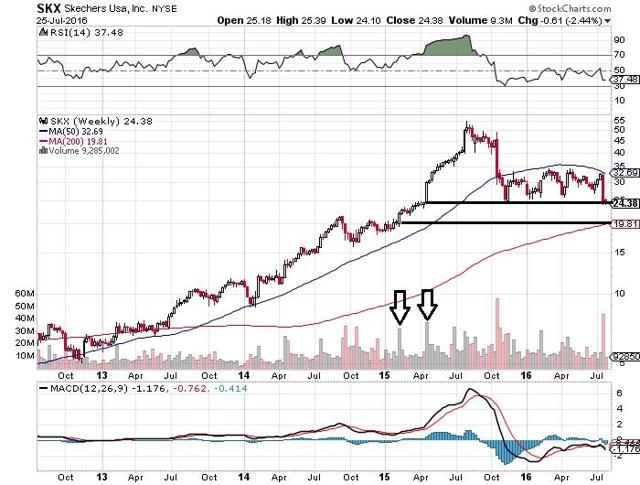 As you can see from the chart above, there is definitely some strong support where we are at the current share price of $24.38, but I've also marked a possible support zone at $20 as I can see strong volume in the chart, this is indicated by the arrows. The $20 share price also happens to line-up with the 200 daily moving average, so is confirmation based on technical analysis.
Valuation
If we take the company's current PE ratio of 14 and its forward PE of 11.3, it's trading well below its historic average, as seen on Morningstar. The PEG ratio is also very simple to calculate to help find bargains, it's simply the PE ratio divided by the forecasted EPS growth rate. By this notion a figure of 1 means the company is valued at its growth rate, anything under you're buying at a good price. So far the company has grown its EPS by 26% in the first 6 months, so with a forward PE of 11.3 we have a PEG ratio of 0.4.

For a company that has nearly $623 million cash on its balance sheet, its long-term debt of $68 million is irrelevant. Looking at its cash flow statement, 50% was used on capital expenditure leaving the company with $114 million to reinvest into the business and strengthen the balance sheet since the company currently doesn't pay a dividend to shareholders.
This company is not only expanding with double digit growth, it also has favourable metrics when it comes to valuation and profitability while also providing safety with a solid balance sheet. The share price means the investor is buying at a great margin of safety, providing a low risk investment with the potential of high returns based on expected growth rates. I'm recommending a strong BUY.
Disclosure: I/we have no positions in any stocks mentioned, and no plans to initiate any positions within the next 72 hours.
I wrote this article myself, and it expresses my own opinions. I am not receiving compensation for it (other than from Seeking Alpha). I have no business relationship with any company whose stock is mentioned in this article.