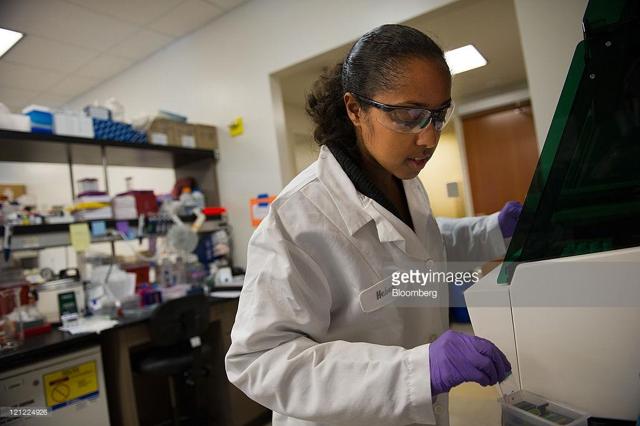 Gilead (NASDAQ:GILD) reported Q2 earnings Monday and things went pretty much as I had expected. The company reported revenue of $7.78 billion and eps of $3.08, exceeding analysts expectations. Of note, revenue was less than Q1 revenue of $7.79 -- the first sequential decline since Q3 2014.
The company lowered guidance going forward. Due to pricing pressure and increasing competition in the HCV space, Gilead lowered estimates for full-year product sales from $30 billion - $31 billion to $29.5 billion - $30.5 billion. The weak guidance did not sit well with investors as GILD sold off in early morning trading by over 7% to $82.14. I had the following takeaways on the quarter.
HCV Sales Return To Earth
Total product sales were flat sequentially. HCV sales were off 7% while Atripla was flat and Truvada was up 5%. Total non-HCV sales were up 8% on the strength of Genvoya, the company's TAF-based regimen.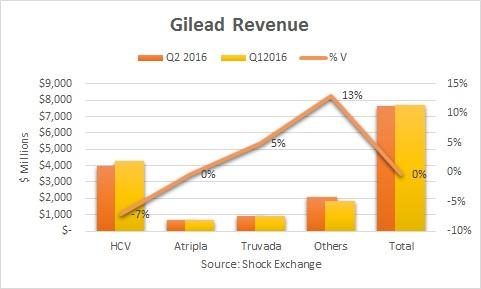 Genvoya revenue doubled in Q2 versus Q1. About 78% of Genvoya prescriptions came from switches, of which half came from Stribild and another 10% from non-Gilead therapies. The fact that Genvoya is also taking share from competitors is encouraging.
Meanwhile, HCV product sales disappointed again. Last quarter HCV sales fell 12% Q/Q, but the full benefit of VA sales were not included. The VA returned in full effect in Q2 and HCV sales still fell. This is important as HCV revenue represents 51% of total revenue, down from 55% last quarter. Total HCV sales of $4.0 billion were down 7% Q/Q and 19% Y/Y.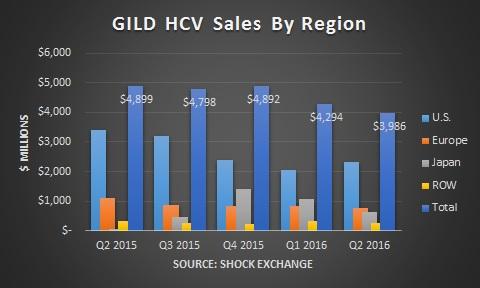 United States
U.S. HCV sales were $2.3 billion, up 13% sequentially. Starts increased from 51,000 in Q1 to 52,000 this quarter, while average sale prices ("asp") grew 11% sequentially to about $44,000. Gilead gave conflicting data on U.S. starts. Its management presentation suggested 53,000 initiations in Q2 while the conference call suggested 59,000. I went with the lower number. The company got the full benefit of VA sales this quarter, which would imply that asp should come down over time given the VA's negotiated discounts. Also, the proliferation of eight week regimens for patients with lower fibrosis scores should weigh on forward asp.
Japan
Japan sales fell from $1.1 billion in Q1 to $619 million this quarter -- a decline of 43%. In dollar terms Japan sales fell by $470 million while Gilead's total HCV sales fell only $308 million; in effect, Japan was responsible for the entire drop off in HCV sales. Starts fell from 31,000 in Q1 to 19,000 this quarter (down 39%). ASP fell 7%, driven by mandatory price roll backs. Japan was a disaster this quarter. Where sales to the region go from here is anyone's guess.
Europe
Europe sales fell 7% Q/Q to $775 million. ASP was practically flat, but starts fell from 30,000 in Q1 to 28,000 this quarter. There was a slight decline in average treatment duration in certain countries like Germany. Revenue might be constrained going forward as certain governments restrict coverage to the sickest patients. Secondly, a larger percentage of starts might come from countries with limited operating budgets that might demand higher price concessions.
What's Next For Gilead?
HCV continues to drive the narrative, and earnings for GILD. The U.S. represents about 58% of total HCV product sales. Many of the sickest patients have been treated already. The patient profile could now be defined by those with lower fibrosis scores who need shorter therapy durations. Secondly, 45% of new treatments are coming from public-payer systems that likely have more bargaining power. Fewer starts at a lower asp portends lower revenue going forward.
Less HCV revenue also implies lower operating income margins; margins were 58% this quarter, down from 60% in Q1 and 68% in the year earlier period. The days of double-digit sequential growth in HCV sales are over; HCV sales have come down to earth and so has the pharm. Avoid GILD.
Disclosure: I am/we are short GILD.
I wrote this article myself, and it expresses my own opinions. I am not receiving compensation for it. I have no business relationship with any company whose stock is mentioned in this article.