Alliance Resource Partners (NASDAQ:ARLP)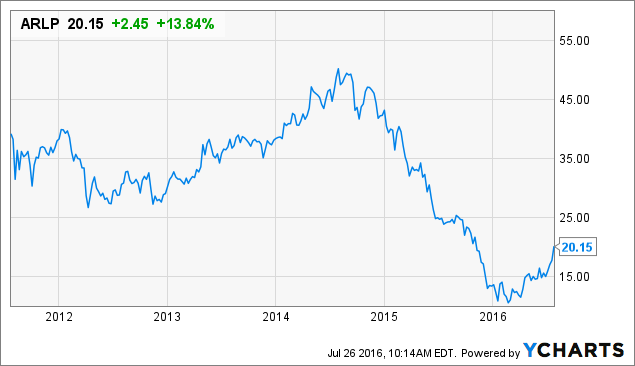 Recent Stock Price: $20.20
Shares Outstanding: 74.38 million
Market Cap: $1.5 billion
52-Week Range: $9.95-$26.18
Well, Alliance Resource Partners just reported its second-quarter 2016 financial results, and despite continued challenging coal market conditions, the company has proven why it is the cream of the crop in the coal industry. The company reported really strong earnings and maintained its quarterly distribution of $.4375 per unit, giving shares a current yield over 9%, and as I'll discuss below, this distribution is well covered by Alliance's cash flow.
When I last covered Alliance Resource Partners, the company has reported a poor earnings in Q1, with net income of $47.3 million or $.36 per unit; as a result, the company cut its distribution from $.6625 to $.4375. But I argued shares still had upside due to rising natural gas prices (which drives more demand for coal) and best in class coal assets, and as the company maintained its strong full-year guidance for 2016.
Alliance certainly crushed my expectations in Q2. The company says it earned net income of $82.7 million, or $.82 per unit, on revenues of $439.2 million; this is a huge improvement over last quarter. The strong results were due to increased coal sales volumes (6.4% rise from Q1), but also due to a 8.9% decrease in total operating expenses.
The company ended up producing 7.45 million tons of coal (6.8% increase) at a price of $53.82 per ton (1.4% decline); however, adjusted EBITDA expense per ton fell to $33.96, which led to strong margins and a 22.4% rise in adjusted EBITDA to $187.3 million.
As mentioned, Alliance declared a distribution of $.4375 per unit, and the company's distribution coverage improved to 2.3X. It expects to average at least 2.0X for the rest of the year, so the distribution is well covered by Alliance's cash flow.
Another thing to note in the report: Alliance says it is starting to see improving fundamentals in thermal coal markets due to rising natural gas prices and the hot summer weather. This increases the company's near-term outlook on coal prices, but looking out to 2017 and beyond, Alliance says it expects coal markets to return to "more balance supply/demand fundamentals" which should lead to improved pricing for its coal.
As a result of the strong quarter and improved coal market, Alliance has upwardly adjusted its 2016 full-year estimates. The company raised its coal production estimates to a range of 33.5 to 34.5 million tons and coal sales volumes to a range of 35.0 to 36.0 million tons. Coal prices and revenues are expected to be slightly higher than the previous forecasts. Most importantly, Alliance has increased its 2016 estimates for net income to a range of $270-$310 million and EBITDA to a range of $605-$645 million.
With expected net income of $270-$310 million and 74.38 million units outstanding, Alliance expects to earn between $3.63-$4.16 EPS in 2016; this gives shares a 2016 P/E ratio of just 4.85-5.56 based on the current share price of $20.20.
One thing to take note of: Alliance still needs to refinance some of its long-term debt that is due to mature soon. According to its balance sheet, Alliance has $686 million worth of current maturities on its long-term debt. There was no news given in the quarterly earnings report, but perhaps this issue will be addressed in the quarterly conference call. I don't think Alliance will have any trouble refinancing this debt based on its strong quarterly earnings and updated forecast, and improved coal industry fundamentals, but it's something to keep an eye on.
In conclusion, Alliance Resource Partners absolutely crushed it in Q2 earnings as it managed to reduce its cash costs and improve profitability at its coal mines. Despite the 13% rise in shares post-earnings, shares remain dirt cheap based on the company's earnings, forecast for 2016, and the potential for higher coal prices in the future. I think shares should be bought here.
Disclosure: I am/we are long ARLP.
I wrote this article myself, and it expresses my own opinions. I am not receiving compensation for it (other than from Seeking Alpha). I have no business relationship with any company whose stock is mentioned in this article.