Though Union Pacific (NYSE:UNP) delivered in line second-quarter results last week, I believe that investors should not get excited. Of course, Union Pacific had managed to improve its operating ratio by 1.1 percentage points in the second quarter, but investors should not forget that the company is facing weakness on a number of fronts.
In fact, the decline in volumes across its business segments is creating pressure on the bottom line despite many cost saving initiatives. For instance, last quarter, Union Pacific's revenue was down 12%, but its net income declined at a greater pace of almost 17%. This indicates that lower volumes are taking a toll on Union Pacific's profitability, and a turnaround in its end-markets is necessary for the company to make a comeback since cost cuts won't help it stay afloat forever.
However, I think that a turnaround in Union Pacific's business will be hard to come by anytime soon. Let's see why.
Key end-markets will remain weak
Almost all of Union Pacific's end-markets are in bad shape. Last quarter, the company's freight volumes had declined 11%, leading to a drop of 13% in freight revenue. The following chart shows the declining volumes across different Union Pacific segments: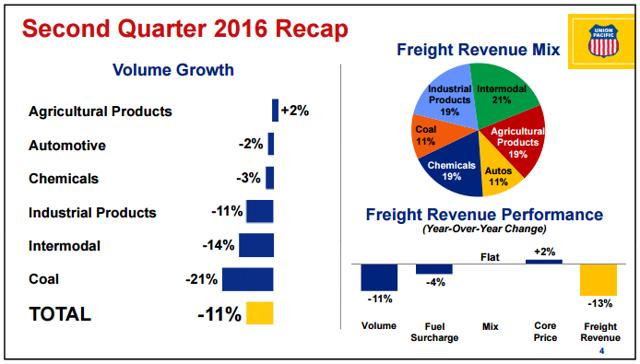 Source: Union Pacific
As seen above, Union Pacific saw weakness across the board last quarter. What's more surprising is that the company's automotive segment also saw a volume decline despite robust auto sales in 2016. However, one segment in particular stands out among all due to the steep decline in volumes, and this is the coal segment.
The weakness in the coal segment was a result of a 23% drop in shipments from the Powder River Basin, Colorado, and Utah from last year, driven by high inventory levels of coal and weakness in consumption owing to the increasing usage of natural gas. In my opinion, coal is not going to make a comeback anytime soon. Let's see why.
Coal volumes will continue declining
As seen in the chart above, coal is 11% of Union Pacific's revenue but it is witnessing the steepest drop in volumes. This decline in Union Pacific's coal volumes does not come across as a surprise since this business has been shrinking on account of a drop in coal production and consumption in the U.S. In fact, for the first six months of 2016, Union Pacific's coal revenue has dropped almost 37% from the prior-year period.
For comparison's sake, coal had accounted for over 15% of Union Pacific's business in the first six months of 2015, but this share has now gone down to just 11.3%, contributing $494 million to the top line in the latest quarter. Looking ahead, it won't be surprising if Union Pacific's revenue from coal disappears completely in the long run given the developments in the coal market in the U.S.
The drop in coal consumption in the U.S. on the back of rising natural gas usage in the electricity sector is leading to retirements of coal plants. In fact, since 2014, 14,000 MW of coal plants have been retired in the U.S., and this has slashed coal production by a fourth. What's more, by next year, further coal plant retirements of 10,000 MW are expected as its share in electricity generation falls below natural gas as shown below.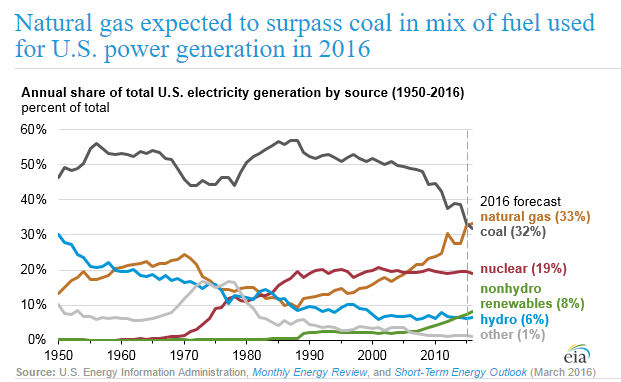 Source: EIA
Considering that the primary usage of coal is to generate electricity, with the sector accounting for 90% of U.S. coal production, this is bad news for Union Pacific as more retirements on account of higher gas usage will lead to further drop in coal shipments. In fact, this year itself, U.S. coal production is on track to drop 19%, or 168 million tons, from last year.
This trend of declining coal consumption in the U.S. is set to continue since a total of 46,000 MW of coal capacity is expected to go offline in the U.S. by 2022 as more utilities switch from coal to gas for electricity generation. Therefore, coal will continue to weigh on Union Pacific's financial performance in the long run due to the reasons stated above. For example, utility player NRG Energy (NYSE:NRG) has decided to switch a total of 4.3 GW its capacity from coal to natural gas in the long run.
Conclusion
Coal is a sizable chunk of Union Pacific's overall revenue, and given the points discussed above, I won't be surprised if the company's revenue continues to decline going forward. The production of coal in the U.S. is declining, while the other segments of Union Pacific are also under pressure. As such, I think that it will be a smart idea to stay away from Union Pacific since the company's financials will continue to remain under pressure going forward due to low volumes.
Disclosure: I/we have no positions in any stocks mentioned, and no plans to initiate any positions within the next 72 hours.
I wrote this article myself, and it expresses my own opinions. I am not receiving compensation for it (other than from Seeking Alpha). I have no business relationship with any company whose stock is mentioned in this article.