During its year long merger drama with Energy Transfer Equity (NYSE:ETE), Williams Cos. (NYSE:WMB) put off decisions about dividend cuts at both the pipeline operating company and its master limited partnership, Williams Partners (NYSE:WPZ).
With that saga mercifully over except for possible penalties, we should finally get some clarity on cuts when Williams announces earnings August 1. The predicted ex-dividend date is August 5.
WMB pays a quarterly dividend of $0.64, or 10.4%. The company said in June it would cut the payout if the Energy Transfer merger did not go through. This was viewed at the time as a warning to shareholders to vote Yes on the merger, which they did. The merger failed after an adverse Delaware court ruling, prompting a Williams board shakeup.
It is all but certain a dividend reduction will be announced. The company's dividend coverage ratio was 0.89 in the first quarter, indicating a need for a reduction. Analysts, including Goldman Sachs, have estimated the reduction at 50% to bring consolidated debt/EBITDA below 5.0x from around 6.0x at present. Other estimates have higher.
Williams Partners, approximately 60% owned by Williams, is a less obvious story.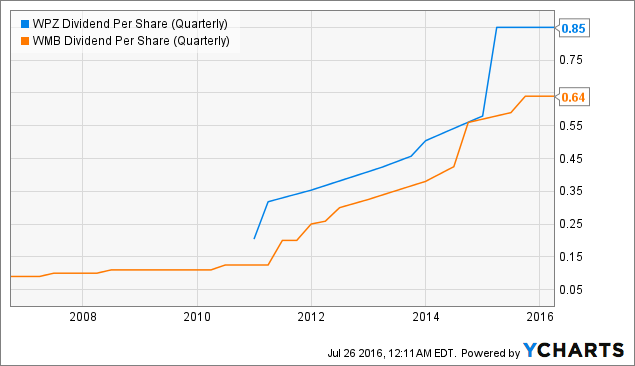 WPZ Dividend Per Share (Quarterly) data by YCharts
WPZ's quarterly dividend is $0.85, for an annualized yield of 9.1%. Its cash distribution ratio in the first quarter was 1.02x, so it did cover the payment, even though a $209 million termination fee from WMB as a result of the cancellation of last year's roll-up was excluded from the calculation.
On Friday, Citigroup indicated the WPZ dividend was in jeopardy:
Citi's Faisel Khan expects WMB to cut its quarterly dividend to $0.20, a 69% reduction, and WPZ to whack its distribution to $0.50, a 41% reduction; Khan thinks a distribution cut would provide much needed flexibility and allow WPZ to maintain its investment grade credit rating.
On Monday, Jeffries cut WPZ to hold while raising the target price on WMB to $28.
Williams Partners carries the lowest Moody's investment grade credit rating of Baa3, while Williams' rating is a notch lower, at Ba1. Since most borrowing for capital projects occurs at the partnership level, it is more important to keep WPZ's rating.
WPZ has a $30 billion backlog of projects, including attractive expansions of its Transco network connecting the Gulf Coast and the Northeast. Its natural gas pipeline business is relatively stable and fee based.
Williams Partners' 2016 capital spending plan has already been reduced by 32 percent, and the company said it believed it could maintain its investment grade rating without issuing equity or debt.
While MLPs typically pay out most of their income as distributions, there is no legal requirement they pay a set percentage.
The WPZ prospectus requires the partnership to pay out "all available cash" to unitholders, but available cash can exclude cash reserves to "provide for the conduct of our business, including reserves for future capital expenditures and for our anticipated credit needs."
Williams is required to keep the distribution above the $0.35 minimum set out in the prospectus. Since Williams receives incentive distribution rights on an escalating scale, the general partner benefits most from keeping the level above $0.5250, as summarized below.

However, WMB also has at least two reasons to cut Williams Partners' distribution.
First, the savings would provide elbow room for increased capital spending in 2017 without jeopardizing the credit rating. Completion of those projects, largely interstate pipelines that are already "fully contracted with investment grade customers," are accretive to income.
Second, a reduction could help get WPZ's share price back closer to last year's failed roll-up ratio of 1.115 WMB shares for each unit of WPZ, compared with the present market ratio of 1.56. The spread widened this spring as WPZ came back strongly from the energy price meltdown while WMB, mired in a losing merger battle, recovered less strongly.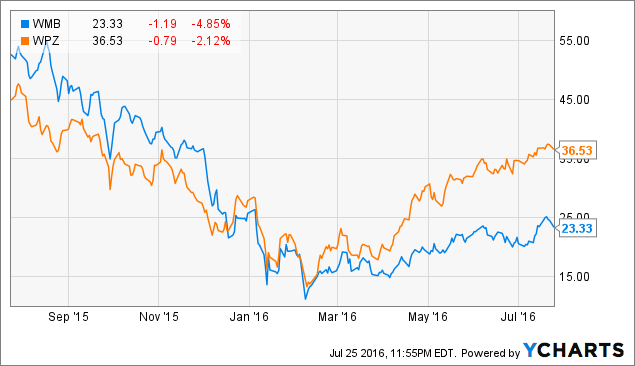 Since MLPs are purchased for dividend income to a greater extent than C-corporations are, a reduction in both dividends could lower the ratio of WPZ's share price to WMB's.
This would make it more attractive for Williams to go through with a rollup, simplifying the capital structure and allowing more room for growth.
Conclusion: WPZ's distribution doesn't have to be reduced, but a cut is more likely than not. Given WPZ's recent strength, a cut may not be fully priced in.
While the long-term future looks bright, investors primarily concerned with dividends may want to reposition away from WPZ this week.
Disclosure: I am/we are long WMB.
I wrote this article myself, and it expresses my own opinions. I am not receiving compensation for it (other than from Seeking Alpha). I have no business relationship with any company whose stock is mentioned in this article.