| | |
| --- | --- |
| Company | Surge Components |
| Listing | US Over-the-Counter Pink, Ticker: SPRS |
| Average daily dollar liquidity at current price | $5k |
| Current price | $0.67 |
| 52 week high / low | $0.90 / $0.67 |
| 5 year high / low | $0.90 / $0.38 |
| Market Cap | $6.7mm |
| Net Cash | $7.23mm |
| Enterprise Value | ($0.53mm) |
| 8 Year Total Free Cash Flow | $7.2mm |
| P/Avg. FCF | 7.4 |
| P/S | 0.23 |
| P/E | 15.8 |
| P/TB | 0.56 |
| P/NCAV | 0.60 |
| Debt/Assets | 26% |
| Altman Z Score | 2.68 |
Background
Surge Components (OTCPK:SPRS) has principal offices in Long Island, NY. The company has 27 employees and also has an office in Hong Kong. The company has 2 sales groups, Surge Components and Challenge Electronics, both of which are essentially middle man sales operations for Asian manufacturers (mostly Taiwan and HK) of commodity semiconductor components selling primarily to distributors (more middlemen) and end users in North America and a bit to parts of Asia as well. The operation is as inessential and "middle man" as they come. Only 1 of Surge's employees is actually an engineer. They don't manufacture anything themselves. They are so unnecessary that in over 10% of sales is actually shipped from their supplier directly to their customer and a decent percentage of profits are recognized as a straight sales commission instead of inventory being booked and a gross margin realized on sale.
The stock has made the rounds around the microcap investing community and received a lot of coverage. In particular, readers should check out Nicholas Bodnar's excellent articles on Seeking Alpha, the Corner of Berkshire and Fairfax Thread, and other articles on blogs such as Oddball Stocks and OTC Adventures.
Here I intend to focus on a few things rather than saying everything there is to say about SPRS. First I will attempt to concisely list all of the ways SPRS management is acting to the detriment of outside passive minority shareholders. I will also compel them to take certain actions that could rectify their relationship with OPMI shareholders. After talking about all the "hair" on SPRS, I will briefly show why I own the stock - because it is very cheap, and explain how SPRS is a case study of the practical difficulty of executing quantitative value strategies in the real world.
How the Company is Systematically Acting Against the Interests of SPRS Stockholders
There is a funny way of saying that someone is ugly: "They have a face only a mother could love." Well Surge Components is a stock only a quant value investor could love. The situation is that ugly. Perhaps I've seen uglier situations like Corinthian Colleges (OTCPK:COCOQ), Emerson Radio (NYSEMKT:MSN), and ITT Education (NYSE:ESI), but I have yet to see pure corporate governance issues this bad. Here are all the ways Surge Components, led by Ira Levy and Steven J. Lubman, has done it.
2001 Kickback Scandal and Subsequently Going Dark Until 2010
This is probably the most concerning item. I'll let the Whopper Investments, OTC Adventures, and the company itself tell the story:
The company was originally delisted from the NASDAQ in 2002 due to questionable payments to a supplier that may or may not have been kickbacks. Mr. Levy and Mr. Lubman refused to respond to NASDAQ's requests for interviews.
Any history of them would be incomplete without mentioning their first and biggest red flag. The company was listed on the Nasdaq until November 2001. The reason they delisted was because they were involved in a "questionable payment" scandal involving a payment of $3m to the wife of an employee of a supplier. The company received legal advice stating the payment was ok, but eventually their lawyer said they probably shouldn't have made the payment. Surge asked for the $3m back and (shockingly) received $1m of it back (I say shockingly because I can't believe someone involved in a "questionable payment" would give a dime of it back!).
- Whopper
Ira Levy and Steven Lubman were the sole officers and directors of the Company who were asked and refused, based on the advice of counsel, to submit to the NASDAQ interviews. They are currently officers and directors of the Company.
Excessive Compensation and Wild Stock Comp
Levy and Lubman raked in a combined $787k in 2014 and that's been increasing every year. That may not seem like much if you've been looking at big companies like Oracle (NYSE:ORCL) and desensitized to hundreds of millions of dollars in comp, but remember that Surge is just a $6.7mm company with average free cash flow of $900k. That means Levy and Lubman's combined take almost equals free cash flow. Close but no cigar. But oh wait, there's also director comp of $132k which puts them over the top. Winner!
I'm further bothered by the fact that a lot of that compensation comes in the form of stock comp while shares are trading at less than net cash and a discount to NCAV, meaning the exercise prices are also very cheap and highly dilutive.
Related Party Lease
Surge leases its facility from a company owned by Levy, Lubman, and a former director of the company, paying $255k (and increasing) every year. That's very significant against the L&Ls already high comp and their stock ownership which is starting to look like a minority consideration for them by comparison.
Golden Parachute
Surge has a golden parachute in place for L&L in which, if their employment agreements are terminated for any reason other than cause, they'd get 3 years of compensation (including bonus), all stock vesting, accrued vacation, etc.
Not opening extra bank accounts to keep all of bank balances insured
The company maintains all its cash in a few bank accounts instead of opening more accounts to get more FDIC insurance up to $250k as is proper practice for smaller companies. As a result, $4mm of the cash is uninsured 8 years removed from the last time there was a banking crisis in this country.
Keeping idle cash, never paying dividend, not meaningfully using repurchase authorization
The above begs the question: why do they even have so much cash earning nothing in the bank? They've never paid a dividend and although there was a promising $500k share repurchase authorization recently, they only actually repurchased $2k worth of stock in the most recent quarter. There's no excuse for that given how cheap the stock is today. Illiquidity is not a good excuse. At least a million dollars' worth of SPRS stock trades every year at current prices.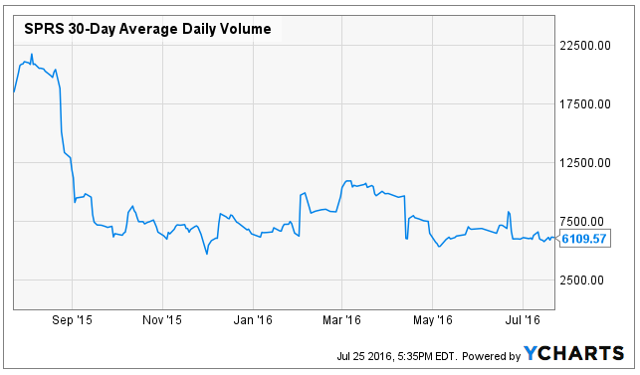 It's not unreasonable to think they could repurchase a quarter or half of that liquidity or do a tender.
Reincorporated in Nevada in 2010
In 2010, Surge reincorporated in Nevada, a domicile known for its extremely lax corporation laws. They provided no explanation for why this was done and simultaneously increased share issuance authorization to 75mm shares, raising the possibility of some sort of hyper dilutive issuance.
All of these issues I have detailed are reasons for the SPRS team to celebrate, and celebrate they are. But where are the stockholders' yachts and reasons for celebration? I have tried to adopt a less serious tone, but none of what's going on here is funny. It's actually pretty ridiculous and this is my attempt to voice my frustrations.
I am not sure SPRS management will read this because they've given no indication that they care what I or other OPMI shareholders think, but I have some ideas of actions they might take to improve the company's relationship with its owners:
Cut total executive compensation to $100k respectively or a little over 10% of average free cash flow, a reasonable number for a small company (even this is unacceptable for larger enterprises).
Return capital - do a $5mm tender at NCAV or $1.12 per share. But don't sell your shares into it. It may not be fully subscribed. That's fine. Return the remainder of net cash excluding say, $300k, in the form of a special dividend.
Insiders sell the leased facility to third party and SPRS enter into a new lease agreement on arm's length, market rate terms with the third party
Eliminate golden parachute
Diversify bank cash funds to keep entire balance FDIC insured
Eliminate all stock compensation - only pay cash - until the share price is closer to fair value
I seriously doubt any of this will be done, but that doesn't mean it shouldn't be mentioned.
SPRS as a Quant Value Case Study
Given how negative I am on the governance situation at SPRS - and how objectively horrible it is - you may be wondering why there's a disclosure at the bottom of this page saying I own SPRS stock. Well, one, it's only a small position as part of a diversified portfolio and, two, because the stock is really cheap and I firmly believe, as bad a SPRS is idiosyncratically when you look at it individually, a basket portfolio of stocks with this profile would do quite well.
SPRS trades at a discount to net cash, 60% of NCAV, 56% of tangible book which doesn't include $3mm of NOLs that a valuation allowance is held against, and, even if you exclude the net cash position, 7x average annual free cash flow since they started reporting again 8 years ago. How many US stocks do you know that are that cheap and aren't Chinese reverse merger frauds?
Even if sales fall off a cliff, future free cash flow margins are well below the record of the past 8 years, and we assume conservative multiples, the stock could more than double: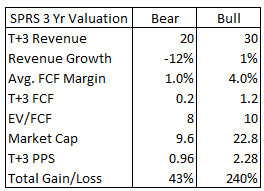 Surge Components is a case study in the hair you need to deal with when investing in net nets, cash boxes, and the cheapest stocks in the market in general in the real world. I think people see great results from Magic Formula, academic papers, Tweedy Browne, or smart beta publications and think "great! I'll just do that." But then they look at what stocks they'd actually have to buy to execute the strategy and systematically weed out all the hairiest names like SPRS that probably deliver a lot of that return because they are so "icky" as Michael Burry would say. People don't appreciate how hairy these names actually are and how difficult it is in practice to hold your nose and buy a little of them and hope something good happens.
And SPRS isn't the only one. Here is a list of just a few of the names on the $50+mm Magic Formula list:
| | | |
| --- | --- | --- |
| Company | Ticker | Notes |
| Apple | AAPL | Peak iPhone? |
| Argan | AGX | Construction company with supernormal gross margin that will compress |
| Avid Technology | AVID | Huge restatement recently. Massive dilution. Misleading non-GAAP guidance. |
| Capella Education | CPLA | For profit education companies are exploiting unprepared young Americans |
| Strayer Education | STRA | For profit education companies are exploiting unprepared young Americans |
| Fitbit | FIT | Fad product |
| GameStop | GME | People will just download games, going the way of Blockbuster |
| Iconix | ICON | Restatement, management out, possible accounting fraud? |
| Natural Health Trends | NHTC | Pyramid scheme a la Herbalife? |
| Pitney Bowes | PBI | Ancient, dying business |
| USANA Health Sciences | USNA | Pyramid scheme a la Herbalife? |
| Viacom | VIAB | Sumner Redstone is a National Amusement. Cable cutting. |
Lots of hairy names to say the least. Sure they may be riskier - there are clearly many ways SPRS and these other stocks could play out poorly - but as I've said before, there is a difference between risk at the stock level and risk at the portfolio level, and that difference becomes more distinct the more diversified the portfolio is. Sure they all may work out poorly, but because the stocks are cheap, the probabilities are in favor of a good return and the more of them you hold, the more likely you are to realize good long-term returns in aggregate.
Some may question how SPRS could possibly work out well. I mentioned things management could easily do to make it work but I also said they probably won't do any of it, so that's not very convincing. Alternatively, though, what if they retired and tendered and had the company buy back their own shares in the not-too-distant future. They are after all up there in age at 58 and 60. I don't know why they would do that though if their alternative is to keep taking a good salary though. Other stuff could happen too. A third party could offer to buyout the company at a price much closer to fair value. The SEC could do something. I doubt SPRS is doing anything in violation of securities law, but I also wouldn't be at all surprised to wake up one morning and find out they were. Probably most likely though, the cash balance continues to build and Mr. Market, faced with a barren landscape of cheap stocks in the US, becomes slightly less negative in his appraisal of SPRS. The point is many good things could happen, and generally to make decent returns you need to be in the stock before they do happen.
Conclusion
Surge Components is run to the detriment of outside passive minority shareholders and I am furious… I own Surge Components stock. This is as illustrative as any case study of the practical difficulties of holding your nose and buying hairy names to earn the juicy returns shown in all those quant value academic studies. It requires a pragmatic approach, where you'll often hate the companies you own stock in, but love the bargains you are getting them at. This investment style requires a rare personality. You need to be unemotional, stubborn, and very cheap. The best example of an investor who embodied this is Walter Schloss, who described his investment approach as "We buy cheap stocks" and was famous for detailing all the trouble his holdings were going through and then ending with "Good things may happen to me." Jeroen Bos is also a well known practitioner of this style in the UK and he wrote a book recently where he said as much about the strategy demanding a cheap, stubborn personality. I believe I am cheap by nature, but being unemotional and pragmatic can be difficult for me, as the first part of this article probably demonstrates, so I am working on that. Owning SPRS and writing this article has certainly helped.
Disclosure: I am/we are long SPRS, GME, STRA.
I wrote this article myself, and it expresses my own opinions. I am not receiving compensation for it (other than from Seeking Alpha). I have no business relationship with any company whose stock is mentioned in this article.
Editor's Note: This article covers one or more stocks trading at less than $1 per share and/or with less than a $100 million market cap. Please be aware of the risks associated with these stocks.