Since June 23, 2016, Tesla's (NASDAQ:TSLA) shares have gained 17% leading up to the grand opening of its Gigafactory. This compares to a 4% improvement for the NASDAQ over the same period. Yet, we question whether Gigafactory Day can be a sustainable catalyst or if TSLA's shares will give back some of their recent outperformance.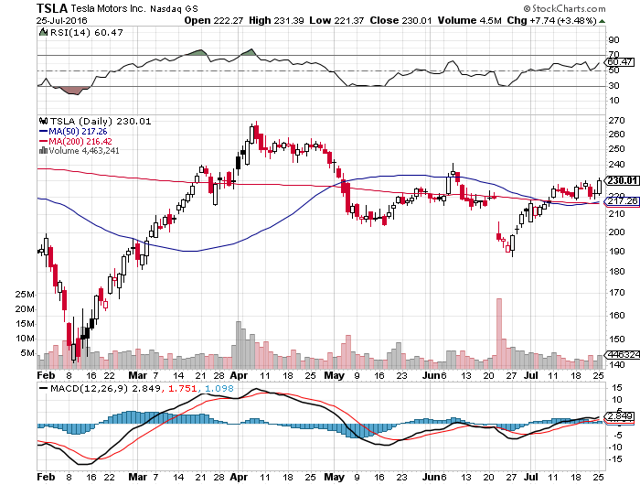 Tesla has set July 29 for the grand opening of its Gigafactory, which is planned to be one of the largest production facilities in the world once it is completed. Attendees will tour the Gigafactory, see how the upcoming Tesla Model 3 is progressing, and possibly test drive Tesla vehicles.
Located in Nevada and covering 5.8 million square feet, the Gigafactory is expected to have a total operational space of about 13.6 million square feet when it is finished, according to Bloomberg, with certain sections of the building multi-storied. Tesla CEO Elon Musk has indicated that the facility will ultimately be able to produce lithium-ion batteries to meet anticipated demand for 500,000 EVs (electric vehicles) annually and other uses.
Overall domestic purchases of EVs slowed last year, perhaps as consumers awaited the introduction of Tesla's Model 3. Specifically, if presales for the Model 3 are a leading indicator, domestic demand remains strong, we believe. The company received 276,000 pre-orders for the Model 3 in the first three days of accepting advance purchase orders. Moreover, EV demand globally was up about 60% in 2015, according to Bloomberg, driven in part by government incentives in several markets.
Nevertheless, EVs are a niche product. The Gigafactory is part of Tesla's goal to make EVs mainstream as EVs are not affordable for mass market adoption at this point. According to MIT Technology Review: "For all their attributes, electric cars still are haunted by two damning factors: high costs and less-than-optimal batteries."
"Tesla's innovative battery and charging technology has given it a substantial lead in making batteries cheaper and recharging quicker, and it's also helping Tesla lower costs faster than its competitors," notes MIT Technology Review. If EV costs decline and EV batteries can fuel longer distances on a single charge, while simultaneously the network of re-charging stations expands, electric vehicles are expected to gain traction with consumers.
At the moment, prices of EVs generally are substantially higher than that of most traditional cars. Over the next few years, however, Tesla, as well as GM (NYSE:GM), Nissan (OTCPK:NSANY) and other automobile manufacturers plan to introduce long-range EVs that are more affordable. The Tesla Model 3 is slated to retail for $35,000, which is significantly below the $80,000 to $150,000 of prior Tesla vehicles. Lower cost batteries made in the Gigafactory is one factor underlying the company's expected ability to offer the Model 3 at that price. Tesla expects to commence production of the Model 3 by the end of 2017.
Gigafactory Goal: Lower Battery and Car Costs
Reducing the cost of the battery and, in turn, the car is a key impetus in building the Gigafactory. Batteries comprise about 33% of the cost to construct an electric vehicle. In order for EVs to gain mass market traction, the cost of the battery must decline. Tesla's goal for the Gigafactory is to lower the price of batteries by 30-35%, which will be key to commercializing the Tesla Model 3.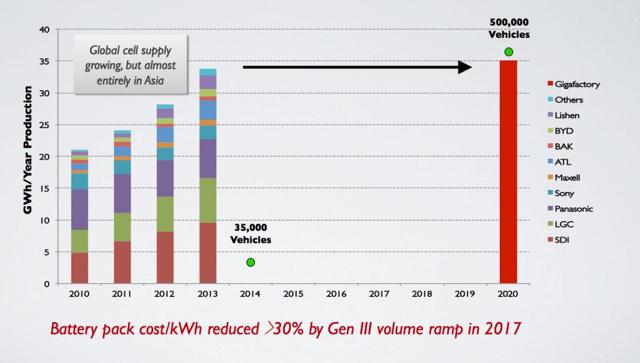 According to a study by Bloomberg New Energy Finance (BNEF), assisted by battery R&D investments from the Energy Department, battery prices fell 35% last year and are on track to put EVs on equal cost footing with traditional cars within the next six years even without subsidies. This, according to Bloomberg, will help create a real mass-market for EVs.
Factors that will enable Tesla to reduce the battery cost include scale and recycling. The factory will include a leading-edge recycling system that will recycle old battery packs. The Gigafactory also will produce its own power from renewable energy sources and will be equipped with solar panels along its roof and around its periphery and use geothermal and wind power, as well, to fully meet its energy demands.
Bloomberg expects that long-range electric cars will cost less than $22,000 in current dollar terms by 2040, and globally 35% of new cars will have a plug versus their current one-tenth of 1% share of the global automobile market. This is in sharp contrast to OPEC forecasts that, "by 2040, only 6% of the passenger car stock and 5.3% of commercial vehicles will be running on non-oil fuels."
How Sustainable a Catalyst Will Gigafactory Day Be?
Tesla partner Panasonic (OTCPK:PCRFY) expects to contribute approximately $1.5 billion to $1.6 billion to building the Gigafactory, with TSLA investing the majority of the $4 billion to $5 billion construction cost. In its 1Q16 conference call, Tesla indicated that it had accelerated some of its plans at the Gigafactory and was on track to have first cell production starting at the end of this year.
However, the facility is not expected to be finished until 2017. It is still under construction, and there might not be as much to see on July 29 at the grand opening as attendees expect. For example, the plant currently has a crew that represents only a fraction of its ultimate staff. In fact, the facility is contributing to job creation at a slower pace than originally expected, according to the Daily Mail. The Nevada Governor's Office of Economic Development (GOED) indicated that 272 people worked at the plant at the end of 2015 versus 700 initially expected. At the end of 1Q16, the Gigafactory still fell short of that 700 figure. Tesla and Panasonic respectively had 317 and 52 Gigafactory employees working there, according to the Nevada GOED. The Wall Street Journal recently reported, however, that Tesla has doubled the number of construction workers in order to accelerate completion of the building and "cell and pack production."
Once the Gigafactory is completed in 2020, it is expected to have about 6,500 employees working at the plant. Currently, only the 800,000-square-foot footprint Phase 1 portion of the plant is active.
The facility currently primarily produces battery packs but not the cells inside, with Tesla assembling the battery packs using cells that Panasonic has produced in Japan. Panasonic apparently is beginning to hire for cell production at the plant, and one cell assembly line is expected to be operational in time for the grand opening, according to Electrek.
The turnkey production of the battery pack, including the recycling of older batteries, is a critical element in the sustainable strategy for the Gigafactory to cut battery costs, we believe. Panasonic cell pack manufacturing equipment apparently represents cutting-edge technology and it may be extremely impressive to see this one line on July 29. Nevertheless, we question whether the grand opening will provide much insight beyond what Tesla has already outlined in recent months. If not, then Gigafactory Day might not be a sustainable catalyst for TSLA's shares, we believe, and we would not be surprised to see them trim some of their recent outperformance.
Disclosure: I/we have no positions in any stocks mentioned, and no plans to initiate any positions within the next 72 hours.
I wrote this article myself, and it expresses my own opinions. I am not receiving compensation for it (other than from Seeking Alpha). I have no business relationship with any company whose stock is mentioned in this article.