Pokémon Go has taken over the world by storm. The augmented reality app, which lets users collect the colorful virtual monsters scattered throughout real world locations using their smartphones, debuted in the US earlier this month. Based on data from SurveyMonkey, Pokémon Go became the most popular mobile gaming app in US history within two weeks of its release, boasting around 21 million to 22 million of monthly active users, edging past other successful apps such as Activision Blizzard (NASDAQ:ATVI)'s Candy Crush Saga and Zynga (NASDAQ:ZNGA)'s Draw Something. It currently has more daily active users than Twitter (NYSE:TWTR) and a better engagement rate than Facebook (NASDAQ:FB). And it hasn't even launched in some of the world's major smartphone markets.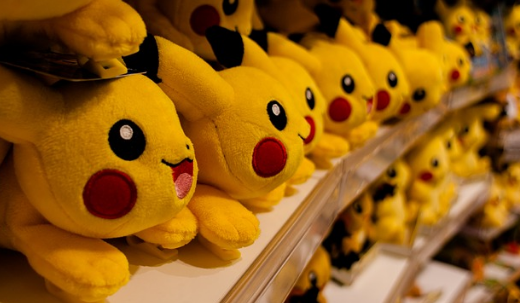 In fact, Pokémon Go launched in Japan, which was the world's second largest smartphone market in the second quarter after the US and the birthplace of Pokémon characters, on Friday followed by its debut in Hong Kong on Monday. The two markets could turn out to be major growth drivers for Pokémon Go. Moreover, the game still hasn't launched in China and South Korea, the world's third and fourth largest smartphone markets, respectively. So far, the games developers, The Pokémon Company and Niantic, haven't given a release date, but we can safely assume that Pokémon Go's launch in China and South Korea will likely turn out to be a major growth driver.
The demand for the game in China is already strong, which is evident from the recent reports which said that a large number of players from China have been using virtual private networks and other methods to download the app (due to restrictions on Google in China). In fact, the demand from China has been so overwhelming that Chinese users have now flooded the Japanese servers.
The biggest beneficiaries of Pokémon Go's success are going to be the Pokémon Company and Niantic. The former is Nintendo's (OTCPK:NTDOY, OTCPK:NTDOF) equity affiliate. The Japanese gaming giant owns 32% of Pokémon Company while Game Freak Inc. and Creatures Inc. own the rest. Nintendo also owns 10% of Creatures. Niantic, on the other hand, is an Alphabet (GOOG, GOOGL) spinoff and is backed by Nintendo, Pokémon Company, Alphabet and others.
In short, there is no single majority owner of Pokémon Go, but Nintendo seems to enjoy the biggest stake due to its interest in Pokémon Company, Creatures Inc. and Niantic. According to estimates from Macquarie Securities, Nintendo gets $0.13 out of every dollar of Pokémon Go sales. The 13% stake may be too small to lift Nintendo's revenues and earnings in the short term, which has been confirmed by the company itself, but the game's long-term impact will be likely significant.
Pokémon Go is going to change the way investment community looks at Nintendo. The Kyoto, Japan, based company is known for its popular characters, such as Super Mario and Zelda, as well as gaming console Wii, but not for launching successful mobile games. In fact, the company's inroads in mobile gaming, with the social game Miitomo, failed to live up to expectations. But with Pokémon Go, Nintendo could emerge as a major mobile game developer. Over the long term, I believe the company's success in the mobile game space will be underpinned by its ability to leverage its Pokémon Go experience and launch new games featuring its iconic characters, like Mario, instead of experimenting with new community simulation or RPG games.
Unfortunately, US based investors who are betting on Pokémon Go's bright future can't directly invest in Nintendo since the company is not listed on any US stock exchange (it trades only in the OTC market under above-mentioned tickers). However, there are a few exchange-traded funds that count Nintendo as one of their biggest holdings.
On top of this list is the little known PureFunds Video Game Tech ETF (NYSEARCA:GAMR), which counts Nintendo as its biggest holding with a weighting of 5.8%. PureFunds Video Game Tech ETF, or GAMR, is the world's first exchange-traded fund that focuses solely on the gaming sector. The ETF includes roughly three dozen gaming companies. Its five largest holdings, besides Nintendo, are GameStop Corp. (NYSE:GME), Activision Blizzard, South Korea-based NCSOFT and Glu Mobile (NASDAQ:GLUU). Together, the five companies make 26.2% of GAMR.
The fund offers investors the best way to gain significant exposure to Nintendo and pure-play exposure to the broader gaming industry which could soon generate $100 billion in annual revenues. The risk here, however, is that GAMR is relatively new fund, launched less than five months ago, and therefore has no meaningful track record to gauge its past performance. Moreover, it has just a little more than $3 million of net assets under management and carries an average volume (3 months) of just $4,028. This leads to high bid-ask spread and makes trading more difficult. The fund is also rather expensive, with an expense ratio of 0.75%. GAMR also offers no dividend, but that's understandable given gaming companies aren't exactly high-yielding dividend stocks.
Another way to gain exposure to Nintendo is through the iShares MSCI Japan ETF (NYSEARCA:EWJ). As the name suggests, iShares MSCI Japan ETF, or EWJ, is about investing in the Japanese economy in general and the major Japanese companies in particular. Unlike GAMR, EWJ is a highly diversified ETF which consists of more than 300 mid-to-large cap Japanese companies. Nintendo is its fourteenth largest holding.
What I like about EWJ, as opposed to GAMR, is that this is a well-known, well-established fund that has been operating for more than two decades. In terms of size, it is significantly bigger than GAMR, with more than $13.5 billion in net assets and almost $38 million of average volume. As a result, it has a narrow bid-ask spread. Besides, it is significantly cheaper, with a reasonable expense ratio of 0.48% and currently offers a yield (30-day SEC) of 1.7%. However, the drawback is that EWJ is not about Nintendo, or even gaming stocks. Although Nintendo is one of its largest holdings, its weight is just 1.12%. EWJ is essentially a country ETF, ideally for those who want to gain exposure to a broad array of Japanese stocks, instead of any single Japanese company.
There are a number of other ETFs as well that include Nintendo, such as the iShares Global Tech ETF (NYSEARCA:IXN) and the Vanguard FTSE Pacific ETF (NYSEARCA:VPL), but the gaming company's stock has less than 1% weighting in most of these funds. I believe GAMR, despite its drawbacks, could be the best way to gain exposure to Nintendo, and by that extension, Pokémon Go.
Note from author: Thank you for reading. If you like this article, then please follow me by clicking the " Follow" link at the top of this page.
Disclosure: I/we have no positions in any stocks mentioned, and no plans to initiate any positions within the next 72 hours.
I wrote this article myself, and it expresses my own opinions. I am not receiving compensation for it (other than from Seeking Alpha). I have no business relationship with any company whose stock is mentioned in this article.