It has been an exciting week for investors following the major American telecom companies. We found out after extended speculation that Verizon (NYSE:VZ) will purchase Yahoo (YHOO). AT&T (NYSE:T) was also among the finalists in the sale. Sprint (NYSE:S) saw a large jump in stock price as it reported the success of its 1% quality difference for half the price campaign in gaining new customers, even as CEO Marcelo Claure hinted at rate hikes. T-Mobile (NASDAQ:TMUS) has flown under the radar this week by comparison, but earlier this month announced a year of free data for customers participating in the Pokémon Go craze. Today, I want to take a look at something beyond the headlines - corporate governance. These trends help investors decide how well executive and shareholder interests are aligned. Also, the Board Skills Matrix helps to signal board proficiencies and how these skills align with company strategy.
For the comparison, I used the four major telecom companies and our free real-time monitoring platform. The trends hosted on our platform help investors decide how well executive and shareholder interests are aligned. Also, the Board Skills Matrix, our new feature, helps to signal board proficiencies and how those skills align with company strategy. Is governance not your thing? Feel free to check out our previous article, "AT&T and the Telecom Arms Race," for a focus on financial analytics of the companies from our platform.
CEO Compensation
Most of the peer set focus the compensation package significantly on long-term incentives, a trend we like to see. The cash salary is an especially low proportion of the overall compensation across the peer set, incentivizing the CEOs to hit long-term targets.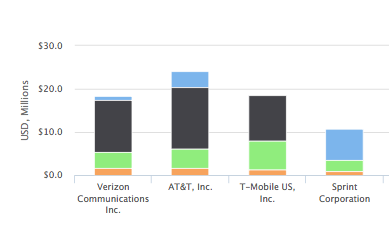 Exhibit 1: CEO Compensation
Source: Enlight Research, LLC
Note: Peach is Short-Term Cash, Green is Short-Term Incentives, Black is Long-Term Incentives, and Blue is Other.
Of course, CEO compensation tied to incentives is only a positive for shareholders if it is related to appropriate targets. A board can set a substantial incentive structure but negate it with easy to reach targets or limited downside. Shareholders have signaled some resistance to the compensation packages with the two companies reporting Say-on-Pay proposals in 2016 so far, AT&T and Verizon, at 90.1% and 92.4% approval, respectively. While those levels are fine, some see dropping below 90% as a signal of shareholder discontent from a "significant" minority. Sprint has a unique agreement with CEO Marcelo Claure - he will receive 10 million shares if he gets the company's stock price to $8 by 2019 (based on a 150-day weighted moving average). Further, as FierceWireless reported:
"In exchange for the 10 million shares in restricted stock units, as outlined in the "Turnaround Incentive Award Grant," Claure will receive no increase in base salary or short-term incentive bonus opportunity and will also receive no awards under the long-term incentive plans for 2016, 2017 and 2018."
The stock price is not far off from $6 and is at its highest level since fall of 2014, but there is still a good bit of ground to make up.
Director Compensation
Board compensation is pretty aligned within the peer set with a fairly even split between directors' fees and long-term incentives. T-Mobile director compensation is significantly lower than the others, but similar proportionally in structure. Verizon and AT&T are, of course, much larger companies, but T-Mobile's market capitalization is higher than Sprint's. Additionally, T-Mobile far exceeded the peer set in total shareholder return since the beginning of 2012, with 172.64% compared to next-highest AT&T at 81.25% (both at market close on July 25th).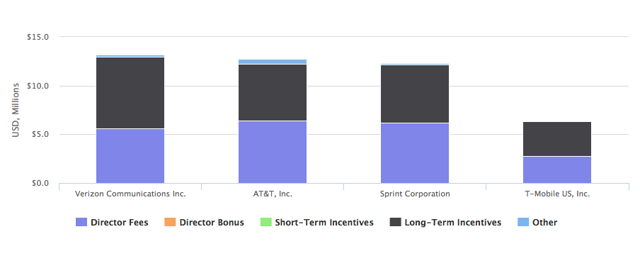 Exhibit 2: Director Compensation
Source: Enlight Research, LLC
What does this stock ownership look like in terms of the percent of common stock owned by the board of directors? Check it out below. Notably, T-Mobile, even with lower total compensation, has directors with a proportionally higher vested interest in the share performance. Even though this can be skewed by large differences in company size, T-Mobile's board owns a much higher percentage of stock in the company than its smaller competitor, Sprint's board. Soon, we will roll out a trend analysis of these holdings to show how director common stock holdings are changing over time, rather than where they sit at a specific point in time. This will give investors a perspective of shifting director confidence in company strategy and future returns.

Exhibit 3: Board Common Stock Ownership (Percentage)
Source: Enlight Research, LLC
Here is the board stock ownership in absolute terms, but remember the size differences.

Exhibit 4: Board Common Stock Ownership (Absolute)
Source: Enlight Research, LLC
Director Tenure
The peer set has less board entrenchment than we often see when running companies on the platform. The median tenures are all less than six years, with all but Verizon staying under four years. For all but T-Mobile, the upper limit of the range is approaching or exceeding 20 years, but having that institutional knowledge can certainly be a positive when combined with some fresh, relevant perspectives and skills. I feel that some board refreshment is key in a shifting marketplace, as acquisitions, consumer trends, and other developments potentially change the strategy and scope of a company tremendously.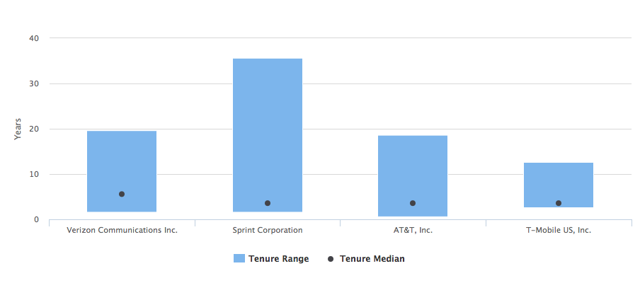 Exhibit 5: Board Tenure
Source: Enlight Research, LLC
Board Diversity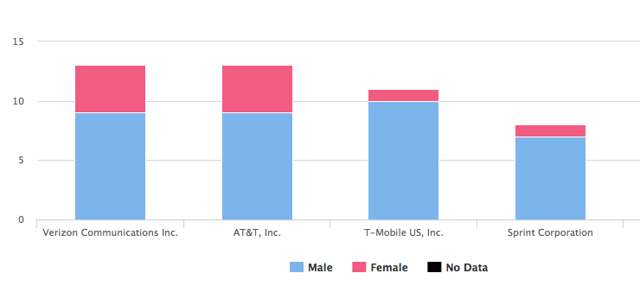 Exhibit 6: Board Diversity
Source: Enlight Research, LLC
The industry is a mixed picture on board gender diversity. Verizon and AT&T both have four female directors, while the other two have one each. Women, according to the 20% by 2020 mid-2016 study, accounted for 17.9% of directors in the Fortune 1000. The goal of the 20% by 2020 campaign is to reach 20% women representation on the boards of the Fortune 1000. Verizon and AT&T are well above this threshold. SEC Chair Mary Jo White recently reinforced her increasing focus on board diversity saying:
"Diversity on boards, and in organizations more generally, is very important to me and I have not shied away from expressing my strong views on the topic. As a former member of a public company board and its audit committee, I have seen first-hand what the research is telling us-boards with diverse members function better and are correlated with better company performance. This is precisely why investors have - and should have - an interest in diversity disclosure about board members and nominees."
Regardless of mixed performance or fairness arguments related to board diversity, shareholders at companies beyond potential thresholds are in more stable position should institutional investors, proxy advisors or regulators exert pressure to meet board diversity thresholds. Speaking of such pressures, here is a quick rundown of the increasing efforts from major stakeholders to push board diversity.
Board Skills Matrix
Our newest offering, now rolled out on our platform, is the Executive ID feature. Executive ID allows you and us to take a deeper dive into learning about the individuals that make up corporate boards of directors. Although activist and institutional investors have had the benefit of increasing their face-to-face interactions with corporate directors, it is extremely challenging as a retail investor to really analyze the directors who represent us in the boardroom. To mitigate this asymmetry, the feature includes board biographies, the Board Skills Matrix, and board equity positions. It is very rare for a company to disclose such a matrix - and when they do disclose it, it is often in response to an activist slate of nominees. With it, investors can determine if the board is staying relevant with the skills and experiences needed in a shifting competitive space. Below is the Board Skills Matrix for the telecom peer set.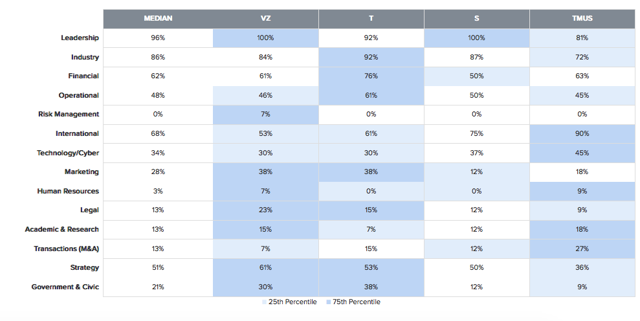 Exhibit 7: Board Skills Matrix
Source: Enlight Research, LLC
Just as one example, Verizon of such recent acquisition fame scores particularly low on M&A skills (though you imagine they had many such people working with them on the deal). While it may have more to do with presentation of skills in directors' biographies than the actual directors' abilities, Sprint is only 75th percentile in one category - leadership. Are your boards skills staying relevant and competitive?
What Does This Mean?
With all of the coverage following the many moves in this fiercely competitive industry, I find I often lose sight of the people at the top driving the business. The Board Skills Matrix and other analytics from our platform allow investors to easily find this aggregated information all in one place. With it, investors can keep an eye on how executive incentives and actions, such as company equity ownership, align with shareholders' best interests. Additionally, knowing where the board stands in terms of a skills matrix can help frame the qualifications behind important strategic decisions and potential problem areas.
Interested in seeing similar metrics done with another company and peer set? Drop us a comment, send us a private message, or check out our profile to access our free real-time monitoring platform.
Disclosure: I/we have no positions in any stocks mentioned, and no plans to initiate any positions within the next 72 hours.
I wrote this article myself, and it expresses my own opinions. I am not receiving compensation for it (other than from Seeking Alpha). I have no business relationship with any company whose stock is mentioned in this article.