Wal-Mart (NYSE:WMT) remains one of the few large retailers in the US opposed to adopting Apple Pay, Apple's (NASDAQ:AAPL) payment service for the mobile and digital era. Instead, Wal-Mart has just completed its nationwide rollout of Wal-Mart Pay, the company's own app-based payment solution. This is despite the retail giant having experienced firsthand the shortcomings and ultimate failure of another payment app, the now defunct CurrentC, created by the association of merchants including Wal-Mart, Best Buy (NYSE:BBY), CVS (NYSE:CVS), and Target (NYSE:TGT).
Best Buy has since adopted Apple Pay, CVS is reported to be testing it, while Target is open to introducing the service in the future. Will Wal-Mart eventually follow suit? Given the distribution of power in mobile payments, I think it is more likely than Wal-Mart Pay's success.

Wal-Mart Pay faces two significant problems:
1) Poor value proposition. To say that Wal-Mart Pay is less convenient than a credit card is an understatement. Just consider all the hoops that the company asks its customers to jump through to make a payment with Wal-Mart Pay:
Unlock your smartphone.

Find and open the Wal-Mart Pay app.

Position the smartphone's camera on the QR code and scan it.
Confirm the payment.
Of course, such an experience does not compare well to Apple Pay's more streamlined process of simply holding your iPhone near the contactless reader, even if the phone's screen is turned off. With the Apple Watch, you don't then even have to search for your device.
2) No control over key technology. Another problem for Wal-Mart is that its app's inconvenience cannot be solved. Just like CurrentC, Wal-Mart does not control the key technology in mobile payments - the mobile OS. That makes Apple and Google (NASDAQ:GOOG) (NASDAQ:GOOGL) the most powerful players in the field as they control the two entrenched mobile ecosystems and can restrict others to more inconvenient app-based payment solutions. Apple then takes things one step further and blocks third-party apps from using the iPhone's NFC chip.
The very fact that Wal-Mart has to rely on clunky QR codes to push its payment service tells you everything you need to know about the amount of power it holds in mobile payments and the prospects of Wal-Mart Pay.
Apple Pay
Where does this leave Apple Pay? In her SA article, Sarah Ji explores several workarounds, which she argues could help Apple compete with Wal-Mart Pay. However, I think Apple's actual strategy is much more simple:
Focus on adding value to Apple Pay.

Let Wal-Mart Pay fail to get traction.

Renegotiate Wal-Mart's stance on Apple Pay.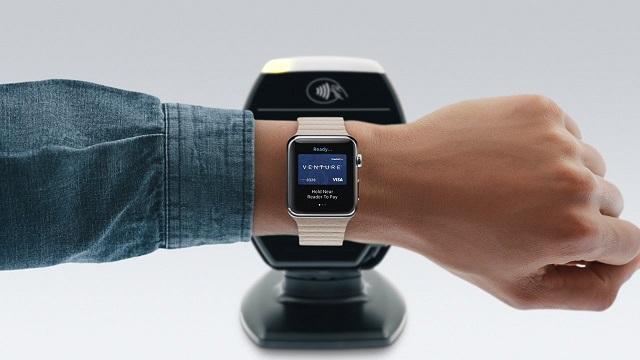 There is no doubt that Apple Pay is off to a difficult start. A consumer survey from a fellow SA contributor Karen Webster shows the payment service's considerable adoption and usage problems. This should probably not come as a surprise given the large number of friction points in the Apple Pay experience and existing strong payment habits. However, I think Apple is in a solid position to improve Apple Pay's value to the point where the service trumps credit card's convenience. Apple can rely on the following:
Strong foundation. Apple holds a significant amount of power in mobile payments thanks to controlling iOS as a major mobile ecosystem. This allows the company to relegate competitors to inferior app-based solutions while Apple gains time to remove friction points in Apple Pay's experience and add further innovation and value.
Apple Watch. Apple has a good chance to gain even more power in mobile payments. If reaching for the smartphone can be no more convenient than searching for the wallet, then using Apple Pay on the Apple Watch is decidedly the easiest way to make a payment. Given its unique positioning at the intersection of technology and liberal arts, Apple has the potential to run away with the smartwatch market the same way it did with the iPod - and gain further power in mobile payments. Many underestimate the Apple Watch and Apple Pay. Don't underestimate their combination.
Improving infrastructure. The Apple Pay experience is full of friction points, which impact the user experience and consequently adoption and usage: Non-participating banks and retailers, non-supported store credit cards and reward cards, ATM withdrawals with just one bank. However, the convenience gap between the credit card and Apple Pay ecosystem is constantly shrinking as Apple adds new partners, use cases, and benefits. Expect more innovation from the Cupertino company as to how we shop, pay, and handle money.
Apple Pay currently trumps the credit card in security and privacy. Once it will also match and exceed its convenience, we will then get to an inflection point in the service's adoption and usage.
Investor takeaway
Both Wal-Mart and Apple want to control the customer experience on their properties. Unfortunately, for Wal-Mart, when it comes to mobile payments, the power is in Apple's favor. Those who own the mobile ecosystem control the mobile payment experience. This is painfully visible in the poor value proposition of Wal-Mart Pay. Wal-Mart merely controls the access to its payment terminals - the commodity part in mobile payments. Note that even as part of the powerful association of retailers, MCX, accounting for $1 trillion in annual sales, Wal-Mart could not get traction for CurrentC and stop Apple Pay from increasing merchant support.
Given the distribution of power in mobile payments, it is therefore more likely for Apple Pay to be accepted at Wal-Mart than Wal-Mart Pay's success. Apple is in a solid position to further improve the Apple Pay experience and move the service toward an inflection point in adoption and usage. While this would not have a significant impact on the company's revenue, Apple would further strengthen its ecosystem, brand, and relevance in today's world.
Author's Note: If you have enjoyed reading my article and found its content valuable, please take five seconds to follow me by clicking the "Follow" button next to my name at the top of the page.
Disclosure: I/we have no positions in any stocks mentioned, and no plans to initiate any positions within the next 72 hours.
I wrote this article myself, and it expresses my own opinions. I am not receiving compensation for it (other than from Seeking Alpha). I have no business relationship with any company whose stock is mentioned in this article.
Additional disclosure: This is no recommendation to buy or sell securities as that carries with it very high risks. The information contained in this article is for informational purposes only and subject to change at any time. Do your own due diligence and consult with a licensed professional before making any investment decision.