Nintendo Co. (OTCPK:NTDOY) was long the laggard in the video game space. In many ways, it created its own problems. And then came Pokemon Go. Within weeks of the hot new game's release, the stock nearly doubled. That led Nintendo to warn investors about their own, often misplaced, greed. But that's a warning that could, and perhaps should, be applied liberally today.
One game?
Nintendo was really the creator of its own problems. It chose very specifically to not join in the app craze and kept its game properties close to the chest. While it continued to innovate, there was no question that it was getting left behind in important ways. Eventually, the company changed course, releasing Miitomo late last year, but it was more social network than game. And then came Pokemon Go.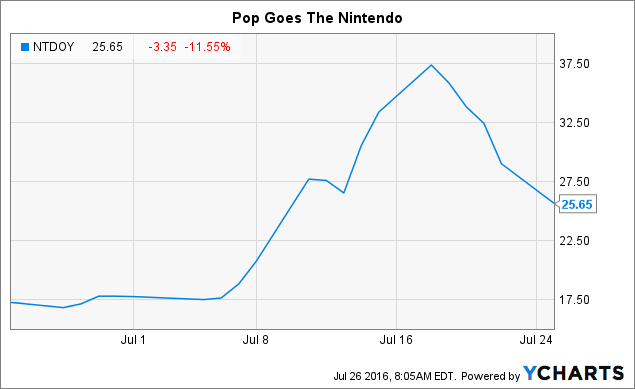 The Pokemon Go app is actually created by another company in which Nintendo has a modest stake. And Nintendo owns a little less than a third of Pokemon Go. These facts are easy enough to find out by reading the media coverage of Pokemon Go. So although Nintendo will certainly benefit from the success of the new app, a Macquarie Securities analyst estimated the company's economic stake in the game was only about 13%. Regardless of the actual percent, it's clearly much less than 100. And yet the stock nearly doubled shortly after the game's release and obvious success.
That's what a good story will do for a stock. It's gotten so crazy that Nintendo put out a news release saying that Pokemon Go's incredible success won't change its financial projections. And that includes a device the company plans to launch for users to more easily play the game. In other words, Nintendo itself is basically telling investors to chill out on the stock rally because the future isn't as bright as they think.
Spread the love
The big takeaway here is that Nintendo's share price is being driven by expectations may not be grounded in reality. That's something that happens all the time in the stock market. One of my favorite examples of this is SodaStream International (NASDAQ:SODA). You've probably seen the products SodaStream sells for making soda "as you want it" at home. It's pretty cool... only it's basically a fancy soda siphon.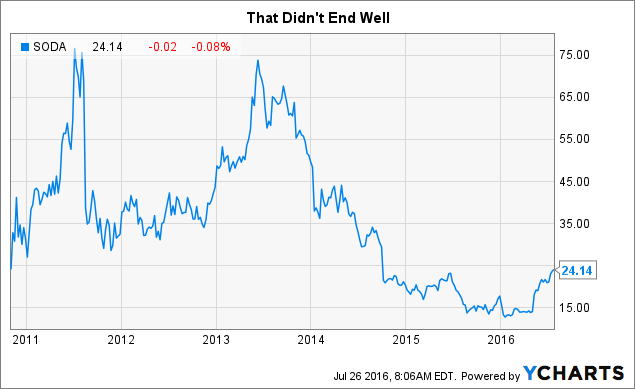 Soda siphons have been around for a really long time. And the fun of making your own soda was almost destined to falter given enough time. SodaStream really was a great fad, with a big rally and a big bust. Now, to be fair, there's more potential at Nintendo, which has a much more diverse business than just Pokemon Go, but the general idea is the same. A good story draws investors who bid up the price of the stock to a point where the price isn't justified by the prospects.
That's not the least bit unusual in the investing world. It happens to individual companies, sectors, and well, even the entire market at times. For example, there's been a huge push into dividend-paying staple stocks of late. That's moved the stocks of many great companies to the point where there's likely more risk than investors may realize.
For example, spice king McCormick (NYSE:MKC) has always been a great company and afforded a premium price. But it's currently trading hands with a trailing price to earnings ratio of more than 30! Its trailing P/E, to give a little more perspective, is roughly 40% above its five-year average. Even the forward P/E is a high 27... Price to sales, price to book, and price to cash flow are all elevated, too. And the dividend yield is about 20% below average. Meanwhile, as you might expect, the stock is hitting all-time highs, up over 20% this year compared to the SPDR S&P 500's (NYSEARCA:SPY) roughly 6.5% gain.
JM Smucker Co (NYSE:SJM) is roughly the same story. It's up nearly 25% this year, reaching all-time highs, and its valuation metrics are generally warning that the price isn't in line with the numbers. The story behind General Mills (NYSE:GIS) fits this trend, too. The stock is up around 24% so far this year, near all-time highs, and its price to earnings, price to sales, price to cash flow, price to book value, and dividend yield don't seem to match up with the valuation it's being afforded by investors.
What gives? Investors appear to be jumping on the story that "safe" staple stocks with decent dividend yields are great investments. They are! But only if you don't overpay for them. And right now, investors appear to have gotten caught up in an investing fad without paying enough attention to the details. Today, these stocks look a lot more risky than investors may realize, even though their businesses should hold up reasonably well, just like they always have, during tough times.
Be careful
I'm not suggesting that General Mills, McCormick, or Smucker are bad companies, nor am I suggesting this about Nintendo. But the price advances of all four might be a little too much too fast based on sentiment that isn't backed up by the underlying numbers. That's clearly the case for Nintendo, which itself has warned investors that they've gotten a little too excited.
But I fear that investors are pushing dividend-paying staple stocks down the same path. It's worth stepping back today and applying the lesson from Nintendo to some of the companies you own. You might be surprised at what you find.
Disclosure: I/we have no positions in any stocks mentioned, and no plans to initiate any positions within the next 72 hours.
I wrote this article myself, and it expresses my own opinions. I am not receiving compensation for it (other than from Seeking Alpha). I have no business relationship with any company whose stock is mentioned in this article.
Editor's Note: This article discusses one or more securities that do not trade on a major U.S. exchange. Please be aware of the risks associated with these stocks.