Richardson Electronics (NASDAQ:RELL) just held its earnings call, and things are starting to look better. Sales improved a little bit, and operating profit improved almost on a one-for-one basis. Keep in mind, I warned last quarter sales would likely be flattered in this one due to a large sale falling just inside. Its total market cap is now $76 million, which is only slightly above the company's net cash and investment position, which equaled $70.5 million as of May 28, 2016. The business is still not profitable on a rolling basis, but it is moving in that direction, albeit at a snail's pace.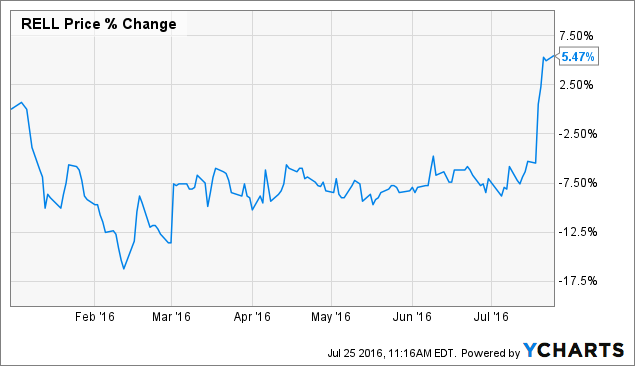 RELL data by YCharts
One important negative to note is we can forget about further buybacks. The company basically said these are off the table as it doesn't view this as the best way to use overseas capital, which is expensive to bring back. The Apple (NASDAQ:AAPL) model of raising debt in the U.S. could be a potential solution, but after following the earnings calls over the past years, I'm fairly sure Richardson isn't going to be persuaded to take that road.
There's lots of good news though. In a nutshell, RELL's problem is a large legacy global operating structure and not enough business to justify its existence. There are two solutions; 1) grow business and 2) shrink the structure. For the first time in many earnings calls, it looks like the CEO is considering two in addition to one. Obviously, growing the business is always preferable if it can be done, but if the conclusion is reached, it can't be done at the right price (Richardson complained many times about not finding cheap acquisitions) it needs to be done. Richardson on the growth initiatives:
As I mentioned earlier, we're not out of the woods yet, but we have a solid plan to get there. We remain committed to EDG and increasing market share in the industrial tube markets, while we can offset some volume declines with price increases, ultimately we need new sources of revenue to improve profitability. Wherever we go, people are excited and we tell them about our healthcare strategy. We're on track to begin manufacturing replacement CT tubes in calendar year 2017, which will not only supplement that drive increased replacement parts sales. PMT with its disruptive technologies is gaining momentum. I see it every day in the number of quotes we're issuing in the share magnitude of several of the projects that are in process.
These initiatives are not new, and we've seen them grow over the past quarters. Results may surprise or disappoint from quarter to quarter, but I think management is credible with its claims of growth. The great thing about taking costs out of an organization is that there's a high degree of certainty about it. This is especially true for an organization that used to be much larger before selling off an important division and purposely kept an outsized global infrastructure intact. This means there are A) actual costs that can be taken out, B) it's unlikely to hurt current sales much, and C) probability of success is high.
Around the current share price, you are getting the company for cash and investments on the balance sheet. True, the company is unprofitable, but there is a good chance operations will be in the green mid-2017 with only slight losses up to that point. There is not a whole lot of risk on the downside (Richardson owns a huge percent of the stock) and real potential to the upside. I'm not so sure if this will trade at $8 or $12 by mid-2017, but it seems far-fetched for it to trade far below cash given current dynamics. One additional warning I have is that I previously said this as well around $9-10 and saw the stock cut in half (write-up accessible to SA PRO and Off The Beaten Path subscribers). The company pays a dividend, and I have a hard time seeing how I'm going to lose money on this investment. IRR could have been much better if management had been more vigilant, but what can you do?
Disclosure: I am/we are long RELL.
I wrote this article myself, and it expresses my own opinions. I am not receiving compensation for it (other than from Seeking Alpha). I have no business relationship with any company whose stock is mentioned in this article.
Editor's Note: This article covers one or more stocks trading at less than $1 per share and/or with less than a $100 million market cap. Please be aware of the risks associated with these stocks.