Source: Microsoft
Despite some large challenges, over the past five years, Microsoft (NASDAQ:MSFT) has managed to reward investors with strong total returns, far in excess of both other tech companies, and the market in general.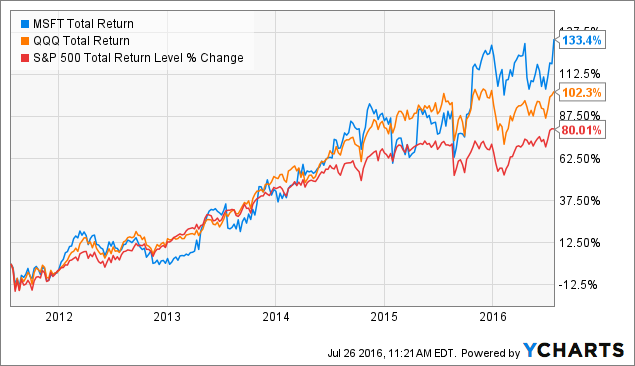 MSFT Total Return Price data by YCharts
What's more, Wall Street has rewarded the company's new CEO, Satya Nadella, with an ongoing rally over the past year that has brought Microsoft shares to an all-time high.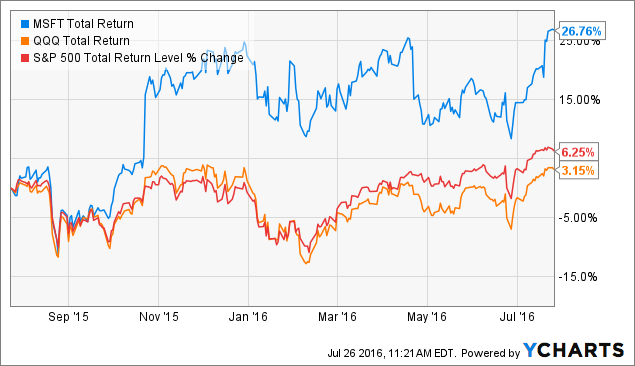 MSFT Total Return Price data by YCharts
Yet, despite the ongoing run up in price, Microsoft's latest earnings reveal strong reasons that dividend investors can still do well initiating, and adding to their positions. Read on to learn the four most important takeaways from Microsoft's latest earnings results, as well as a major risk factor that could potentially derail its investment thesis.
Microsoft continues to execute well on its shift towards the cloud
Source: Earnings release
| | | | |
| --- | --- | --- | --- |
| Metric | Q4 2016 | Q4 2015 | Year-Over-Year Change |
| Revenue | $20.6 Billion | $22.1 Billion | -7.1% |
| Adjusted Revenue | $22.6 Billion | $22.2 Billion | 1.9% |
| Net Income | $3.1 Billion | -$3.2 Billion | NA |
| Adjusted Net Income | $5.5 Billion | $5.1 Billion | 7.8% |
| EPS | $0.39 | -$0.40 | NA |
| Adjusted EPS | $0.69 | $0.62 | 11.3% |
| Gross Margin | 61.3% | 66.3% | -7.5% |
| Operating Margin | 14.9% | -9.3% | NA |
| Net Margin | 15.1% | -14.4% | NA |
| | | | |
| --- | --- | --- | --- |
| Metric | Fiscal Year 2016 | Fiscal Year 2015 | Year-over-Year Change |
| Revenue | $85.3 Billion | $93.6 Billion | -8.9% |
| Adjusted Revenue | $92.0 Billion | $93.6 Billion | -1.7% |
| Net Income | $16.8 Billion | $12.2 Billion | 37.7% |
| Adjusted Net Income | $22.3 Billion | $21.7 Billion | 2.8% |
| EPS | $2.10 | $1.48 | 41.9% |
| Adjusted EPS | $2.79 | $2.63 | 6.1% |
| Gross Margin | 61.6% | 64.7% | -4.8% |
| Operating Margin | 23.7% | 19.4% | 22.2% |
| Net Margin | 19.7% | 13.0% | 51.5% |
Microsoft's latest quarterly results continue to show the negative impact from the strong dollar, which has been dinging its top line growth. However, I want to point out what I believe to be the most important positive factor that long-term dividend investors should focus on.
Microsoft's margins over the past year have shown a strong uptick, which reverses the troubling long-term trend of margin compression that put its ability to continue strong dividend growth going forward.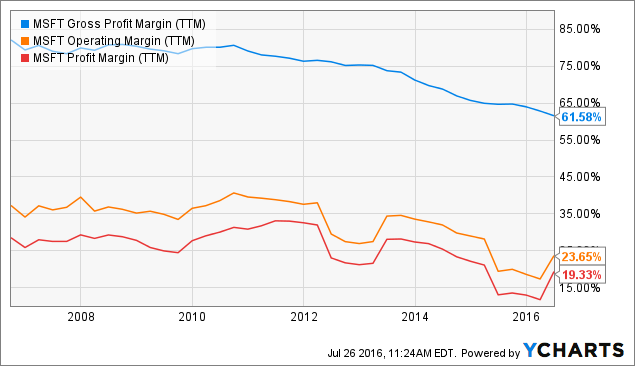 MSFT Gross Profit Margin (TTM) data by YCharts
This is a trend I expect to continue thanks to strong growth in recurring revenue businesses such as Office 365, Xbox Live, and most of all, the Azure cloud platform, which continues to grow like a weed.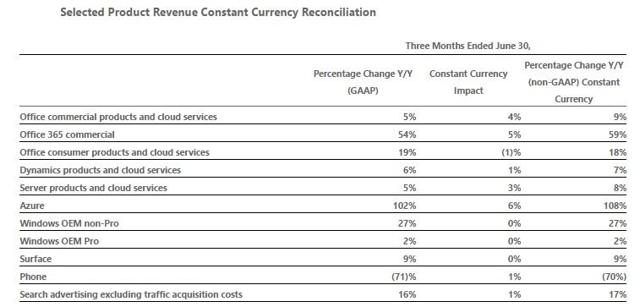 Source: Microsoft Q4 2016 earnings presentation.
In fact, given the slowdown in the global economy, I think Microsoft's ability to continue growing its recurring revenue, as well as the Office 365 user base, and high margin enterprise business, is especially impressive.



Source: Microsoft Q4 2016 earnings presentation.
All of which should give dividend investors strong confidence in the present management's ability to guide the company into a bright, dividend growth filled future.
Potential growth catalysts remains long
Microsoft's strongest asset right now is Satya Nadella, who has an impressive 20-year track record at Microsoft, most recently as the head of its cloud computing division. Nadella's strong focus on shifting Microsoft's Windows brand from servers and PCs to both the cloud, and mobile, should provide Microsoft with strong network effects. This is especially true in regards to its high margin enterprise business.
And while analysts don't believe that Microsoft's ace in the hole, its Azure cloud computing platform, is currently profitable, that is likely to change over the next few years. For example, cloud computing is currently generating an annual revenue run rate of $12 billion, which management says is on track to hit $20 billion by the end of 2018. Which is why some analysts expect Microsoft's Azure to be capable of sustaining 50% revenue growth over the next five years.
While that is indeed a big ask, Microsoft's large investment into ongoing R&D, as well as the potential integration of LinkedIn's popular suite of services, make that target achievable in my opinion.
Don't get me wrong, Microsoft is in for a tough fight when it comes to dominating the number two spot in the cloud computing space. Google (NASDAQ:GOOG) (NASDAQ:GOOGL), IBM (NYSE:IBM), Salesforce.com (NYSE:CRM), and Oracle (NYSE:ORCL), are all strong, well-capitalized competitors, that are chomping at the bit to steal its market share in this fast growing industry. That being said, Microsoft's dominant position in enterprise space, which has existed for decades, means that IT departments around the globe are both familiar and comfortable with it.
In addition, under Nadella, Microsoft has imposed a strong emphasis on an improved customer experience, as seen by excellent reception, and strong adoption of Windows 10 in contrast with the fiasco that was Windows 8. Which is why I remain confident that Nadella is the right leader to guide Microsoft into the cloud-based future of enterprise and dynamic business services.
Dividend profile remains attractive
Source: Earnings release
| | |
| --- | --- |
| Metric | Value |
| Yield | 2.5% |
| Q4 2016 EPS Payout Ratio | 52.2% |
| Q4 2016 FCF Payout Ratio | 48.3% |
| Fiscal Year 2016 EPS Payout Ratio | 51.6% |
| Fiscal Year 2016 FCF Payout Ratio | 45.0% |
| Dividend Growth | 16.1% |
Microsoft's dividend yield may not be as generous as some of its other tech rivals, such as IBM or Cisco Systems (NASDAQ:CSCO), however, it still beats the market's 2.1% payout. What's more, Microsoft's dividend continues to be well supported by both its earnings and free cash flow, meaning it is highly secure.
What's more, with analysts expecting 9% earnings growth over the next decade, a figure I find both realistic and achievable, Microsoft should continue to generate market-beating total returns over the next 10 years.
That's because a good rule of thumb for long-term total returns is yield + dividend growth. With a low payout ratio that has plenty of room to grow without putting the company's competitive position at risk, I think Microsoft can deliver sustainable 10% dividend growth over the coming years, which could mean 12.5% total returns; far better than the S&P 500 is likely to generate.
Microsoft remains undervalued despite record high share price
Sources: Earnings release, Morningstar, Fastgraphs, Gurufocus
| | | | | |
| --- | --- | --- | --- | --- |
| TTM FCF/Share | Projected 10-Year Growth Rate | DCF Fair Value Estimate | Reverse DCF Implied Growth Rate | Margin of Safety |
| $3.11 | 9.0% | $62.47 | 7.4% | 9% |
While I'm the first to admit that a discounted cash flow analysis should never be the sole basis for determining whether or not a company is overvalued. However, based on the most recent analyst estimates of Microsoft's growth over the next decade, the shares still seem mildly undervalued.
Specifically, that's because the above DCF analysis assumes 9% growth over the next decade, 5% for the 10 years after that, and a discount rate of 9.1%, which is equal to the S&P 500's historical CAGR since 1871.
Given the strong potential growth catalysts Microsoft is pursuing, I'm reasonably confident that it can achieve those growth targets, and thus beat the market's total return over the next two decades.
What's more, my own fair value estimate is echoed by Morningstar analyst Rodney Nelson, who believes Microsoft's intrinsic value is around $62; 8.5% above the current share price.
Source: Morningstar
| | | |
| --- | --- | --- |
| Morningstar Fair Value Estimate | Current Share Price | Discount to Fair Value |
| $62 | $56.73 | 8.5% |
Again, no single analyst estimate should be the sole reason for buying a stock. That being said, Morningstar has a proven track record of valuing companies based on conservative, long-term fundamentals, rather than the short-term price targets that are the hallmark of traditional Wall Street analysts.
For example, Mr. Nelson's valuation takes into account Microsoft's falling market share in the server business, as well as models a decline in Windows OS market share to 82% from its current 87% over the next four years. However, thanks to the continued improved feature set of its Azure cloud platform, and strong focus on its sticky Windows ecosystem, he thinks Microsoft's cloud computing business will retain its number two market position behind Amazon's (NASDAQ:AMZN) Web Services.
In addition, Nelson expects Azure's operating margins to grow to the low-to-mid 30% range by 2025, which is in line with management guidance.
Risks to watch for going forward
While I have strong confidence in Mr. Nadella's ability to steer Microsoft into an exciting, and bold future dominated by cloud computing, the internet of things, and artificial intelligence, I am concerned about its ability to monetize its recently announced $26.2 billion LinkedIn (NYSE:LNKD) acquisition.
While I agree that LinkedIn has an excellent business model, and represents potentially strong future free cash flow growth, the fact that Microsoft paid 100X TTM free cash flow for the company means that management has a lot to prove. Specifically, that it can integrate LinkedIn into its growing ecosystem in such a way as to accelerate growth enough to offset the likely higher future stock-based compensation expenses that the purchase will create.
After all, LinkedIn employees are used to extremely generous and fast growing stock option grants. And since Microsoft is a slower growing, dividend blue chip, this means that Microsoft's impressive track record of share count reductions may be at risk going forward.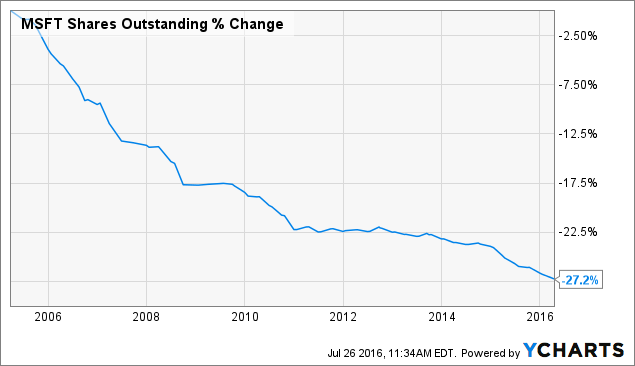 MSFT Shares Outstanding data by YCharts
The reason that a falling share count matters to dividend investors is twofold. First, a falling share count, in combination with growing free cash flow, is needed to grow FCF/share in order to allow strong, long term, and sustainable dividend growth that shareholder have come to expect.
Second, Microsoft's track record of favoring buybacks over dividends means that, should the addition of LinkedIn mean strong growth in stock option expenses, more of Microsoft's future shareholder capital return will go to simply offsetting investor dilution. Which in turn means less money for rewarding dividend investors with growing payouts.
Bottom line: Microsoft's brand continues to strengthen hinting at continued strong future dividend growth
Don't get me wrong, Microsoft's strong rally over the few years means that it may very well be due for a strong pullback in the coming quarters. However, for long-term dividend growth investors who are willing to use such potential corrections to add on dips, I remain confident that the new Nadella-led Microsoft should be able to deliver impressive dividend, and share price growth over the coming years, and decades.
Disclosure: I/we have no positions in any stocks mentioned, and no plans to initiate any positions within the next 72 hours.
I wrote this article myself, and it expresses my own opinions. I am not receiving compensation for it (other than from Seeking Alpha). I have no business relationship with any company whose stock is mentioned in this article.