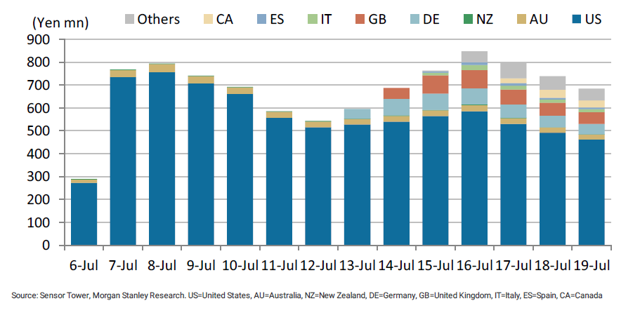 SensorTower released data showing that at its peak, Pokemon GO was generating $800mn yen per day or just under $8m. Excitingly, this information has yet to include Japan, the home country of Pokemon. (Let's ignore the structurally decreasing revenue from USA for the time being).
If we assume Japan grows the wallet 50%, PokemonGo would generate gross sales of $4.4bn for the year!
For a company that had until a week ago, perennially disappointed it's investors, the market saw this as a real turning point and a hope that Nintendo $OTCPK:NTDOY had finally made a runaway hit that could propel the company into the stratosphere.
After a heavy rush of excitement about the company's prospects, they soberly announced the following: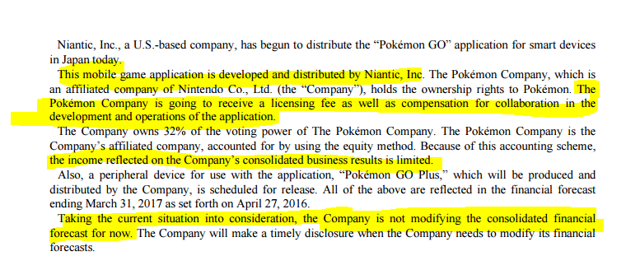 Despite the obvious success of the app, and after seeing weeks of hard data, the management decided not to change a guided profit of $318m (given in April).
Considering King Digital earned a +30% margin on it's peak year, it is almost impossible that a game which the market saw as Nintendo IP cannot budge a reasonably small net profit outlook.
The big question is why
In this article, I outline how at best Pokemon is worth around $161m in additional net income to Nintendo (74x PE) but in reality how badly the contracts must have been structured considering management have decided not to change their net income guidance.
If you can't wait for the punchline, download my valuation sheet, enter your own assumptions and see what net income figure you get to:
1) How Does Nintendo connect to the PokemonGO app
App Developer Niantic (a spin out of Google) raised additional money from Nintendo $NTDOY and The Pokemon Company to develop the Pokemon App. In April, Niantic raised a small amount prior to the PokemonGO launch which valued the company at $150m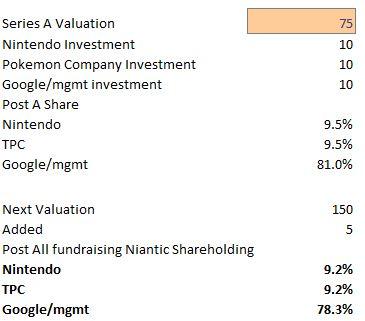 Niantic also signed a licensing agreement with the Pokemon company, which I have estimated at 10% of Sales
My estimate is that both Nintendo and the Pokemon Company own around 9.2% of the developer Niantic.
Nintendo in turn owns 33% of The Pokemon Company and perhaps a little bit more through two smaller subsidiaries
Nintendo is therefore exposed to 9.2% + 33%*9.2% = 12.23% of Niantics net profit and 33% of The Pokemon Company's licensing fee.
2) What Are Niantic's Economics
This part is open to some subjectivity and if you download my valuation sheet, you can find out how your assumptions impact Nintendo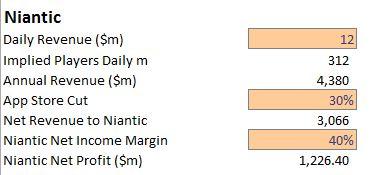 If we take the SensorTower rev estimate of $8m, increase it 50% for Japan, and assume absolutely no degradation of earnings, we get to an annual revenue of $4.38bn. As a gauge of sustainability, Candy Crush saw its gross bookings halve between 4Q13 and 4Q14 and would have achieved a revenue of $1.8bn if we annualize the game's peak revenue
To get to net revenue, Apple/Google would take 30% giving us a net revenue figure of $3bn
If we again use King and say 3.3% of users pay and these payors spend $25 per month, our daily revenue implies 312m Pokemon players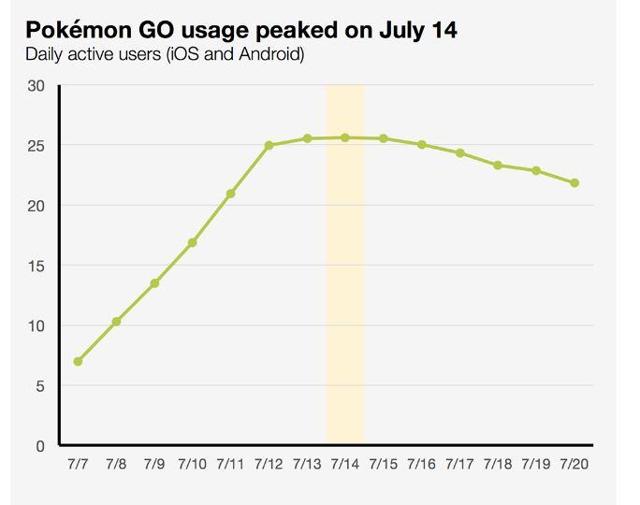 Survey Monkey believes Peak players in US was around 25m so our 312m figure worldwide feels reasonable (peak KING was 158m daily players)
The net income portion is very subjective; in 2013 King managed a 30% net income margin but Niantic apparently employed only 30 people. Of course there will be costs (servers, Google map usage, license fee etc) but I think it is safe to say, Niantic's 2016 margin should exceed King's. I have put 40% but go ahead, put 50/60 if you like.....
On a 40% net income margin Niantic will earn $1.2bn net profit.....tidy
2) What Are The Pokemon Company's Economics
We know that TPC both has a stake in the developer and receives a license fee.
I have used a typical 10% license fee from net revenue and assumed a 9.2% stake in Niantic
License fee revenue is $3,066m X 10% = $306m
Equity Share Income is $1,200 X 9.2% = $113m
We would apply corp tax on the license fee and CGT on the equity share , TPC's net income is therefore $330m
3) What Are Nintendo's Economics
The main event....of that $1.2bn Niantic has made in our scenario, how much has Nintendo actually made?
Remember they own 33% of TPC and have an estimated 9.2% stake of Niantic.
Of the $330m from TPC, Nintendo receives $108m
Their equity share income would be identical to TPC at $113
Their 10% share of Creatures (third of TPC) would equate to $9.81m
This means that the pretax Equity earnings equate to $231m or $208m after tax
Considering, Pokemon has currently added $12bn to Nintendo's market cap, this means the market has valued the app at 57x earnings.
I have been very generous with the average daily rate and the sustainability of earnings and have still got to an unacceptable valuation.
4) Even the management doesn't agree with me!
The management guided net income at $318m in April and last Friday said that they would not be changing the guidance for the year.
This means that my $208m must be overly bullish
With Nintendo's earnings due on Wednesday, we will see in cold hard fact the lack of profitability that Nintendo earns from this runaway hit which means the majority of the valuation added should eventually be removed. I would be (and am) short ahead of these results.
Pushbacks
1) What about the peripherals?
Our model implies 300m players let say 1% pays $50 for the Pokemon Plus bracelet. This implies $150m revenue and perhaps $15m net income (Fitbit margin). It doesn't move the needle
2) This game has reignited the world's interest in Pokemon and there is going to be so much Pokemon stuff the next years I am going to make a boatload.
I remember when Pokemon came to my secondary school with a revolutionary game boy app. Two years later Pokemon had disappeared. Is this time really different?
3) Now Nintendo can release their other IP to this augmented reality and will destroy the world
If you have played any of Nintendo's other games, you will notice how perfectly suited Pokemon is to AR and how unsuitable their other titles are.
How are you going to MarioKart with AR. Are you going to be running round running tracks holding your phones in front as you try and blue shell poor little Billy who has a commanding lead.
How are you going to quest in Zelda when I'm pretty sure the company won't be able to make billions of geo-specific quests with any ROI
Its great the this app has got people running around but most of the other IP is very immersive and requires the full experience to play
4) The NX console is coming in March and its going to blow everyone away
This is my favourite pushback because prior to Pokemon, everyone had no interest in the NX as it was behind the curve and is coming hot on the heels of Nintendo's failed Wii U.
The logic that has appeared is as follows
t) NX is going to be awful, I'm not interested
t+1) PokemonGO is the best game ever
t+2) NX is going to be incredible, I'm super interested
Summing this all up, yes Nintendo will benefit from the success of the app, but the market has run away ahead of expectations. If Wednesday comes with no significant equity earnings (what management have already said). How on earth can you subscribe any additional value to Nintendo?
Furthermore, and in my personal opinion, the game is a little sparse. Catching Pokemon's again and again will become repetitive for most and battles can only be done if you physically visit gyms.
I would fully expect some of this to be solved in the coming weeks but this is a fast paced environment and both SensorTower and Survey Monkey both see falling players in the USA.
Disclosure: I am/we are short NTDOY.
I wrote this article myself, and it expresses my own opinions. I am not receiving compensation for it (other than from Seeking Alpha). I have no business relationship with any company whose stock is mentioned in this article.
Editor's Note: This article discusses one or more securities that do not trade on a major U.S. exchange. Please be aware of the risks associated with these stocks.