Important note: This article is not an investment recommendation and should not to be relied upon when making investment decisions - investors should conduct their own comprehensive research. Please read the disclaimer at the end of this article.
BP (NYSE:BP) reported strong second quarter 2016 underlying operating cash flow (before pre-tax Gulf of Mexico payments) of $5.5 billion, which compares to ~$2.5 billion in the first quarter of the year. While the improvement is in significant part driven by sequentially higher oil prices and refining margins, operational improvements, including lower cash costs and higher availability in the downstream, also contributed.
BP reiterated that it can achieve cash flow neutrality in 2017, including dividends, at oil prices in the $50-$55 per barrel range. However, the company's ability to sustain its longer-term production volumes at the targeted capex level is a concern.
While the Q2 result is impressive and should be received by the market with enthusiasm, the outlook for the current quarter is bleak, due to softening oil prices and refining margins, whereas debt level remains uncomfortably high for a challenged oil major with a high dividend payout. So far, asset sales have been BP's solution for the cash shortfall. However, in the absence of a meaningful improvement in oil prices, other approaches may be required.
Q2 Results - Key Metrics
The second quarter result helped bridge the gap between BP's ongoing cash uses and internal cash flow generation.
Organic capital expenditure for the first half of 2016 was $7.9 billion; full year 2016 capital expenditure is now expected to be below $17 billion. As one can see from the slide below, thanks to the strong Q2 contribution, BP's "underlying cash flow" was approximately sufficient to cover the company's capital spending needs.
Given that the first half of this year included months with extremely low oil and natural gas prices, which arguably were an anomaly, the results for the period indicate that the company is making tangible progress in aligning its operations with the lower-price commodity environment.
Still, BP continues to depend on divestitures to help fund its dividends and Gulf of Mexico spill payments. In the first half of the year, BP received $1.9 billion from divestments, including the partial sale of its interest in Castrol India. The remainder of the payments came from net borrowing.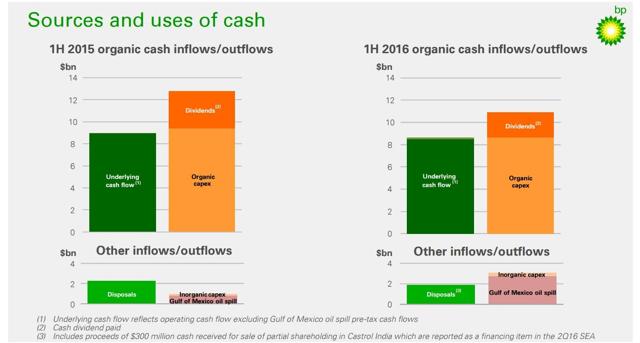 (Source: BP, July 26, 2016)
BP reiterated its guidance that the company will be able to achieve cash flow neutrality, including dividends, in 2017, if oil prices recover to a $50-$55 per barrel range for Brent. The forecast assumes $2-$3 billion of asset sales in 2017. However, it appears that a higher oil price would be required for the company to be able to cover its reduced capex and dividend payments while delivering sustained production growth, even at a moderate rate, within cash flow. At higher oil prices, supply chain cost re-inflation is likely to become a factor impacting the oil price threshold for sustained production growth.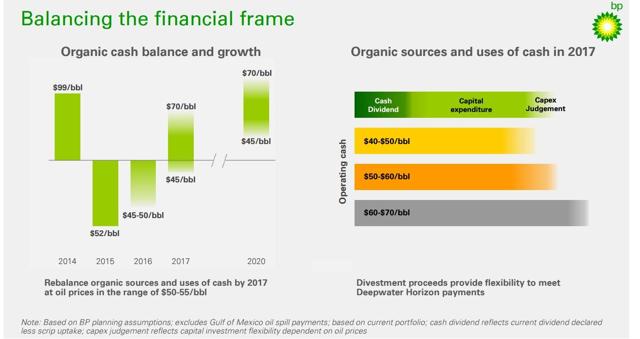 (Source: BP, July 26, 2016)
Third Quarter Outlook Is Uninspiring
BP warned that it expects third quarter reported Upstream production to be lower than the second quarter "due to seasonal turnaround and maintenance activities and the impact of the outage at the Enterprise Pascagoula gas processing plant in the Gulf of Mexico." The decline will follow the decline in volumes (ex-Rosneft (OTCPK:RNFTF)) that BP posted in the second quarter (the graph below).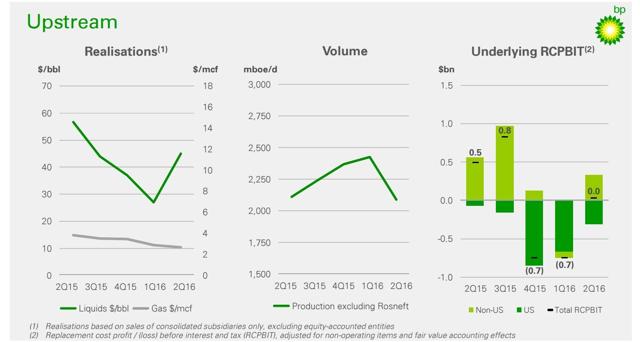 (Source: BP, July 26, 2016)
On the downstream side, BP expects the third quarter turnaround activity to remain high but capacity availability to remain at a similar level to the second quarter, which is a positive guidance, in my view.
In terms of macro indicators, the third quarter so far is shaping up stronger sequentially in terms of Upstream price realizations. So far, oil prices (blended price to date and futures) are approximately in line with the second quarter whereas natural gas prices and U.S. NGL prices are higher. However, industry refining margins continue to be under significant pressure. As one can see from the following slide, BP's portfolio marker margin declined by almost 40% from the second quarter average. The company stated that it expects refining margins to remain under pressure in the current quarter.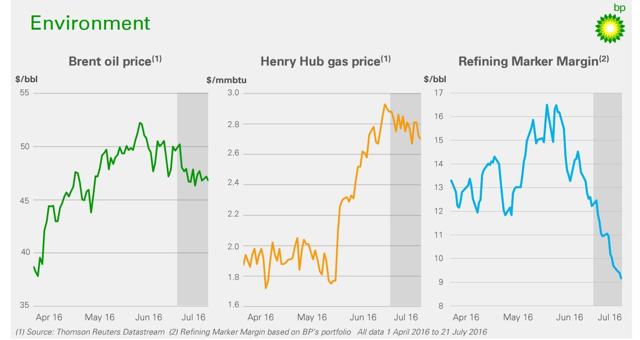 (Source: BP, July 26, 2016)
Additional Deepwater Horizon-Related Provisions
Earlier this month, BP announced that it had reached a point in resolving Macondo-related claims where it could reliably estimate all remaining material liabilities in connection with the incident. The announcement was bitter-sweet. On the positive side, the company's ability to put a cap on its future liabilities eliminates a major uncertainty and should provide investors with important comfort. On the negative side, BP increased its estimate for the remaining liabilities by $5.2 billion, which represents a significant amount and is equal to approximately 5% of the company's current market capitalization.
As pre-announced, BP's Q2 result announced today included a pre-tax non-operating charge associated with the oil spill of around $5.2 billion. The total cumulative pre-tax charge relating to the Deepwater Horizon incident is currently estimated at $61.6 billion. BP believes that any further outstanding Deepwater Horizon-related claims not covered by this additional charge will not have a material impact on the group's financial performance.
As a reminder, BP's liabilities arising from the incident and oil spill include several major components:
A year ago, BP reached agreements to settle outstanding federal, state and local government claims and has made significant progress in resolving those claims.
In addition, the Court and the Deepwater Horizon Court Supervised Settlement Program have been progressing the remaining economic and property damage claims relating to the 2012 Plaintiffs' Steering Committee (PSC) settlement. The announced $5.2 billion charge includes the estimated cost of settling all outstanding business and economic loss claims under that settlement, which are expected to be paid by 2019.
BP has also made significant progress in resolving economic loss and property damage claims from individuals and businesses that either opted out of the PSC settlement and/or were excluded from that settlement. In February 2016, the US federal district court estimated that there were more than 85,000 valid opt-out and excluded economic loss plaintiffs. According to BP, the vast majority of these claims have since been settled or dismissed as an order of the court today confirms. An estimate of the cost of the remaining claims, expected to be paid by the end of 2016, is also included in the $5.2 billion charge.
On the securities litigation side, in June, BP announced a $175 million settlement of claims from a class of post-explosion ADS purchasers in the MDL 2185 securities litigation, payable during 2016 - 2017. This cost is also included in the $5.2 billion charge.
Net Debt Is Uncomfortably High And Rising
As of the end of the second quarter, BP's net debt increased to $30.9 billion, an increase of $6.1 billion from $24.8 billion a year ago. Gearing was 24.7%, an increase from 18.8% a year ago. Given that the timing of a recovery in commodity prices remains uncertain and BP's ongoing burden related to Gulf of Mexico incident-related payments will remain heavy in the next few years, the company's debt appears uncomfortably high.
A deficit in the cash balance forces BP to undertake continued asset sales to prevent net debt from spiraling out of control. A case can be made that in the absence of a meaningful improvement in the commodity macro environment, BP needs a meaningful equity injection or another strategic asset sale to shore up its balance sheet and preserve dividend at its high current level.
In Conclusion…
The strong cash flow result for the second quarter is a welcome development indicating that BP is making tangible progress adapting to the low-price commodity environment. The improvement notwithstanding, dividends during the quarter, as well as Gulf of Mexico spill cash payments, continued to be funded mostly from asset sales and net borrowing.
The better cash flow balance has its price. Reductions in capital spending have been significant. BP projects its capex to drop to the $15-$17 billion range in 2017, as compared to ~$25 billion at the peak in 2013. During the five-year period from 2010-2015 (post Macondo), BP's capex averaged ~$21.6 billion annually.
However, despite this elevated level of spending, BP's oil production volumes (excluding Rosneft but including BP's share in other affiliates) grew only modestly, by ~1.7% from 2012 to 2015. The strong reduction in spending may have consequences for the company's production trajectory over time. With a lower level of capital spending, BP may struggle to fight off production declines that I expect to arrive within two-three years.
The investment in Rosneft, which on the surface appears to be a significant asset for BP, continues to disappoint in terms of the cash flow it provides. According to BP, its share in Rosneft's dividends for 2016 will be in the $0.35 billion range, which is a disappointingly poor return on the capital employed and an almost two-fold drop from the average for 2013-2014.
The dividend stream from the investment in Rosneft in 2015 contributed less than 5% of the total dividend being paid by BP to its shareholders. Moreover, the outlook for Rosneft's ability to increase its dividend to a more reasonable level remains uncertain due to the company's heavy debt burden and high capital requirements to sustain production.
In terms of dividend security, in the short term, BP has sufficient cash flow and financial resources to sustain its dividend payments at the current level, in my opinion. However, the persistent weakness in commodity prices and the company's continued strong cash flow deficits continue to stretch the company's credit metrics.
If the commodity price weakness continues for another year, BP may be forced to take more radical steps to improving its balance sheet, which may include shrinking the company or issuing a substantial amount of equity. The high level of debt and liabilities represents a major risk to value and should not be overlooked.
For in-depth data and analysis of commodity fundamentals, please consider subscribing to Zeits OIL ANALYTICS that provides analysis of the crude oil and natural markets.
Disclaimer: Opinions expressed herein by the author are not an investment recommendation and are not meant to be relied upon in investment decisions. The author is not acting in an investment, tax, legal or any other advisory capacity. This is not an investment research report. The author's opinions expressed herein address only select aspects of potential investment in securities of the companies mentioned and cannot be a substitute for comprehensive investment analysis. Any analysis presented herein is illustrative in nature, limited in scope, based on an incomplete set of information, and has limitations to its accuracy. The author recommends that potential and existing investors conduct thorough investment research of their own, including detailed review of the companies' SEC filings, and consult a qualified investment advisor. The information upon which this material is based was obtained from sources believed to be reliable, but has not been independently verified. Therefore, the author cannot guarantee its accuracy. Any opinions or estimates constitute the author's best judgment as of the date of publication, and are subject to change without notice. The author explicitly disclaims any liability that may arise from the use of this material.
Disclosure: I/we have no positions in any stocks mentioned, and no plans to initiate any positions within the next 72 hours.
I wrote this article myself, and it expresses my own opinions. I am not receiving compensation for it (other than from Seeking Alpha). I have no business relationship with any company whose stock is mentioned in this article.
Editor's Note: This article discusses one or more securities that do not trade on a major U.S. exchange. Please be aware of the risks associated with these stocks.