This article was first made available to subscribers of the Cambridge Income Laboratory 30 days ago.
In January of this year, I wrote an article about the Scientific Beta suite of multi-factor, multi-strategy ETFs. I described the ideas behind the design and construction of those funds, and also pointed out their benchmark-crushing success in the ~8 months through their inception.
Now with over 1 year under their belt, I believe that these funds deserve a serious look from equity investors.
The four funds are:
Strong 1-year outperformance
Let's compare the performance of the Global X ETFs with their comparable cap-weighted ETFs over the past year. The benchmark ETFs are:
We can see from the chart below that while none of the regions have had positive performances over the past year, the Global X ETFs have all massively outperformed their benchmarks.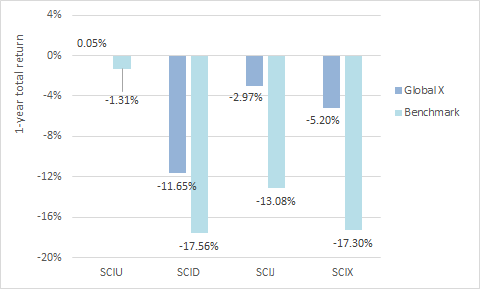 The excess alpha obtained by the Global X multi-factor ETFs over their benchmarks are shown below: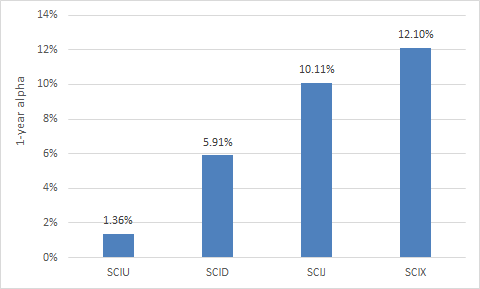 This is crushing outperformance and it bodes well for the future of the Global X ETFs going forward. Both Japan and Asia ex-Japan multi-factor funds scored 10%+ alpha. Europe had nearly 6% alpha over the past year, while U.S. was the lowest at 1.36%.
However, I would caution against assuming that this degree of outperformance can be replicated. According to backtested data from the ERI Scientific Beta, the average annual alpha obtained for the four factors over a capitalization-weighted index was 2.53% (U.S.), 2.62% (Eurozone), 3.12% (U.K.), 2.17% (Japan) and 3.33% (Asia ex-Japan) over a 10-year period from 2003 to 2013. Over a 40-year period from 1972 to 2012, the annual alpha obtained using the multi-beta multi-strategy ERC approach was 3.79% (U.S.).
Fees reasonable
Given their tremendous outperformance over their benchmarks, the fees that they charge for the ETFs seem reasonable. In fact, Global X had recently introduced a fee waiver for SCIU which brought down the expense ratio of the ETF from 0.35% to 0.19%.
The following table compares the expense ratios (ERs) of the Global X ETFs versus their benchmark ETFs. The benchmark ETFs are each the largest by AUM of their respective regions.
| | | | |
| --- | --- | --- | --- |
| Global X | ER | Benchmark | ER |
| SCIU | 0.19% | SPY | 0.09% |
| SCID | 0.38% | VGK | 0.12% |
| SCIJ | 0.38% | EWJ | 0.48% |
| SCIX | 0.38% | AAXJ | 0.69% |
We can see from the table below that the Global X ETFs are more expensive than their benchmarks for the U.S. and Europe, but cheaper for Japan and Asia ex-Japan. The data is also shown in chart form.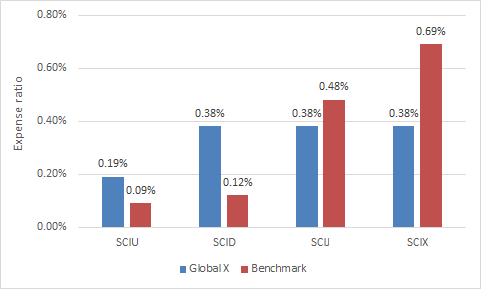 Personally, I'm quite happy to pay an extra 0.3% or so in fees if it means receiving a few extra percentage points of performance each year.
Low popularity...for now
However, despite their massive outperformance, the Global X ETFs still haven't received wide interest from the Seeking Alpha readership. The most popular of the ETFs, SCIU, only has 25 (!) followers on Seeking Alpha. The following chart shows the number of Seeking Alpha followers for the Global X ETFs versus their benchmark ETFs, on log scale.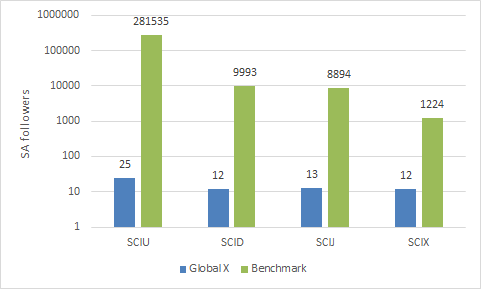 The AUM of SCIU has more than tripled from $12.4M since my last article in January, to $42M today. However, the AUMs of SCID and SCIJ have lingered at around $12M, while SCIX has remained at a lowly $2M. The lack of AUM and trading activity does mean that the ETFs are relatively illiquid, and investors interested in buying these funds should set limit orders and keep a close eye on the actual NAV as set out on the funds' website.
Summary statistics
Data from Morningstar.
| | | | | |
| --- | --- | --- | --- | --- |
| | SCIU | SCID | SCIJ | SCIX |
| Yield [ttm] | 1.15% | 1.46% | 0.80% | 2.80% |
| Expense ratio | 0.19% | 0.38% | 0.38% | 0.38% |
| Inception | May-15 | May-15 | May-15 | May-15 |
| Assets | $42M | $12M | $12M | $2M |
| Avg Vol. | 12K | 0.7K | 1K | 0.4K |
| No. holdings | 454 | 542 | 269 | 180 |
| Annual turnover | 21% | 18% | 20% | 59% |
Summary
I would highly recommend choosing these Global X Scientific Beta ETFs for your passive equity exposure. The main risk of switching from a benchmark ETF to the Global X ETFs is not fundamental related, but is rather due to the relatively low trading volume of the funds. Hopefully, as these funds continue to outperform and become more popular, the illiquidity risk will be reduced.
More adventurous individuals may consider a pairs trading strategy by going long the Global X ETFs and then shorting the respective benchmark ETFs. However, I doubt that alphas of 10%+ per year can be consistently achieved.
If you have enjoyed my article, please consider clicking the "Follow" button next to my name to be alerted to my new content!
Author's note
I have just recently launched the Cambridge Income Laboratory, a Seeking Alpha marketplace offering focused on high yield ETFs and CEFs. If you have found my articles useful in the past, please consider subscribing to this newsletter to receive my best trade ideas in advance, view my personal ETF/CEF income portfolio, request ETF/CEF analysis, and be alerted to possible fund misbehavior.

Disclosure: I am/we are long SCIU, SCID, SCIX, SCIJ.
I wrote this article myself, and it expresses my own opinions. I am not receiving compensation for it (other than from Seeking Alpha). I have no business relationship with any company whose stock is mentioned in this article.