Anheuser-Busch Inbev (BUD) has pledged to expand its portfolio of low-alcohol and alcohol-free beer to 20% of its global beer volumes by 2025, up from 9% in 2014. The company is trying to keep pace with changing customer preferences and find new sources of growth as global beer volumes stagnate. The low/alcohol-free beer market is an interesting opportunity for BUD, and a push into this burgeoning market could benefit BUD in a number of ways. But there are also some challenges that we think limit the market potential of alternative beers for BUD.
The low/alcohol-free beer market is still in its early stages, but it's expanding rapidly. Rising consumer demand for healthier and more natural products, increased awareness about the dangers of alcoholism, and technological advancements that have allowed brewers to better replicate the taste of regular beers are key factors driving the growing popularity of no/low alcohol beverages.
The global market for no/low alcohol beer stood at $9.96 billion last year (2.8% of the total beer market), up 19% from 2010 levels. Analysts are optimistic (Figure 1) that growth will continue, thanks to efforts on behalf of Western governments to promote health, and increased religiosity in the Middle East where alcohol is banned in many places for religious reasons.
Figure 1: Global No/Low Alcohol Beer Market Forecast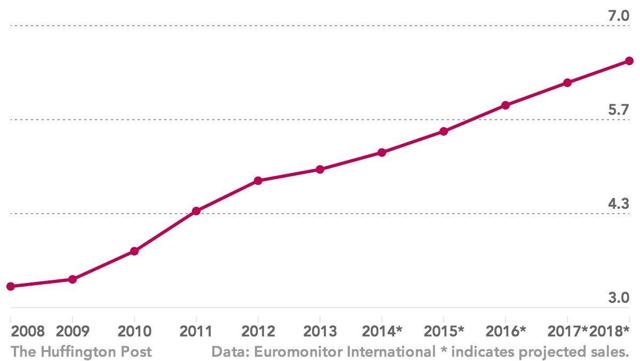 Source: Euromonitor International
A larger no/low alcohol beer portfolio could benefit BUD in a few ways. Most importantly, it would help the company offset beer volume declines in developed markets. Alcohol consumption fell 18% in the UK between 2004 and 2014, and while beer consumption in the US did grow 3.6% over this period, it fell 0.9% between 2012 and 2014. BUD's North America and Europe segments accounted for 35% of company revenues in 2015.
Access to new consumer groups such as designated drivers, pregnant women, nursing moms, and non-beer drinkers could help prop up sales in BUD's more saturated markets. Compared to its smaller rivals, BUD is better equipped to expand into new categories. The company can leverage its massive scale and distribution networks to quickly deepen penetration in both mature and emerging markets and prevent competitors from growing as quickly.
Lastly, an increasing portion of no/low alcohol beer in the product mix would likely lead to higher profit margins. We expect that consumers would willingly pay premiums for the perceived health benefits of these no/low alcohol beers, many of which are made with all natural ingredients.
We also anticipate some challenges. BUD's status as the world's dominant beer company could work against the firm. One of the reasons why alternative beers have become popular is that consumers are increasingly shifting away from established brands and trying new things. BUD's portfolio contains many of the most well-known beer labels in the world, and consumers might feel a contradiction in buying an alcohol-free beverage made by the world's preeminent beer player.
BUD would not have the same brand advantages in its no/low alcoholic beer categories as it does with its core beer labels. In its legacy beer business, the firm can earn high returns on capital without spending much on advertising, simply by leaning on the reputation and customer loyalty of its brands. In the low/no alcohol category, BUD would have to spend more on marketing to differentiate its products.
Finally, we think that low-alcohol categories would peter out sooner rather than later as a result of being stuck in between the regular beer and alcohol-free segments of the market. We believe that most consumers would choose to drink either a regular beer or an alcohol-free alternative.
Conclusion:
The no/low alcohol beer segment is an exciting segment. Since 2010, BUD's alternative beer sales have increased 19%. This growing market could help BUD offset sluggish growth in mature categories and expand margins once the firm establishes brand awareness. The shift to healthier lifestyles and dining choices is secular, and it threatens BUD's core business. BUD can maintain its share of the worldwide beverage market by growing this segment.