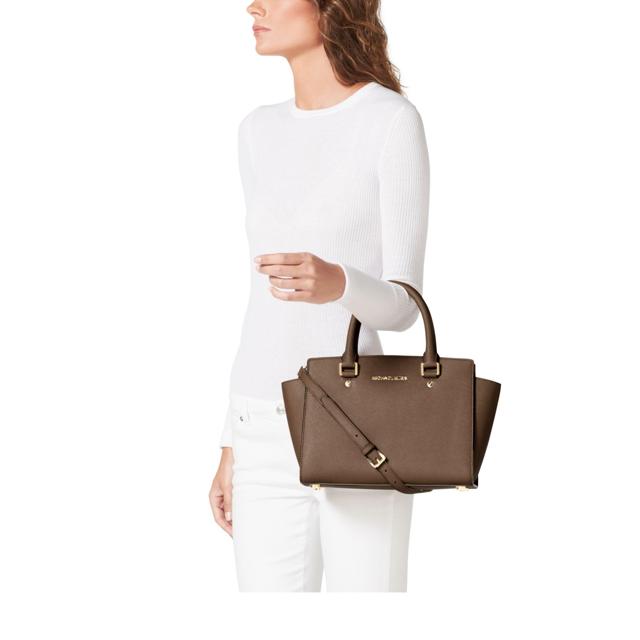 Bags For Sale!
A while back, I wrote an article on Fitbit (NYSE:FIT) explaining that the sight of significant Fitbit Charge discounts on eBay (NASDAQ:EBAY) were a sign of weakness. The problem was threefold:
There was significant volume for sale.
The items were new, not refurbished.
And the discounts were major.
The stock proceeded to sell off on short order. Of course, Fitbit was significantly expensive at the time, so part of the sell-off could be justified on valuation tied to emerging weakness. As a side note, Fitbit no longer looks expensive, though it's open to interrogation whether fitness tracking isn't just a fad and whether the brand will survive against very strong (and cheaper) competition.
Well, today I'm going to write a similar story, only this time the story is about Michael Kors (NYSE:KORS). Michael Kors, contrary to Fitbit, comes into this event at a much more reasonable valuation. It trades for just 11.3x 2016 EPS consensus and goes for just over 6x EV/EBITDA, for what is a very profitable brand and a strongly cash-generative company.
However, the story is the same. It's long been possible to find some discounted Michael Kors merchandise online, but it used to be mostly watches. Watches sell at discounts even in the best of days, and as we saw recently with Fossil (NASDAQ:FOSL), these aren't exactly the best of days.
What is different, though, is that right now it seems possible to find a whole lot of Michael Kors handbags and totes for significant discounts. Take for instance this deal highlighted by eBay: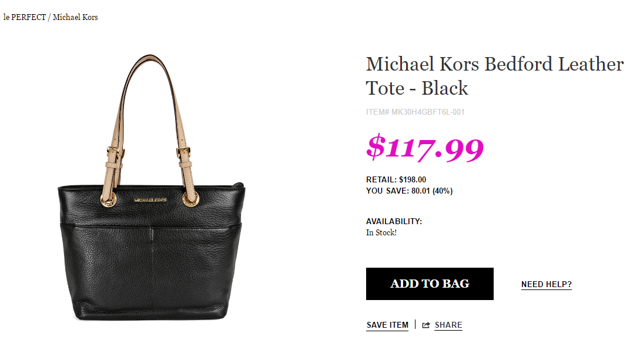 Source: eBay
We're talking about:
A 40% discount under retail (though sometimes "retail" is actually the highest price you'll find it at).
The bag is new.
And 162 have already sold, so it's available in volume.
This is a very similar scenario to what we experienced with Fitbit. Moreover, the same seller has 21 different models for sale, all new, all at significant discounts, and several with hundreds of sales already: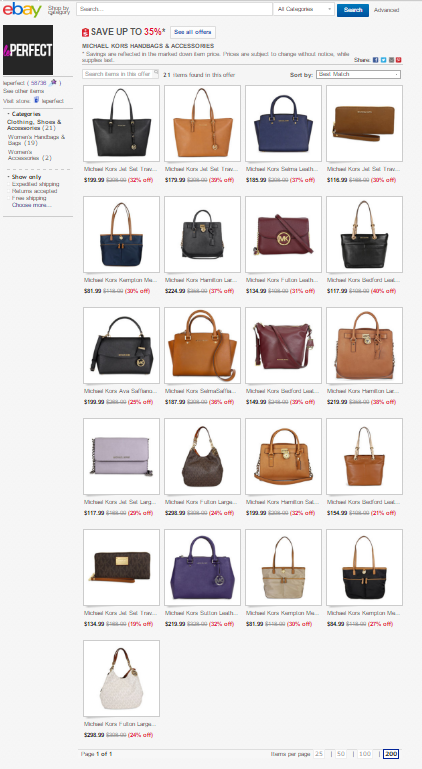 Source: eBay
When Michael Kors guided for Q1 FY2017, it already took down revenue estimates significantly, though those were then somewhat compensated by the inclusion of China's business. Michael Kors ended up keeping EPS estimates around the same on account of lower tax rates. However, it seems to me that this heavy discounting right as Q1 FY2017 is over can itself mean even the lower guidance was somewhat challenged. Either that or Michael Kors is seeing further weakness into its next quarter.
Of course, this is just a small sample, though involving thousands of new bags, but still it does seem like a significant data point given its timing.
Conclusion
I am surprised by the easy availability of large quantities of new Michael Kors handbags at large discounts on eBay. This reminds me both of Fitbit and Musclepharm, which saw significant such discounting just prior to reporting bad news.
I had to report this finding, even though I presently have no Michael Kors exposure one way or the other (and would only consider buying stock, not selling it short).
Disclosure: I/we have no positions in any stocks mentioned, and no plans to initiate any positions within the next 72 hours.
I wrote this article myself, and it expresses my own opinions. I am not receiving compensation for it (other than from Seeking Alpha). I have no business relationship with any company whose stock is mentioned in this article.