In May I wrote an article about the NFL/Twitter (NYSE:TWTR) deal as a potential "Foundation For A Live Future" for the embattled company. I focused on how the partnership and similar future ones made sense given Twitter's user base and established complementary approach to live content. Of course, any future capitalization on this opportunity relied and continues to rely on a robust user experience that engages and grows the Twitter community. Shares have jumped more than 30% in just over the last month, according to the Wall Street Journal, largely on the heels of Microsoft's (NASDAQ:MSFT) acquisition of LinkedIn (LNKD). This acquisition, combined with Twitter's potential for live events streaming, has helped flame expectations that Twitter could be the next to be acquired. I remain skeptical about the recent surge, along with the author, as Twitter still has to contend with a slowing user base and advertising revenue. I also believe, though, that a successful push into live could reverse both of these trends, acquisition or not.
This is where I have seen some exciting news lately, though it is all still in early stages. Of course, we all knew that Twitter was going to be exploring other partnerships in this potentially revitalizing area, but now we have some real progress reported. This week Twitter announced that it will live stream weekly games from MLB and the NHL with associated advertising sales. To complement this, Twitter will have a nightly highlights show, "The Rally."
Earlier this month Twitter performed a soft launch of its live streaming with the Wimbledon tournament, though no live matches were covered. Instead the coverage did include live interviews and analysis, along with match replays. This trial, almost entirely unpublicized, allowed Twitter to experiment with the platform before the NFL opening. Twitter's statement on the Wimbledon experience noted -
"Twitter is increasingly a place where people can find live streaming video, and that includes exciting sporting events like Wimbledon. This live stream is an extremely early and incomplete test experience, and we'll be making lots of improvements before we launch it in its final form."
Finally, Twitter and CBS are partnering to live stream the Democratic National Convention currently underway.
The Twitter live future is becoming more of a live present as the company initiates further partnerships and runs the product on smaller events. I'm looking forward to watching it move forward and expect that the trial runs will help work the kinks out of the system by the NFL debut. They provide a glimpse into how widely the platform could potentially be used for live events.
Amidst all of the excitement, I wanted to take a step back and consider some of Twitter's and its peer groups' corporate governance trends. These companies are widely covered, but we rarely hear about things from the executive level, other than a high-profile personnel move. For the comparison I used Twitter's proxy-listed compensation peers and our real-time monitoring platform. The trends hosted on our platform help investors decide how well executive and shareholder interests are aligned and learn more about often-obscured board membership. Also, the Board Skills Matrix helps to signal board proficiencies and how those skills align with company strategy. The peer set for this comparison was described in the proxy (on page 40) -
"The compensation peers, used to inform 2015 compensation decisions, were selected using four general selection parameters. The criteria are software (primary) and broad technology (secondary) companies located in the United States which are between one half (0.5x) and two and one half (2.5x) times our size in revenue with a market capitalization of one third (0.3x) to three (3.0x) times our market capitalization with a preference for companies with high growth and high market capitalization to revenue multiples. We also considered one other company we directly compete with for key talent in order to better represent the current competitive and talent environment."
These peers included Adobe Systems Incorporated (NASDAQ:ADBE); Facebook Inc. (NASDAQ:FB); Groupon Inc. (NASDAQ:GRPN); LinkedIn Corp. (NYSE:LNKD); Netflix Inc. (NASDAQ:NFLX); Palo Alto Networks Inc. (NYSE:PANW); Pandora AS (PNDORA); Salesforce.com Inc. (NYSE:CRM); ServiceNow Inc. (NYSE:NOW); Splunk Inc. (NASDAQ:SPLK); Tesla Motors Inc. (NASDAQ:TSLA); TripAdvisor Inc. (NASDAQ:TRIP); VMware, Inc. (NYSE:VMW); Workday Inc. (NYSE:WDAY); Yahoo Inc. (NASDAQ:YHOO); Yelp Inc. (NYSE:YELP); and Zillow Group, Inc. (NASDAQ:ZG). Our platform is currently only configured for US-based peers' analytics so international peers, such as Pandora, are excluded.
Total Shareholder Return
Of course these companies have many differences but total shareholder return provides some top-level perspective for these companies beyond the headlines. Our analysis starts at the beginning of 2012, but for the younger companies, prevalent among these software giants, the return is calculated since the initial public offering. Here are views of both the overall comparison and broken down by peer. Note that Twitter's return at close on July 25th was negative 58.46% since the company's public offering. The median of the peer set was 181.06% with only Groupon, at negative 80%, below Twitter. Note that these returns assume dividend reinvestment.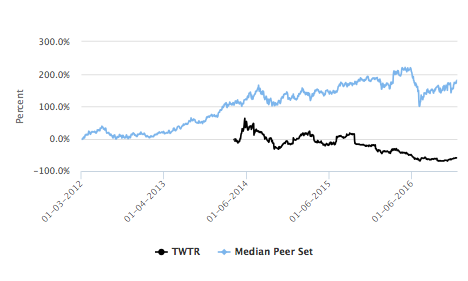 Exhibit 1: Total Shareholder Return
Source: Enlight Research, LLC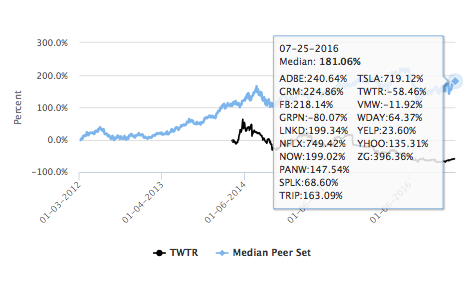 Exhibit 2: Total Shareholder Return (Broken Out By Peer)
Source: Enlight Research, LLC
CEO Compensation
These companies have some of the most varied CEO compensation profiles imaginable. As many of the CEOs have a vested stake in the company from early association or founding, some of the CEO compensation packages are light or nonexistent. For example, Twitter CEO and co-founder Jack Dorsey was "paid" just over $68,000 in 2015, all for personal and residential security costs, rather than stock or salary. Others have large pay structures, predominately resting on long-term incentives.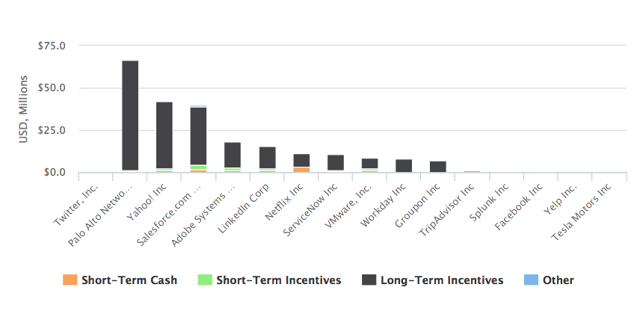 Exhibit 3: CEO Compensation
Source: Enlight Research, LLC
Of course CEO compensation tied to incentives is only a positive for shareholders if it is related to appropriate targets. A board can set a substantial incentive structure but negate it with easy to reach targets or limited downside. Fortunately for many shareholders in the peer set, this is not an issue with those CEOs holding equity from earlier in the companies' histories. Generally, the peer set saw high shareholder approval this year with "say on pay" approval in the high 90th percentiles. Twitter is a bit lower at 90.6%. Lower peers in 2016 approval rates include Yahoo (81.7%), Salesforce (60.2%), and Spunk (89.0%). Other companies have seen lower numbers as well in the past few years, not surprising with such extensively covered executives, companies, and returns. Though these votes are nonbinding, some see dropping below 90% as a signal of shareholder discontent from a "significant" minority with below 70% as a signal of "grave concern" to directors.
Director Compensation
Board compensation is skewed by Tesla, but most are around $8-10 million with a substantial majority focused on long-term incentives rather than director fees. LinkedIn and TripAdvisor use a higher portion of director fees than the others, but both sets of fees are still only around a third of the compensation package. Twitter has long-term incentives of just over $3.5 million.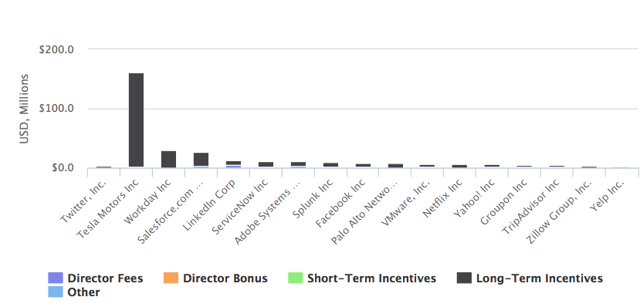 Exhibit 4: Director Compensation
Source: Enlight Research, LLC
What does this stock ownership look like in terms of the percent of common stock owned by the board of directors? Check it out below. Facebook, of course, is a leader in terms of absolute value. Many of the other peers, equally unsurprisingly, have highly substantial director ownership of the companies - way higher than we typically see with longer-established companies outside of this comparatively youthful software boom. I like to see a large board equity position in the company to align commitment to the position and strategic decisions with shareholder returns. Most of these companies far exceed that criterion.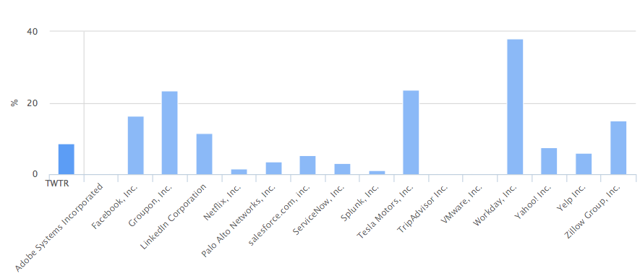 Exhibit 5: Board Common Stock Ownership (Percentage)
Source: Enlight Research, LLC
Here is the board stock ownership in absolute terms, but remember the size differences.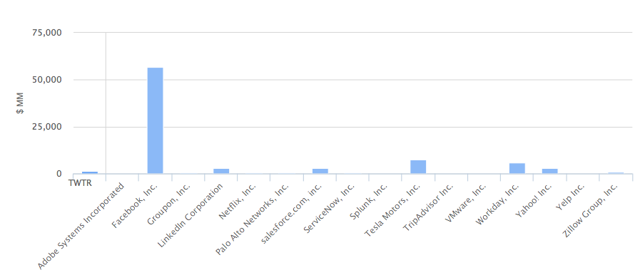 Exhibit 6: Board Common Stock Ownership (Absolute)
Source: Enlight Research, LLC
Director Tenure
As I expected, median board tenure and range of tenures are both lower in the peer set than I typically see among other peer sets. The Twitter board has less than a three-year median and is a bit lower than most of the peer set. Note that the longer board tenures than years of listing account for those directors involved with the companies while still private. Many companies seem to still have directors from their initial creation, which we see as potentially helpful for retaining institutional knowledge. We also, though, recognize the need for a dynamic board, refreshed with changing skills and experiences as the company grows and evolves in a shifting, competitive marketplace. The low median is a good indicator of board refreshment.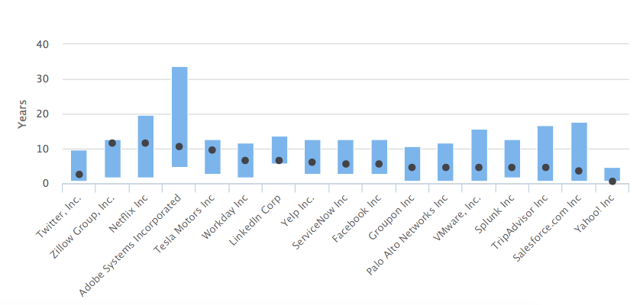 Exhibit 7: Board Tenure
Source: Enlight Research, LLC
Board Diversity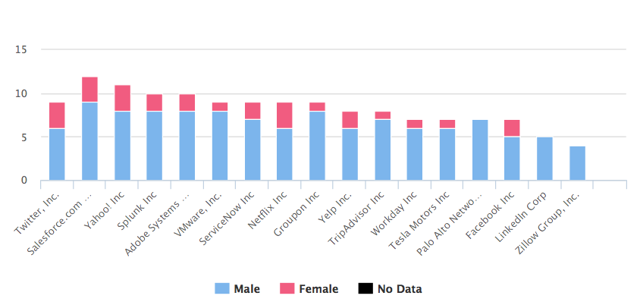 Exhibit 8: Board Gender Diversity
Source: Enlight Research, LLC
The industry is less gender diverse than I would have imagined with its younger leadership and target audiences more vocal about such metrics. Still, the more well known in the peer set have large numbers of females on the board, including 33.3% of Twitter's, 28.5% of Facebook's, and 27.7% of Yahoo's boards. Women, according to the 20% by 2020 mid-2016 study, accounted for 17.9% of directors in the Fortune 1000. The goal of the 20% by 2020 campaign is to reach 20% women representation on the boards of the Fortune 1000. Several other peers are comfortably at or above this threshold. SEC Chair Mary Jo White recently reinforced her increasing focus on board diversity saying:
"Diversity on boards, and in organizations more generally, is very important to me and I have not shied away from expressing my strong views on the topic. As a former member of a public company board and its audit committee, I have seen first-hand what the research is telling us-boards with diverse members function better and are correlated with better company performance. This is precisely why investors have - and should have - an interest in diversity disclosure about board members and nominees."
Regardless of mixed performance or fairness arguments related to board diversity, shareholders at companies beyond potential thresholds are in more stable position should institutional investors, proxy advisors or regulators exert pressure to meet board diversity thresholds. Speaking of such pressures, here is a quick rundown of the increasing efforts from major stakeholders to push board diversity.
Board Age Diversity
While quite young in image, many boards among the peer set have director age range extending to 70-plus and a median just under 60. Twitter is noticeably younger than many at a median director age of 46. These trends still put the peer set boards on the younger side compared to directors in the market as a whole.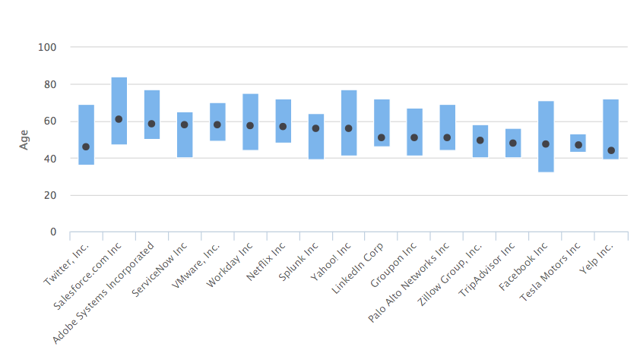 Exhibit 9: Board Age Diversity
Source: Enlight Research, LLC
Board Skills Matrix
Our Executive ID allows you and us to take a deeper dive into learning about the individuals that make up corporate boards of directors. Although activist and institutional investors have had the benefit of increasing their face-to-face interactions with corporate directors, it is extremely challenging as a retail investor to really analyze the directors who represent us in the boardroom. To mitigate this asymmetry, the feature includes board biographies, the Board Skills Matrix, and board equity positions. It is very rare for a company to disclose such a matrix - and when they do disclose it, it is often in response to an activist slate of nominees. With it, investors can determine if the board is staying relevant with the skills and experiences needed in a shifting competitive space. Below is the Board Skills Matrix for the telecom peer set.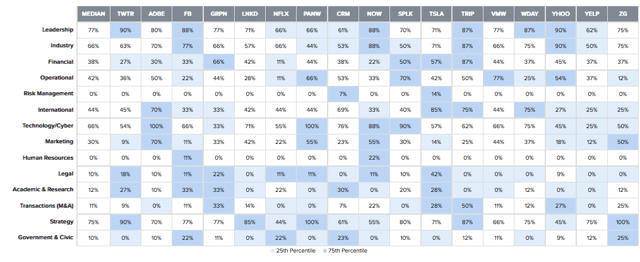 Exhibit 10: Board Skills Matrix
Source: Enlight Research, LLC
Just as one example, I've written about Twitter's strategic shift to live, so it is nice to see them in the 75th percentile for Strategy experience. Also interesting to me is Yahoo in the 75th percentile for Transactions given its recent acquisition.
What Does This Mean?
This group of companies often dominates the news cycle, but I find it valuable to take a step back and consider the people driving the businesses. The Board Skills Matrix and other analytics features allow investors to easily find this aggregated information all in one place. With it, investors can keep an eye on how executive incentives and actions, such as company equity ownership, align with shareholder's best interests. Additionally, knowing where the board stands in terms of a skills matrix can help frame the qualifications behind important strategic decisions and potential problem areas.
Interested in seeing similar metrics done with another company and peer set? Drop us a comment, send us a private message, or check out our profile to access our free real-time monitoring platform.
Disclosure: I/we have no positions in any stocks mentioned, and no plans to initiate any positions within the next 72 hours.
I wrote this article myself, and it expresses my own opinions. I am not receiving compensation for it (other than from Seeking Alpha). I have no business relationship with any company whose stock is mentioned in this article.