Those of you who read our dailies and weeklies would know that we use a lot of the free resources John Kemp provides. He is, in our opinion, the best energy reporter out there. His articles are insightful and unbiased. He wrote a wonderful piece today about how the recent sell-off in oil (NYSEARCA:USO) should have been more severe in nature. Looking at the recent increase in short positions, one would have expected that a similar magnitude increase would've resulted in much lower oil prices.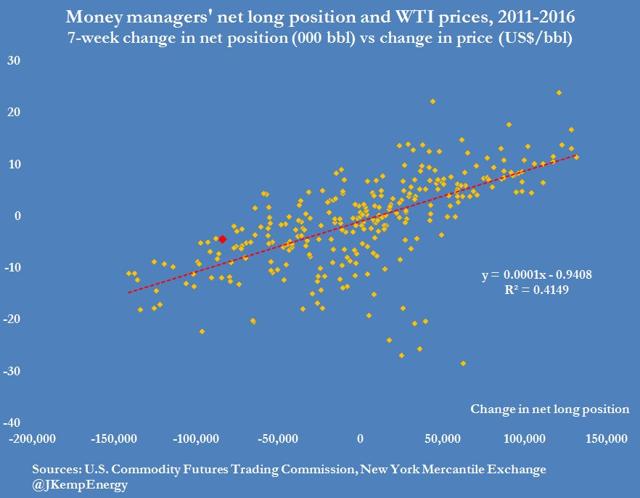 This is particularly interesting to us as we highlighted how the recent gasoline glut is presenting near-term headwinds for oil prices, but market participants need to balance the short-term view with the long-term view. Looking at global non-OPEC/Russia oil production, the trend is evidently downward. The U.S. should see further decreases in production along with every other major oil-producing country. The question to then ask is: How much do prices have to weaken to fix the short-term issue, but not risk potential price spikes in the future?
Our take is that the recent weakness in oil prices is likely close to an end. The narrative for near-term bearishness is now widely known. Similar to the bear narrative earlier this year, when it's widely known, it's likely already priced in.
One divergence we have been paying particularly close attention to is gasoline's performance versus WTI.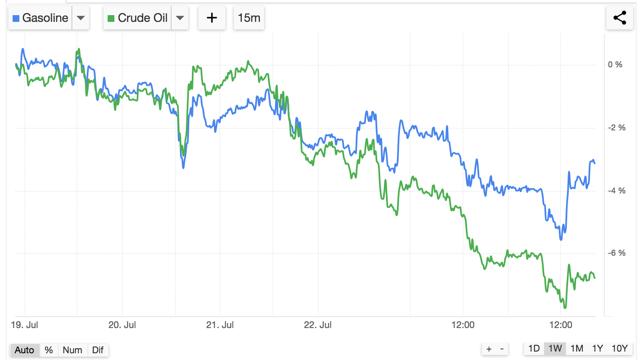 Over the past week, we were finally starting to see a divergence in performance. Refinery margins for gasoline have modestly improved, but would need to see additional increases to avoid a "maintenance cliff." For oil watchers, pay close attention to gasoline prices. If gasoline rallies, WTI could lag, but it signals that refinery margins are improving.
The long-term story is one most don't refute. The only thing that gets debated often is the timing of the recovery. Whether some think oil prices will stay low until 2020, or 2018, the signs are evident that higher oil prices are coming. The global capex falloff, combined with massive oil worker layoffs around the globe, implies a much dimmer scenario regarding where global oil production is headed. Schlumberger's (NYSE:SLB) CEO, Paal Kibsgaard, recently poured cold water on believers of the "shale band" theory, and rising servicing costs won't help producers as oil prices recover.
Overall, the longer-term picture is much more clear. The question investors have to ask themselves is how they should be positioned for the eventual recovery. What's your way of playing the recovery? Let us know in the comment section below!
Thank you for reading our Oil Markets Daily. If you want to read more of our articles, please be sure to hit the "Follow" button above. We also write a weekly HFI portfolio update for premium subscribers. You can read a sample weekly update here and view our delayed one-month portfolio update here. We hope you can join the HFI community.
Disclosure: I/we have no positions in any stocks mentioned, and no plans to initiate any positions within the next 72 hours.
I wrote this article myself, and it expresses my own opinions. I am not receiving compensation for it (other than from Seeking Alpha). I have no business relationship with any company whose stock is mentioned in this article.