Apple Reports Earnings, Climbs Higher as a Result
Apple (NASDAQ:AAPL) reported earnings after the close on Tuesday, and what do you know, the old behemoth was able to beat expectations. Earnings per share of $1.42 came in 4 cents per share above expectations, while revenues of $42.4 billion - which were down over 14% YOY - topped expectations by more than $300 million.
iPhone sales of 40.4 million came in ahead of analysts' expectations of 39.9 million units.
Of course, the results overall were not spectacular. It's just the power of reduced expectations. Analysts were looking for severe deceleration in the company's year-over-year results. Case in point: revenues from China fell roughly 30% sequentially (part of that could be because of Huawei's continued market share gain).
That's not really a knock on Apple, though. While the results are down sharply, it shouldn't be too surprising anymore. After the stock went on a sizable rally alongside a massive upgrade cycle from the iPhone 6, Apple had comps that simply weren't realistic - especially in an "S" year. The hope now, though, is that after a tough year of comps, the company's iPhone 7 will be able to put up strong upgrade numbers.
The stock is still down badly from its highs made in the first half of 2015. Despite the ~5% after-hours rally, shares are still down more than 20% from the peak.
Overall, investors were expecting the worst this quarter and already looking ahead to the new iPhone launch in September and to holiday sales in Q4. When results came back as not-so-horrible, the situation became not as bad as previously thought. Thus, the after-hours gain.
All of that could change on Tuesday night's conference call, but for now, it perhaps looks like a bottom could be in for Apple.
BlackBerry Releases Its New Phone
Last week, we looked at the possibility that BlackBerry (BBRY) would unveil its new smartphone on Tuesday, which it has indeed done. We also questioned how much it would really matter, given that "the company hasn't produced positive net income in the last four years, while revenues have declined in each of those years as well."
Smartphone sales have continued to sag lower and lower for BlackBerry, while software sales have actually done pretty well. CEO John Chen is hoping this will spark a turnaround, though, after the company introduced the DTEK50. The device (shown below) has a starting price of $299 and can be pre-ordered in the U.S., Canada and Western Europe.
As expected, the device runs on Alphabet's (GOOG, GOOGL) Android OS, and BlackBerry actually had some of the design of the phone outsourced in order to cut production costs. Perhaps wisely, BlackBerry has started to turn its focus away from everyday consumers and focus more on corporate and government accounts, given the company's security features.
Chen is looking to make the hardware side of the business profitable, and soon, aiming for September.
Continued profitability, if achieved, could give the stock a much-needed spark. Shares are currently closer to the 52-week low than the 52-week high, but could stage a comeback if operations go from red to black, and perhaps even black to green.
Shares are getting a boost as a result, ending the day up 2.1%. For those interested, BlackBerry's press release covering all the details of the new device can be found here.
Amazon's Taking Over the World (Is This New News?)
Perhaps the concept isn't anything new, but the strategy continues to evolve. Amazon (NASDAQ:AMZN), known widely throughout the U.S. for its Prime features, has launched the service in more than 100 cities in India.
The country, which boasts more than 1 billion residents, is surely to take Amazon up on its offer - especially for the price. Rather than having to shell out $99 like we do in the U.S., Indian customers will only have to pay 999 rupees, which translates to $14.85 for Amazon.
Some quick math would show us that if 1% of the population - perhaps ambitious right out of the gate - were to sign up for the service, it would translate to nearly $200 million for Amazon. Or is that ambitious? Roughly 20% of the U.S. is a Prime member, translating to over 60 million U.S. users. If a similar ratio were applied to India, that's nearly $4 billion.
One step at a time, though.
In all, 20 cities will enjoy free one-day shipping, but customers won't have access to Prime video, at least not at first.
Elsewhere around the world, the e-commerce juggernaut also got the U.K. government to lift its tough flying regulations, allowing Amazon to amp up testing of drone delivery after receiving special permission to do so.
There's a part of me that feels like CEO Jeff Bezos and Tesla CEO Elon Musk must be related. I hear their plans, think they're crazy and then realize they are simply looking vastly into the future.
While Amazon's Prime service could initially weigh on the company's bottom line in the near term for India, given that it's making just $15 per person and shipping costs can easily go past that figure, over time it will likely pave the way for Amazon to dominate the e-commerce landscape in the massive country.
Mobileye Shares Plunge Over Lost Tesla Contract
Shares of Mobileye (NYSE:MBLY) fluttered lower on Tuesday despite the company reporting better-than-expected earnings per share and revenue expectations before the open.
Although the stock has recovered some of its earlier losses - it was down more than 16% in pre-market trading - it still fell some 8% on the day. So what's behind the stock's big fall? Many have pinned its falling out with Tesla Motors (NASDAQ:TSLA) as the culprit.
On the conference call, Mobileye said its "work with Tesla will not extend beyond the EyeQ3," which is used on the company's now semi-controversial Autopilot program.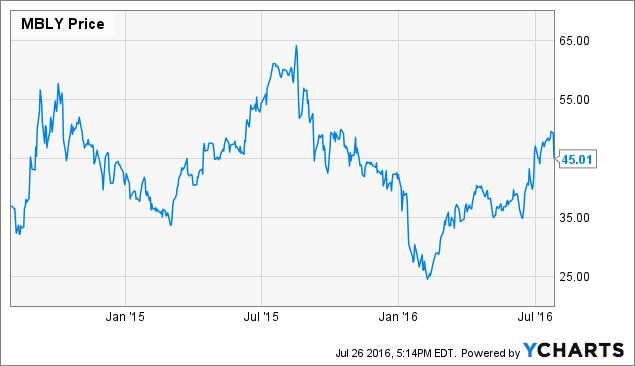 MBLY data by YCharts
Although the company will continue to work with Tesla on certain upgrades and tweaks with the EyeQ3, that will be all. It's not clear who broke up with who, but at the moment, it doesn't really matter. In the end, Mobileye will not be getting those revenues anymore, and more importantly, it won't be getting the future revenues investors were betting on.
Pessimistically speaking, Tesla could have dropped Mobileye if it decided to opt for another company or produce similar features in-house. Optimistically speaking, perhaps Mobileye dropped Tesla for a different, larger account - although that doesn't seem likely.
Speaking of Tesla, How's That Gigafactory Coming?
Elon Musk is a dreamer, a big dreamer. He's trying to combine a solar company with his electric automobile company. He builds Powerwall units, has erected a Supercharger network and has expanded around the globe. How's he going to supply all of his Model 3 vehicles with batteries, though?
Well, simple. That falls on the shoulders of the Gigafactory, the multi-billion dollar project Tesla began in June 2014.
The company has now reportedly doubled its workforce, with 1,000 workers at the site seven days a week in two separate shifts. The goal? Having the factory spitting out its lithium-ion batteries before the end of the year. Tesla had previously set July 29th - three days from now - as the grand opening event for the Gigafactory, although the entire factory won't be completed on that date.
At the risk of sounding repetitive, I circle back to the Musk/Bezos outlook. While the two mad scientists may seem ahead of their time, the question is simply, will it all pan out? If so, how much is it worth?
Because at today's valuations, investors are no doubt paying up for tomorrow's technologies. Tesla, which trades with a market cap around $30 billion, is just a fraction of Amazon's ~$350 billion market cap. However, Amazon, like Tesla today, has had its share of doubters along the way.
The main question for Tesla and its investors: can the company successfully finance Musk's ambitious, worldly goals - and are we, as investors, looking at the next Amazon?
Disclosure: I/we have no positions in any stocks mentioned, and no plans to initiate any positions within the next 72 hours.
I wrote this article myself, and it expresses my own opinions. I am not receiving compensation for it (other than from Seeking Alpha). I have no business relationship with any company whose stock is mentioned in this article.