The Q2 results for Mobileye (NYSE:MBLY) were phenomenal on all metrics. The assisted driver technology leader though faces some challenges going forward, especially in relation to stock value.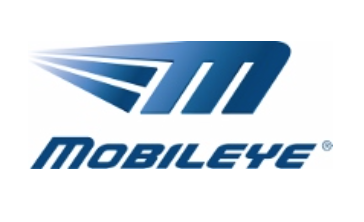 The stock has seen a massive rally off of the lows. My previous investment research highlighted the concerns that are playing out in the 8% decline in the stock today. The rally to $50 appears the upper resistance of the stock until proven otherwise.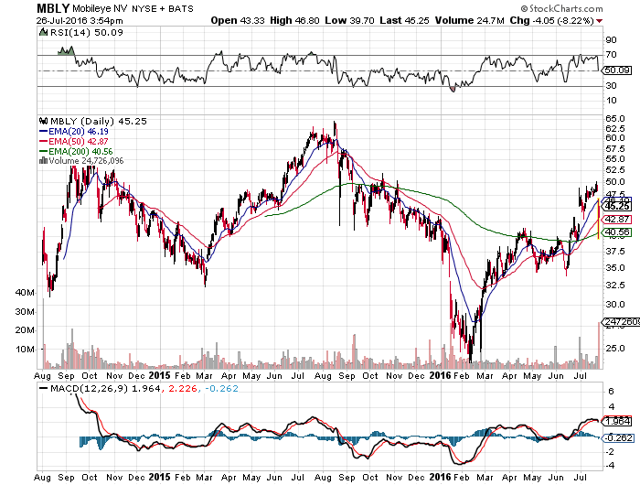 Mobileye was worth over $10 billion before the news broke of end of the partnership with Tesla Motors (NASDAQ:TSLA). The prime reason for the big drop is the implications that a leading auto manufacturer in the race to autonomous driving was moving in a direction not so reliant on Mobileye.
For the Q2 results, Mobileye earned an incredible $41.2 million in net income on total revenues of $83.5 million. A profit margin of nearly 50% is absolutely impressive and likely difficult to maintain.
One has to wonder if the split with Tesla has anything to do with these profit margins or any perceived lack of spending on research and development by Mobileye.
A big part of the high-profile crash was related to updated functionality that Mobileye expects to implement in 2018. Will the market find out that Tesla wants to move forward with a solution earlier than what Mobileye is willing to deliver?
The statement from CEO on the earnings call (via WSJ) was the following:
Mobileye's work with Tesla will not extend beyond the EyeQ3. We continue to support and maintain the current Tesla Autopilot product plans. This includes a significant upgrade of several functions that affect both the ability to respond to crash avoidance and to optimize auto-steering in the near term, without any hardware updates. Nevertheless, in our view, moving toward more advanced autonomy is a paradigm shift both in terms of function complexity and the need to ensure an extremely high level of safety. There is much at stake here, to Mobileye's reputation and to the industry at large. Mobileye believes that achieving this objective requires partnerships that go beyond the typical OEM/supplier relationship, such as our recently announced collaboration with BMW and Intel. Mobileye will continue to pursue similar such relationships.
Whether Tesla wants to move faster than the Mobileye product roadmap can deliver or if MBLY wants to control the development path too much, the limited research and development expenses is a problem.
For Q2, Mobileye only spent $14.6 million on R&D. The amount was up about 39% from last year's level, but the future of the auto industry isn't going to be driven by a company only spending somewhere above $60 million a year in development. Note this amount included $2.9 million in stock-based compensation. After all, Tesla is on pace for revenues exceeding $11 billion next year, and the company surely doesn't want to cater to the development schedule of Mobileye.
The key investor takeaway is that the bullish thesis on Mobileye from these levels assumes the driver assistance technology leader is able to maintain the technology lead and hence massive profit margins without scaling up the R&D department. The split with Tesla may not have any meaningful impact to the projected financials for now, but the move does leave Mobileye in a precarious position of where the possible leader in the path to autonomous driving in the form of TSLA isn't using technology from this company.
The recommendation remains to tread lightly in the stock as the budget for research and development will need to grow significantly.
Disclosure: I/we have no positions in any stocks mentioned, and no plans to initiate any positions within the next 72 hours.
I wrote this article myself, and it expresses my own opinions. I am not receiving compensation for it (other than from Seeking Alpha). I have no business relationship with any company whose stock is mentioned in this article.
Additional disclosure: The information contained herein is for informational purposes only. Nothing in this article should be taken as a solicitation to purchase or sell securities. Before buying or selling any stock you should do your own research and reach your own conclusion or consult a financial advisor. Investing includes risks, including loss of principal.