Since my last article on Smith & Wesson (SWHC), where I concluded that the stock was worth buying, Smith has been even more aggressive by buying up some of its suppliers in order to grow profit margins as well as expand into adjacent markets where its name is well known. The company announced on July 25, 2016, that it had entered into agreement to purchase Crimson Trace Holdings, LLC, for $95 million in cash. This is after it purchased Taylor Brands, a knife maker that already produced S&W branded products, just one week earlier.
S&W branded knives, made by Taylor Brands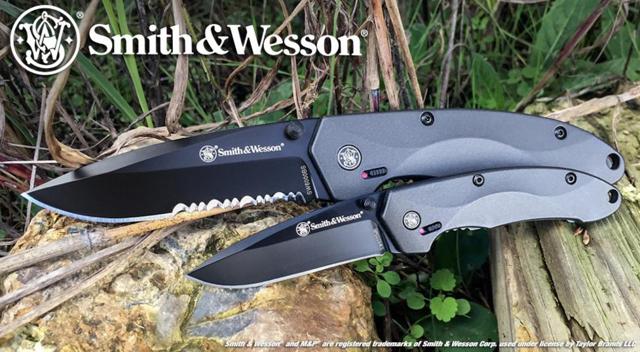 These new purchases expand Smith & Wesson's reach into defense-minded markets and will allow the company to reduce costs on products it already offered alongside its firearms, thereby increasing margins in the future.
S&W Shield with Crimson Trace laser sight.

The Crimson Trace purchase
S&W intends to purchase Crimson Trace for $95 million in an all-cash offer that leaves Smith with roughly $11.3 million cash on hand. (The company's most recent report showed $191.3 million before these purchases.) The purchase leaves Smith with little remaining cash; however, the cyclical business is at its lowest point in income for the year, and the timing will allow it to report increased margins for every sale in the future, increasing its cash reserves in short order.
Purchasing another accessory company it has worked with for years is another great step by management. Margins are higher for accessories than they are for firearms, so Smith's push into accessories will continue to better its financial results in the future. Previous reports showed the company expected $190-200 million in free cash flow for the year 2017, and we can expect that to push higher as well, giving stock owners more reason to buy or hold. This is a great investment for Smith & Wesson and a concern for Sturm, Ruger Inc. (NYSE:RGR).
Conclusion
This development, if you had not believed me before, should officially put management at Sturm, Ruger on notice. Not only had the company stated, "Now we are here, with quality product," it has also expanded its accessory business quickly, and the acquisition of Crimson Trace, LLC might make it harder for Sturm, Ruger to find a supplier for sights for its weapons. (At the least, it will require Sturm, Ruger to search for another well-known brand that can manufacture products in the quantities it needs.) I have not seen whether Sturm, Ruger will still be able to get sights for its products through Crimson Trace, but it goes without saying RGR would prefer not to hand over money to its largest, most direct U.S. competition.
Smith & Wesson will likely see an increase in share price when the market digests this news. It also will see stronger income in the next few quarters and years to some increasing profits on its already conservatively reported forward-looking numbers. SWHC is trading close to the $30 mark and is a buy.
Disclosure: I am/we are long SWHC, RGR.
I wrote this article myself, and it expresses my own opinions. I am not receiving compensation for it (other than from Seeking Alpha). I have no business relationship with any company whose stock is mentioned in this article.