We've incorporated the Goldrock (OTC:MFMNF) acquisition and Lindero project into our Fortuna (NYSE:FSM) estimates, resulting in a 16.8% increase to NAV per share to US$4.01/share. With the ~21% run-up in the share price since the Goldrock acquisition was announced, FSM shares may have run slightly ahead of themselves. However, post-acquisition NAVPS leverage to higher metal prices has risen by 15% for a given 10% increase in metal prices, potentially justifying a higher NAVPS multiple.
Fortuna has hit a grand slam, in our view, with per share and profitability accretion across the board (Figure 1). Besides 13.9% share dilution reducing EPS/CFPS in 2016-2018 (until Lindero enters production), our 2019 EPS and CFPS estimates increased 145.3% and 84.8%, while 2019 ROE and ROA are up 81.9% and 94.3% respectively. The only downside is to All-In Sustaining Costs measured in silver equivalent, since Lindero is a gold-only project (no by-products), which would increase 20.5% to $6.70/oz in 2019, its first full year of production.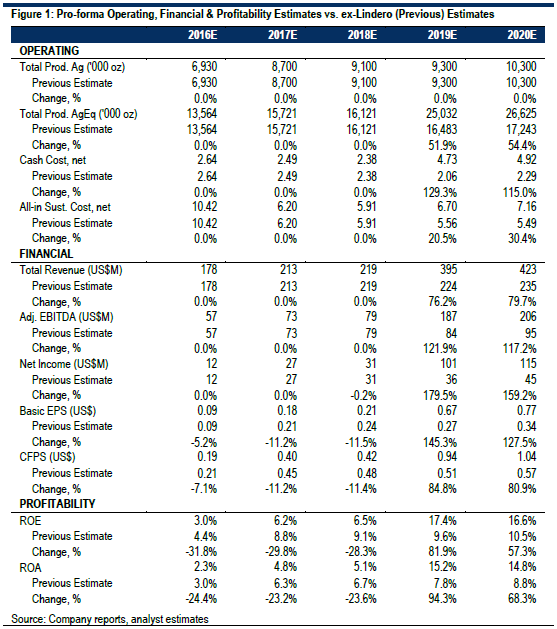 Fortuna's management has laid out its objective to have the Lindero project in production by 2018, so the construction timetable is now on. Judging by Fortuna's demonstrated success in building San Jose (which entered into production in mid-2011), we are very confident that management will be able to deliver Lindero on time and budget. The project is fully financeable with cash on hand and expected operating cash flow (Figure 2).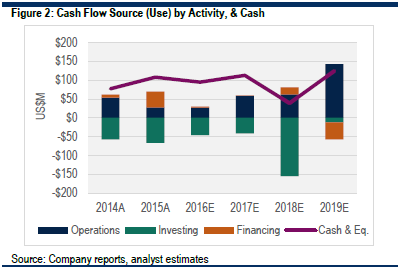 As with the San Jose mine, which began life as a 1,000 tonnes-per-day operation and now runs at 3,000, Fortuna has an uncanny track record of increasing asset value through exploration and improving operating efficiencies. The Lindero project already has significant non-reserve mineral resources that, under the right circumstances (not necessarily limited to higher gold prices only), may add significantly to the project's long-term value.
We've modeled Lindero's cost and production estimates as per the February 2016 Technical Report. Lindero's life-of-mine All-In Sustaining Cost (AISC, including royalties and refining & expansion capital) is an attractive $777/oz Au, but we believe reported sustaining and expansion capex estimates may be too low. However, a 50% increase in sustaining and expansion capex increases our AISC/oz estimate only by 4.0%, and decreases NAVPS by 4.0% - not a significant concern.
Of some other concern is the project's location in politically fickle Argentina, although the new government appears much friendlier to foreign investment than the previous administration. We nonetheless believe that Fortuna's deep roots in Latin America provides the company with greater ability to navigate the country's regulatory system compared to other foreign financed companies, noting all the same that Lindero is already a permitted project.
Investment Thesis
Investment Recommendation
Fortuna Silver is likely among the best managed junior precious metal companies, with management repeatedly proving its ability to successfully build and operate mines in Latin America, and increase shareholder value through expansions and operational efficiencies. As a measure of the company's success, Fortuna shares have returned 197% in the last twelve months, outperforming the VanEck Vectors Junior Gold Miners ETF (NYSEARCA:GDXJ), which has returned 127% over the same period. The recently acquired Lindero project will easily offset potentially longer-term declining production at Caylloma, and in our view, provide a significant boost to profitability and further positive shareholder returns. However, we believe FSM shares are fairly valued at present, based on our 12-month forward target price, but would be long-term buyers on market weakness.
Valuation
Our US$8.00/share target price is based on our 12-month forward DCF-based NAV using an estimated 12.5% WACC and a target 2.0x multiple.
Investment Risks
Downside investment risks include potentially faster-than-expected declining and grades at the Caylloma mine, for which we model production up to 2021. On the other hand, upside risks include continued exploration of the Caylloma and San Jose mines, and further resource development at Lindero, which may sourcing new, profitable ore to extend mine life. At Lindero, in particular, management has indicated that opportunities to lower project risk may be offset by a marginally lower project IRR; however, this does not consider what we believe to be the potential for further project upside once Fortuna concludes future project growth and optimization studies.
These risks are in addition to the typical risks associated with investments in the mining industry, which may also include commodity price risk, operating, political, labour, and currency risks.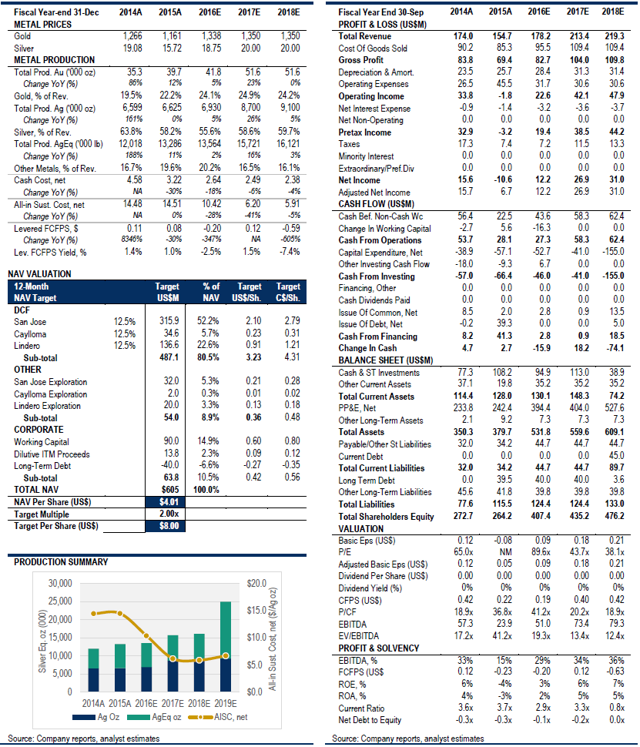 Disclosure: I/we have no positions in any stocks mentioned, and no plans to initiate any positions within the next 72 hours.
I wrote this article myself, and it expresses my own opinions. I am not receiving compensation for it (other than from Seeking Alpha). I have no business relationship with any company whose stock is mentioned in this article.
Editor's Note: This article covers one or more stocks trading at less than $1 per share and/or with less than a $100 million market cap. Please be aware of the risks associated with these stocks.