Earnings Report Causes Share Price to Jump
On July 25, Sprint (NYSE: S) released the results for the first quarter of its 2016 fiscal year. The release showed better performance than expected and improving financial results. Consequently, Sprint's stock to jumped 28% in one day.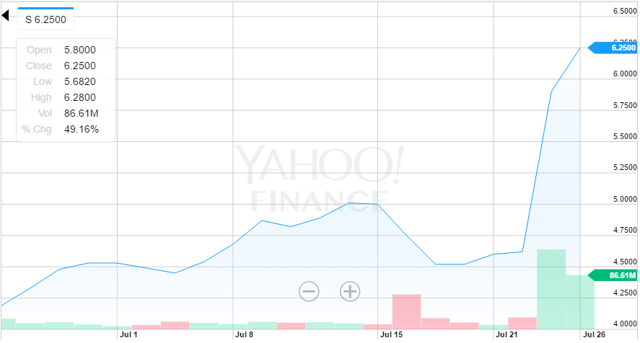 Source: Yahoo Finance
However, does this release warrant such an increase in share value? While the results do show some improvement, Sprint's long-term outlook remains bleak.
Sprints Improving Results are Unconvincing
A few of Sprint's Q1 highlights included lower expenses, network improvements, and postpaid phone net additions of 173,000. However, it also reported a net loss of $302 million for the quarter.
While this quarter may show some improvement over its recent past, a look at Sprint's competitors gives little hope for a promising future. T-Mobile (NASDAQ: TMUS) has recently risen to be the 3 rd largest wireless carrier in the U.S., pushing Sprint down to #4. If Sprint wants to be successful, it clearly has some work to do.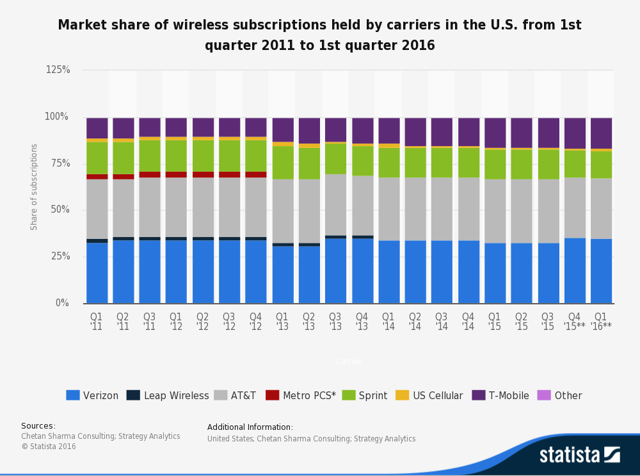 Source: statista.com
3 Reasons why Sprint will Continue to Lose to its Competition
#1 - Net Addition Numbers are Misleading: Sprint boasts net additions of 173,000 postpaid subscribers this quarter, while Verizon (NYSE: VZ) and AT&T (NYSE: T ) both lost customers over this period. However, Sprint's closest competitor, T-Mobile, added 877,000 postpaid customers in the first quarter of 2016.
In addition, a major cause of Sprint's positive net additions over the past four quarters has been its deeply discounted prices. The company has been offering its wireless services at half the price of its competition. According to CEO Marcelo Claure, however, these discounts are likely to end in the near future. If Sprint can only add 173,000 subscribers at a 50% discount, it seems unlikely that it will continue to have such success once prices are raised.
#2 - Network Improvements are Unlikely to Convince Customers
In spite of network improvements, Sprint is still often perceived to have a weaker network than its competitors. And while this gap has largely been closed, Sprint continues to have less coverage than Version, AT&T, and even T-Mobile.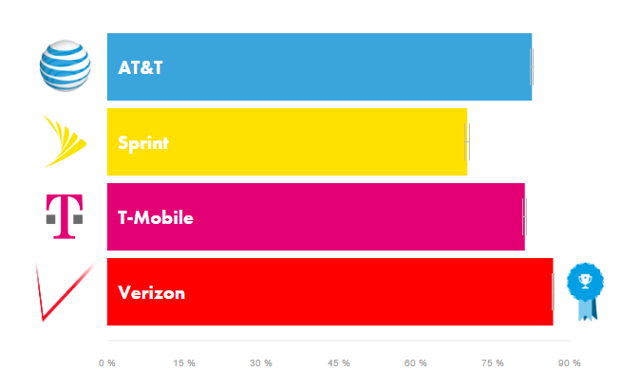 Source: Opensignal.com
Sprint's reliability has greatly increased, however, with reliability scores just under those than AT&T and Version and just above T-Mobile.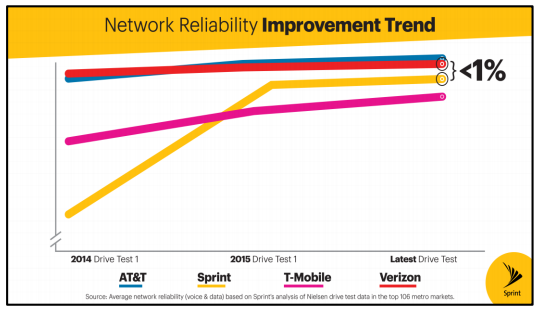 Source: Sprint Q1 Investor Update
The company's latest ad campaign urges customers not to pay twice as much at AT&T or Verizon for a network only 1% more reliable. However, if Sprint raises prices to traditional levels, they will no longer have this advantage. In the meantime, T-Mobile continues to offer prices well under those of Verizon and AT&T.
#3 - Debt and Liquidity Problems
With over $10 billion in debt maturing over the next three years, Sprint faces some severe liquidity issues. The company's highly leveraged position and low credit rating have also made it difficult to obtain additional financing. Additionally, the debt has a large negative effect on the company's net income, as interest expense totaled $615 million for this quarter.
Conclusion
While some people see Sprint's recent results as a sign of its recovery, I consider it to be merely a small interruption in Sprint's slow decline. And due to the recent spike in share price, now is a perfect time to short.
Disclosure: I/we have no positions in any stocks mentioned, and no plans to initiate any positions within the next 72 hours.
I wrote this article myself, and it expresses my own opinions. I am not receiving compensation for it (other than from Seeking Alpha). I have no business relationship with any company whose stock is mentioned in this article.