All numbers are in CAD unless stated otherwise.
The protracted sell-off across retail equities created a nice opportunity to purchase shares of Hudson's Bay Company, or HBC (OTCPK:HBAYF). HBC is one of the largest department stores retailers with a global footprint, operating several iconic banners and owning prime real estate. But most important for us, small investors, is that HBC has very attractive valuation if you decompose it by parts and take in the account management quality and favorable shareholder structure.
1. Company overview
HBC is a global, all-channel department store retailer with approximately 461 stores in USA, Canada and the European Union, with store banners including Hudson's Bay, Home Outfitters, Lord & Taylor, Saks Fifth Avenue, OFF 5TH, Galeria Kaufhof and Galeria INNO. In 2016, the company has acquired Gilt.
Current HBC history started with acquisition of Lord & Taylor in 2006 by Richard Baker. Then, Baker made many more acquisitions, IPOs and real estate transactions, most of which increased company value: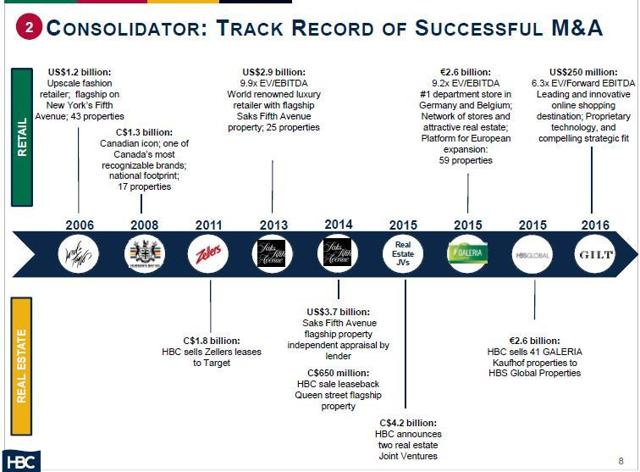 (Source: HBC Investor Relations)
Today, HBC competes in a highly competitive department store market, which is increasingly losing sales (and market share) to more nimble pure-play online players, with Amazon (AMZN) having become a competitive threat even in fashion apparel.
Key financial metrics of the company are:
Market Capitalization = C$3.0 billion
Debt = C$3.7 billion
EV = C$6.7 billion
FY 2015 EBITDA = C$781 million
EV/EBITDA = 8.6x
It may not look cheap at first glance. But it is. Let me show you why.
2. Real estate monetization provides HBC shares with a floor
Please have a look at management valuation of HBC: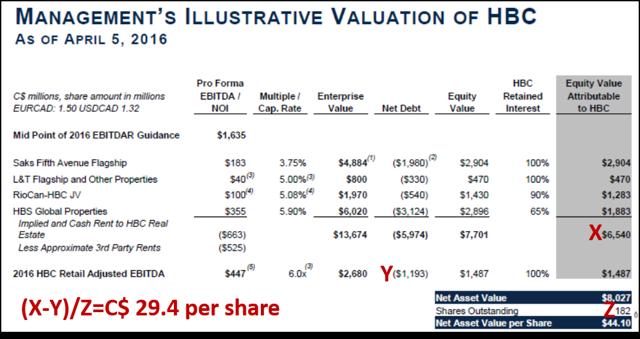 (Source: HBC Investor Relations)
Cap rates for real estate may seem high, but they are based on recent transactions and are product of the current low interest rate environment. In my opinion, this is not going to end anytime soon. If you don't believe me, you might take Ray Dalio's word for it. Back to HBC: Equity value from real estate attributable to shareholders stands at C$6.540 million, and if we assume HBC Retail value at C$0 (which it is not) and deduct its debt amount of C$1.193 million, we will arrive at a figure of C$5.357 million, which translates to C$29.4 per share, or more than 80% above the current stock price.
This number - C$29.4 per share - is a good approximation for HBC's worth in a worst-case scenario. Can we hope for a better outcome? That depends on management and controlling shareholders.
3. HBC has management with a track record of business growth and a good shareholder structure
As Warren Buffett said: "In looking for people to hire, you look for three qualities: integrity, intelligence, and energy. And if you don't have the first, the other two will kill you. You think about it; it's true. If you hire somebody without integrity, you really want them to be dumb and lazy."
So, we need integrity, intelligence and energy in management.
As a small investor, I don't have the resources to interview and assess management integrity face to face, therefore I try to look for companies where: 1) there are other incentivized shareholders who can project control over management; and 2) management interest are aligned with mine.
In HBC, the key shareholders are:

(Source: HBC Investor Relations)
L&T B is an offshore controlled by Baker family, Hanover Investments is an Abu Dhabi government investment company vehicle and Ontario Limited is the Ontario Teachers' Pension Plan Board. I find this structure very robust for small shareholders, as:
Plan A: Richard Baker is the governor and executive chairman of HBC. He is the person who created HBC as it is now. He is young and has the capability to overwatch the company's development on our behalf.
Plan B: There are two other shareholders, which together can bring a new management team and Board of Directors in case it is required (which, by the way, it is a lot easier to do in a Canada-incorporated company than in a US-incorporated one). There is little probability they will have to do it, though.
At the same time, HBC management's interests are aligned with the shareholders', and while I find the company is quite generous in terms of compensation, it's structured the right way with a focus on shareholders' value growth:
20% of CEO compensation is salary.
20% is based on meeting short-term results with focus on EBITDA.
60% is tied to long-term company results.
The company's 3-year targets are 75% EBITDA growth and 25% comparable sales growth.
Its 5-7 year target is a stock price above C$41.92.
Other directors' compensation is structured alike. More details can be found in this document. I particularly like that to meet the goals, management will have to focus on its current stores portfolio development.
Now about energy and intelligence.
After studying available interviews and biographies of key managers and articles about them, I view management and, specifically, Gerald Storch and Richard Baker as the best CEOs and visionaries in the industry. However, I may be wrong, so I checked the numbers history and I liked it. Numbers don't lie. One picture is better than a thousand words: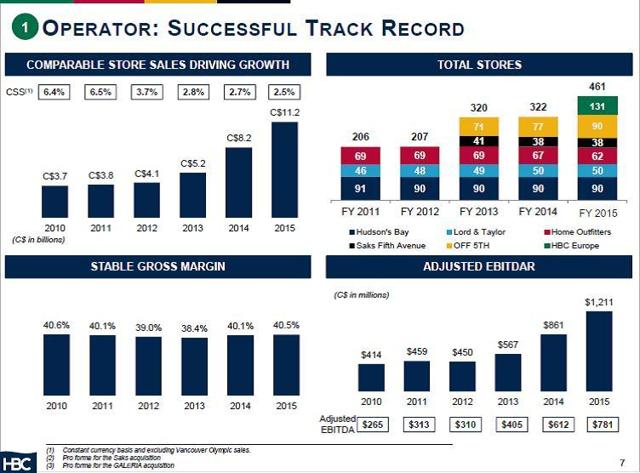 (Source: HBC Investor Relations)
The Board recently brought in Gerald Storch as the new CEO to run HBC, who will complement the old team with his vast operational expertise. I think if HBC managed to grow as it did before Gerry, it could be as good or better with Gerry now.
Now, when I am comfortable with valuation and management, my next question is - how did this opportunity come to exist? If I am buying, what is the rationale of the seller?
4. Why the opportunity exists - weak retail environment, wrong stock exchange and low coverage
First, weak retail environment has left retail stocks washed out.
During the earnings season for 1Q'2016, almost all retailers reported dismal results and lowered their full-year guidance. This sent the retail industry into a tailspin, with many retailers reaching near 52-week lows. See fashion retailers' stock performance:
| | | | |
| --- | --- | --- | --- |
| | YTD | 1 year | 2 years |
| HBC | (6%) | (37%) | (1%) |
| Macy's (M) | 2% | (48%) | (37%) |
| J.C. Penney (JCP) | 31% | 15% | 3% |
| Nordstrom (JWN) | (15%) | (45%) | (37%) |
| Dillard's (DDS) | 0% | (33%) | (45%) |
| Average | 3% | (30%) | (23%) |
(Source: Proprietary)
Investors have lost confidence in retail, particularly mall-based retailers. Department stores were particularly hit hard. In 1Q'2016, same-store sales fell 0.4% at JCP, 3.9% at KSS, 1.7% at JWN, 5% at DDS, and Macy's comps were down 6%. At the same time, HBC reported a 4.4% increase in sales, or a 1.0% decrease on a constant currency basis. This difference is due to weaker CAD versus 1Q'2015.
Making matters worse, AMZN reported an exceptionally strong quarter, with its North America sales up 27%, perpetuating fears that the company will eventually dominate apparel retailing. Among this backdrop, investor panic and fear over the long-term prospects for department stores reached a crescendo, given their locations (malls), demographics (older), and e-commerce (Amazon).
Second, HBC is traded mostly on the Toronto Stock Exchange and has low coverage.
There is a strong tendency among investors to stick to their local country. HBC has 50% US business and only 25% Canadian, but it trades mostly on the Toronto Stock Exchange. This could be a reason why it does not have strong local investor support during sell-offs. Another reason is limited sell-side coverage, as HBC is covered only by 9 analysts from 8 companies (BAML, Barclays, BMO Capital Markets, Canaccord, CIBC, Cowen and Company, Credit Suisse, RBC Capital Markets, Scotiabank). No JPMorgan or Goldman Sachs here.
5. Upside risks - e-commerce and industry consolidation
E-commerce. While investors are fearful that the department store industry is old-fashioned and perhaps an anachronism in today's Internet retailing age, if you have a wife you know that these concerns are exaggerated. While malls in subprime cities and locations are experiencing problems, Class A and Class B malls will adapt to the changing consumer landscape. Best retailers will synthesize brick-and-mortar retailing with e-commerce. HBC is one of them and invests heavily in e-commerce. In February 2016, the company closed the Gilt purchase, which is one of the leading online retailers in the OFF fashion segment.
Industry consolidation. Most of the industries are consolidated by strongest players when times get tough. By the end of the downturn, the strong get stronger and the weak get slaughtered. Today, HBC is among the best positioned to not only survive, but gain market share.
6. Catalysts
If we would completely ignore the industry business cycle and the possible change of investor sentiment, there are at least two catalysts which could unlock shareholder value.
# 1. Continued real estate monetization through either sales or joint ventures would generate additional cash to return to shareholders and provide further evidence of management's commitment and success in unlocking shareholder value.
# 2. Continued business growth and/or distribution of funds to shareholders after the end of a capital-intensive stores refurbishment cycle.
7. Downside risks
I see the following key risks:
Real Estate Market collapse. HBC's real estate valuation drop for 20% will result in NAV at C$16 per share. Any further drop will erode margin of safety.
Bad M&A. If management buys some distressed assets instead of focusing on operations, it could hurt shareholders value.
Extremely weak execution.
These are the areas I will watch closely.
Conclusion
I find a lot of irony that current fashion trends in investing saw traditional fashion retailers get beaten. We have a great company, great management and a great margin of safety with cigar butt valuation here. I will make some puffs.