Each month, Gordon Green and John Coder of the private sector income and demographics analysis firm Sentier Research report on the level of median household income that they estimate from monthly Current Population Survey data published by the U.S. Census Bureau. We've found their estimates to be an invaluable aid for assessing various aspects of the relative real-time health of the U.S. economy.
We use their reports (the latest is for June 2016) to record a nominal estimate for median household income each month, which, as future reports are released, we adjust for inflation as measured by the Consumer Price Index for All Urban Consumers in All U.S. Cities for All Items (CPI-U).
Since the beginning of 2016, we've been observing a developing trend for which we now have just barely enough data points to begin making relevant and useful observations, where we find there are two developing stories. So you can see what we are seeing. Here is a chart showing the evolution of median household income in both nominal and real terms from January 2000 through June 2016.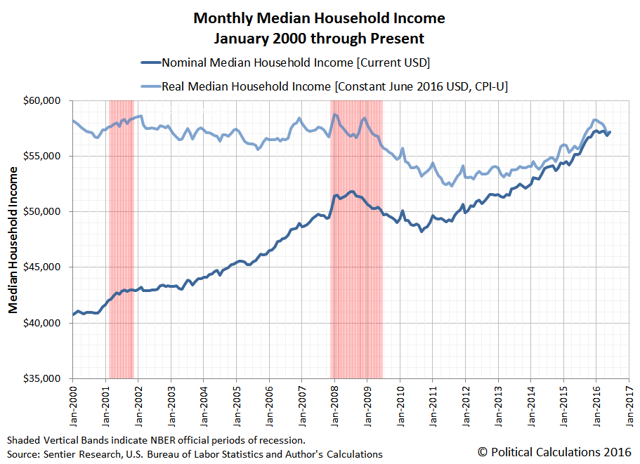 The first and more important story is that nominal median household incomes would appear to have stalled out since December 2015, which is significant because it indicates that the U.S. economy has not been successful in generating higher-paying jobs during the last several months.
The second story has to do with the changes in oil and fuel prices, which is greatly affecting the real median household income. In 2015, with those prices falling through much of the year, and particularly in its second half, the effect was to help boost the real incomes of Americans, where those incomes were also growing in nominal terms.
But in 2016, with oil and fuel prices having bottomed and rebounded since the beginning of the year, the effect has been to shrink the real incomes of American households.
Given that 2016 is a presidential election year, you can reasonably expect that whatever trends develop here throughout the year will have an impact on the election's results.