It has admittedly been quite a while since I covered the South African rand. I had previously expressed significant bearish sentiment on the currency. With high inflation rates as well as economic concerns owing to significant energy shortages.
In the past year, we see that the rand has made slight inroads against the dollar. On the basis of the long-term one week chart, however, we see that the rand has weakened from the 10/USD range to 14/USD at the time of writing: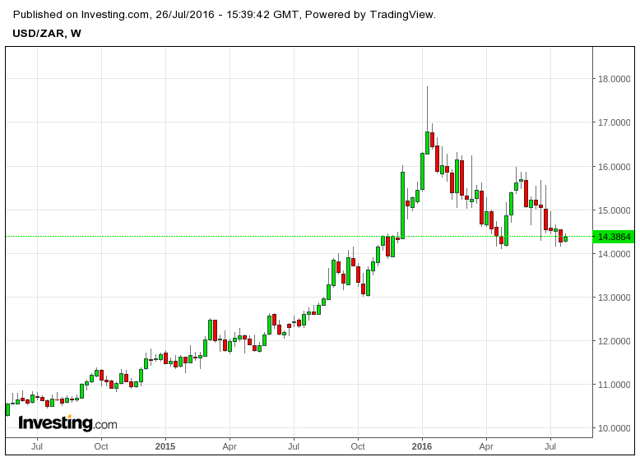 In spite of economic concerns, the rand had shown some strength at certain periods this year as commodity prices had been rising for some time amid speculation that oil would continue to appreciate past the $50 mark. However, given that we have seen commodity price slump recently, then this has kept the rand low overall. Moreover, power shortages that had been ailing the economy have still not abated, with the fact that 90 percent of electricity is generated in coal-powered stations causing shortages due to a strain on resources.
While economic concerns still linger, the rand is a currency that appears to do better in a risk-on environment overall. For instance, while South Africa is estimated to hold 50 percent of the world's overall gold reserves, this has not boosted the currency since global economic uncertainty as a result of Brexit has meant a flight to safety to less riskier assets. Moreover, gold production has been faltering in the region. While supply is technically still there, power constraints and difficulties in mining for further reserves have taken its toll on the rand.
To conclude, both the macroeconomic environment and local economic concerns have not been conducive to rand strength. In this regard, I expect to see rand weakness continue.
Disclosure: I/we have no positions in any stocks mentioned, and no plans to initiate any positions within the next 72 hours.
I wrote this article myself, and it expresses my own opinions. I am not receiving compensation for it (other than from Seeking Alpha). I have no business relationship with any company whose stock is mentioned in this article.