After the financial crisis, General Electric (NYSE:GE) shares declined by almost 70%. Since then, GE shares have climbed by more than 160% and are now trading at an eight-year high.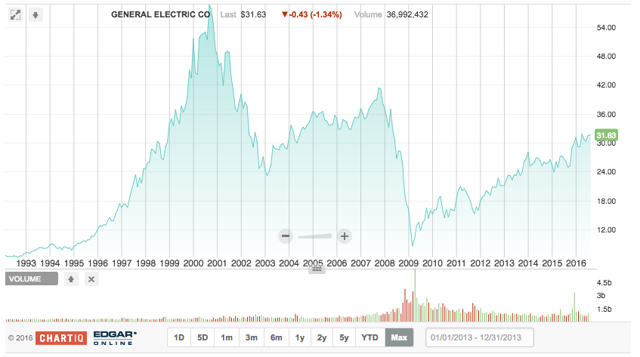 (Nasdaq.com)
Over the last several years GE has successfully restructured its operations through a number of strategic acquisitions and spinning off Synchrony Financial (NYSE:SYF), its private label credit card company. The spinoff was seen as a good move for investors, many of whom viewed the credit business as too risky for the industrial behemoth. These changes have allowed GE to refocus on its core industrial strengths.
Recently, GE has shifted its focused towards its digital business; the company currently plans to invest more than $1 billion on its software and digital operations. The company anticipates its digital operations revenue will increase from $6 billion to $15 billion and contribute as much as 25% to the company's profits by 2020.
Mixed Recent Analyst Reports
In 2016, GE received mixed ratings from analysts. Despite beating earnings estimates on July 22, 2016 by $0.05, Standpoint Research Firm initiated a sell rating on GE that same day. GE's earnings results were viewed by analysts as being of low quality as the earnings estimate beat was due to lower corporate costs ($0.06) and lower taxes ($0.01). Post earnings release, GE's relative strength index (RSI) stands at 48.93, and it is currently trading at slightly above its 200-day moving average of 30.21 and 50-day moving average of 31.24.
Overall, GE is trading higher than it was at this time last year, as evident from the 22.49% increase in stock price. The company hit a 52-week high of $33.00 on July 20 and reached a 52-week low of $19.37 on August 24, 2015.
Update: GE Signs Acoustic Technology Deal
On Monday, July 18, news surfaced that GE signed a $750,000 deal to purchase surface acoustic wave technology from Transense Technologies PLC. The licensing agreement was viewed as good news for both Transense and GE as experts anticipate stocks of both companies will climb in the coming months due to the deal.
Update: GE Moves Headquarters to Boston
Another development for GE was its decision to move its headquarters from Fairfield, Connecticut to Boston's seaport district. GE believes this shift will help them cut corporate costs as well as bring them closer to the software innovation space. When the deal closes, MassDevelopment officials maintain that the current property will be divided into three sections: one acre for GE's 293,000-square-foot-structure, one half-acre for two current buildings, and one acre allotted for open space. Approximately 800 GE employees are expected to work at the new campus when it opens in 2018.
Final Thoughts: Still a Buy For Income-Oriented Investors
One of the main reasons investors like GE is its high dividend yield. GE yields have consistently remained above 3%, and the company has committed to returning $90 billion to shareholders between 2015 and 2018 with $35 billion of that being from dividends. For this reason GE stocks will continue to be a smart financial investment for those hunting for dividend stocks.
For those looking for growth, we recommend watching how GE's push into digital unfolds in the latter half of 2016.
Disclosure: I/we have no positions in any stocks mentioned, and no plans to initiate any positions within the next 72 hours.
I wrote this article myself, and it expresses my own opinions. I am not receiving compensation for it (other than from Seeking Alpha). I have no business relationship with any company whose stock is mentioned in this article.