Oil (NYSEARCA:USO) is having a terrible week. Similar to last week's pre-release sentiment, the market is once again negative going into today's report. At the time of writing, WTI is now below $43/bbl, down 7% from last week. There was no major news, so I believe that this decline can be attributed to the general pessimism that may be developing among producers and speculators. You can read more about the potential consequences here.
Inventory
The pessimism wasn't reflected in crude inventory forecasts. Analysts estimate that crude inventory will decline by 2.257 MMbbl, in line with last week's estimate and fairly close to the historical change of -0.19% (or 2.334 MMbbl), based on summer data in 2015. With the estimate being in line with the likely scenario, I believe that it will not be the driver of the post-release price action. As I've mentioned before, I don't think that inventory figure is particularly important as a fundamental indicator. Let's take a look at domestic production and imports, two key determinants in total supply.
Domestic Production
Last week we saw the development of a key signal, rising crude production. Many readers pointed out that I may have read too much into it as Alaska production had previously experienced a big drop, so it made sense that production rebounded. In my other article I talked about this seasonal factor. The decline in production should be seen as the norm (i.e. neutral). A declining production rate does not support the bull thesis if it happens when we expect it to.
Readers have also pointed out that Lower 48 production is declining. While true, it's the aggregate production that counts, no matter the origin. It is the total domestic production that we have to pay attention to, not just Alaska's or Lower 48's. I previously cautioned investors that two straight weeks of rising production were an ominous sign (read Oil Outlook Deteriorated). Now, we just need the number (i.e. another week of positive production) to further solidify the bearish view.
At what point will I consider a production decline to be a positive catalyst? I think we have to judge domestic production along with imports, but if we must look at it in isolation, I would say that if the change dips significantly below the year to date average of -24 Mbbl/day, then bears should be slightly alarmed. However, keep in mind that oil production tends to be on the low end during summer months anyway, so bulls shouldn't be too excited either.
Imports
Exporters are filling the gap that domestic producers left behind. Unfortunately for oil bulls, that is precisely what they don't want to happen, as international producers will happily fulfill the unmet demand, averting a supply shortage.
In the chart below we can compare the decline of domestic production and the decline of total supply.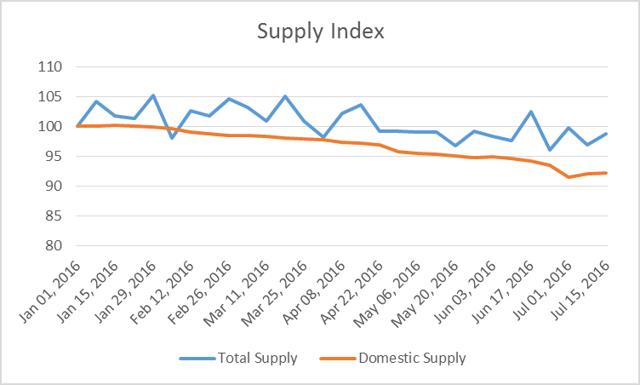 Source: data from EIA
Year to date, total supply has only decreased by 1.2% while domestic supply has dropped by 7.9%. Going back to my earlier comment about relating domestic production to imports, a decline in domestic supply is only meaningful if there is a substantial decrease in imports as well. This has not been the case thus far, with imports rising from 7.0 MMbbl/day in the first week of 2016 to 7.5 MMbbl/day for the week ended July 15th. While week to week import figures are highly volatile (as we can see in the chart above), it is clear that imports are offsetting most of the shrinkage in domestic production. If we see imports rise along with higher domestic production, then it could be a sign that the race to bottom will begin once again.
Energy investors involved in highly levered E&P stocks such as Chesapeake Energy (NYSE:CHK) may do well to hedge this possibility through fundamental based hedges.
Click the "Follow" button beside my name on the top of the page to be updated with my latest insights. To learn more about the V20 Portfolio, whose goal is to compound capital at 20% over the long term, I encourage you to read the introduction to my investment process. Premium subscribers get full access to the V20 Portfolio.
Disclosure: I/we have no positions in any stocks mentioned, and no plans to initiate any positions within the next 72 hours.
I wrote this article myself, and it expresses my own opinions. I am not receiving compensation for it (other than from Seeking Alpha). I have no business relationship with any company whose stock is mentioned in this article.