Data is going to grow like the plague over the next 10-20 years. Everything is moving towards requiring more data. From interconnected automobiles to high quality streaming video to internet of things to virtual reality, it all requires data and a lot more of it. If you're not already aware of the current ways to invest with this trend check out Minion Capital's article that discusses the Tower Companies (SBAC, AMT, CCI). I view the Tower companies as all great long term investments. There is one newer under the radar way to invest with this data trend and that is Billboard companies.
The Billboard Model
Billboard companies are similar to Tower companies in a lot of ways, as they have long lived assets in which they generate fees from selling services associated with those assets. Billboards sell advertising while Towers sell the right to put up antennas, transmitters, receivers and other telecom related equipment. Billboard companies usually have similar economics to Tower companies including high barriers to entry, low capex, and location based differentiation. Billboard companies have one major difference from Tower companies in that they have a much shorter counterparty lease period. Tower companies have multi-year deals with Telecom counterparties that often last for 5 to 10 years. In contrast Billboard companies have agreements to sell advertisements that last anywhere from a month to a year. The turnover of counterparties causes the Billboard companies to spend more on sales and marketing to try and keep utilization rates of their assets high. To be fair the Tower model is more attractive from a certainty of cash flow standpoint (including built in rate increases) and lower sales & marketing costs.
Billboard companies have been exploring other paths to monetization in the last year. These efforts include utilizing mobile data information to feedback to advertisers which they gather from mobile phones. These efforts have run into some questions around privacy which may cause them to roll out very slowly, as the billboard companies deal with regulators and politicians that have taken this issue up as the privacy concern. Recently Chuck Schumer brought this privacy issue to light around Clear Channel Outdoors (NYSE:CCO) RADAR program. I view these programs (all three billboard companies are working on something similar to CCO's RADAR program) as potentially impactful to future advertising revenues but there is much uncertainty around timing and legality.
Billboard companies have also been working on data related offerings that will in part compete with Tower companies.
Recent Data Deal and Opportunity
Outfront (NYSE:OUT) is one of the three major US billboard companies (Clear Channel Outdoors and Lamar Advertising (NASDAQ:LAMR) are the others). Outfront is making a big push into Data with a new partnership with Diamond Communications which is the largest privately owned Tower company in the US. Diamond will provide Outfront with technical know-how in order to offer data services on their existing Billboard infrastructure. Under that partnership Outfront was recently able to score its first major deal to roll out data services to its billboards with the Internet of Things company SigFox.
Here is what a proposed Billboard would look like with data cells on it (both small cell & macro cells shown).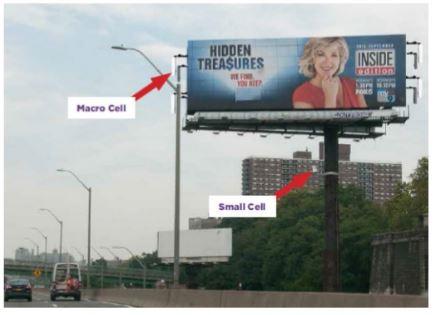 Source: Outfront IR Presentation
You might have already figure this out, but let me explain why this move to data services would be wildly profitable for the Billboard companies. Billboard companies have tens of thousands of existing billboard assets that are currently being utilized by advertisers for ad space. If you want to add data services to these existing billboards, the incremental cost is essentially zero as the equipment would be owned by the telecom provider and space is just leased. Billboards could add a completely new very attractive recurring revenue stream to these existing billboard assets. The returns on this type of business are likely extremely high as there is almost no additional capital that would be required on the Billboard company's behalf other than marketing and development costs. These billboards are usually located in exactly the right location near highways and major traffic areas where data would likely highly utilized. Connected Automobiles and other Internet of Things solutions come to mind as the most appropriate users of the data cells attached to billboards. The opportunity for these billboard companies could be truly massive in both scale and return potential.
Billboard Companies
As highlighted above Outfront is an obvious first mover in data space with their agreement with Diamond Communications and the SigFox deal. I expect Lamar and Clear Channel Outdoors to follow the same data path if they are smart. The opportunity seems to be there for all of the three big billboard companies to add data services, but Outfront is likely going to lead the path. Comparing the three billboard companies Lamar is the best performing and likely best managed.

From an ROE standpoint Lamar is on top with Outfront in second and Clear Channel Outdoors in third. Clear Channel Outdoors is currently not structured as a REIT and does not pay a dividend. iHeartMedia (parent of iHeartRadio) owns a large chunk of Clear Channel Outdoors, which seems to cause more issues then its solves. I would avoid Clear Channel Outdoors for now, but it might be a good investment if they can get a REIT conversion completed.
Lamar is a great company with a strong return history and is the leader in the Billboard industry. With a 4.37% dividend its likely a great long term hold here, as they may have some upside if they get into the data game and if not they are still a really well run company with a growing dividend.
Outfront to me is the best investment of the three. Outfront was a spinoff from CBS (NYSE:CBS) in July of 2014 and has since been working to right size the company to fit the REIT structure properly. Outfront has an opportunity to close the gross margin gap between them and Lamar through better optimization of assets and better portfolio management (i.e., selling under performing assets which has already begun). Outfront is an innovator in the data space and will likely lead the charge into the Data realm for the Billboard group. The Sigfox deal highlights the opportunity in front of them and if successful more deals will likely materialize in the future.
Disclosure: I am/we are long LAMR, OUT.
I wrote this article myself, and it expresses my own opinions. I am not receiving compensation for it (other than from Seeking Alpha). I have no business relationship with any company whose stock is mentioned in this article.